2017 News Archives
November 9, 2017
Topography of Grief

Western's Public History graduate program, The Royal Canadian Regiment Museum, and the Virtual Museum of Canada cooperated on the creation of a virtual exhibit, Topography of Grief: Mapping the Great War Dead in London, Ontario (1914-1921), which highlights the impact of World War One on London families. Read the London Free Press article here.
---
October 30, 2017
Labatt virtual exhibit highlights work of public history students

Students in the Department of History played a major role in a new project highlighting the 170-year history of one of London's biggest companies. [More]
---
October 30, 2017
The Art of Communication: The Unveiling of the Bell Memorial Revisited

Congratulations to PhD candidates, Evan Habkirk and Mary Beth Start on their recent book, "The Art of Communication: The Unveiling of the Bell Memorial Revisited."

The book celebrates the unveiling the the Bell Memorial in Brantford, Ontario in 1917. The first half of the book explores the hidden messages in the memorial and tracks the memorials history from planning, erecting, unveiling and what the memorial has come to mean for the people of Brantford over the years.

The second part of the book is a reproduction of all the unveiling ceremonies of the memorial in 1917, including the speeches given by Alexander Graham Bell and other dignitaries. Mary Beth and I also researched all the local people mentioned in the transcript, giving them a voice. 

The book was jointly published by the Bell Homestead National Historic Site and the Great War Centenary Association Brantford, Brant County, Six Nations. Books are $20. Lots of Brantford WWI local history in the book.
The Great War Centenary Association (www.doingourbit.ca), the Bell Homestead (www.bellhomestead.ca), and Evan Habkirk (ehabkirk@uwo.ca) have copies of this book for sale. Please contact them to get your own copy.

The book was officially launched in Brantford on the 100th anniversary of the unveiling of the memorial on 24 Oct.  Lots of pic from the event on the Bell Homestead facebook page.

Congratulations!
---
August 29, 2017
Changes to the Modules in American Studies Have Been Approved

You can find the new requirements here: http://westerncalendar.uwo.ca/2017/pg789.html.
Remember that if you already are enrolled in American Studies, you may continue to follow the module requirements that were in place when you entered your module - which you can always find online in the archives section of the Academic Calendar. However, if you like the new modules, you can also follow the new rules. Keep in mind that the software the registrar uses to calculate your progress toward your degree has not yet caught up to these changes - if you are getting weird messages related to this, don't panic. Make an appointment with academic counselling if you are concerned, or wait a few months and try again. Let us know if you have questions or concerns.
---
July 25, 2017
Haudenosaunee History in Susan Hill's New Book

In The Clay We Are Made Of, Susan M. Hill presents a revolutionary retelling of the history of the Grand River Haudenosaunee from their Creation Story, through European contact, to contemporary land claims negotiations. [More]
---
July 25, 2017
Virtual Guided Tours of Historic St. George-Grosvenor-Piccadilly Neighbourhood

On July 21, 2017, Western News had an article about postdoc Mark Tovey and his exciting new project. Read more here.
---
June 12, 2017
Franklin Delano Roosevelt's Legacy

Prof. Shauna Devine and Prof. Neville Thompson lecture on FDR's legacy was aired on C-SPAN! Please watch it by clicking here: https://www.c-span.org/video/?424834-3/franklin-delano-roosevelts-presidency.
---
Ngô Đình Diệm and the Anniversary of the Fall of Saigon


Professor Geoffrey Stewart did an interview for the BBC Vietnamese language news service on Ngô Đình Diệm and the April 30, 2017 anniversary of the Fall of Saigon. The interview (in Vietnamese) can be read here: http://www.bbc.com/vietnamese/vietnam-39697944.
You can read the translation (by Google Translate) here: https://goo.gl/8c9rr0.
---
Unrest on NATO's Eastern Flank


On April 26, 2017, Professor Marta Dyczok was invited to a Spring Conference put on by the NATO Association of Canada in association with the Royal Canadian Military Institute. The topic of the conference was "Crisis Response - Canada and the World". Professor Dyczok spoke in a panel on "Unrest on NATO's Eastern Flank: Ukraine, Baltic States, Russia".
---
Woodland Cemetery Project

 
The Woodland Cemetery Project, pioneered by manager Paul Culliton, is in its third year running with plans to recover all of the lost and broken monuments on their property.
Monument restoration work and historical research will be completed by MacKenzie Brash, Piotr Dobrzynski, Levi Hord, Sunny Kim and Alyssa Szilagyi.
MacKenzie Brash will be entering the MA Public History program and Sunny & Alyssa will begin the MA program this Fall.
---
Congratulations, History Graduate Winners!

Congratulations to all those who won an award or scholarship!
Eleta Britton Graduate Scholarship in History
Robyn Schwarz
Ivie Cornish Memorial Fellowship
Daniel Manulak
Maksym Sviezhentsev
Jean Armstrong Fletcher Award
Mary Beth Start
Professor Kenneth Hilborn Graduate Internship in Public History
Kelsey Priestman
Professor Kenneth Hilborn Graduate Student Award for Research & Conference Travel 
Nina Bozzo
Samantha Desroches
Carla Joubert 
Kyle Lariviere
Maksym Sviezhentsev
Lynne-Lionel Scott Fellowship
Allen Priest
United Empire Scholarship for Local History
Kyle Lariviere
William Edgar Travel Fund
Shane Roberts
Harris Steel PhD Support
Elliot Worsfold
Ley & Lois Smith Military History Fund
Jessica Del Duca
All your hard work paid off!
Details on the terms & criteria for all the awards are here: http://history.uwo.ca/graduate/awards_and_scholarships.html.
---
Canada's New $10 Bill

Jonathan Vance has been the historical consultant to the Bank of Canada for the new $10 bill.  It was unveiled on Friday, April 7, 2017.  For more information on the new bank note, please go to:
http://www.citynews.ca/2017/04/07/new-10-bank-note-unveiled-celebrate-canadas-150th-birthday/
The image of the $10 bill above is linked from the Bank of Canada website.
---
Vietnam's Lost Revolution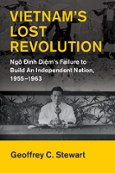 Geoff Stewart's monograph – Vietnam's Lost Revolution: Ngo Dihn Diem's Failure to Build an Independent Nation (1955-1963) has been published with Cambridge University Press. Congratulations!
---
Mar. 31, 2017
Virtual Vimy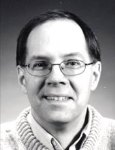 There is an article in the London Free Press about a Vimy Ridge virtual reality exhibit put on by Royal Canadian Regiment Museum at Wolseley Barracks. Our Professor Jonathan Vance is interviewed for the wonderful article which you can read here.
---
Mar. 16, 2017
Filling the Ranks
Congratulations to Dr. Richard Holt on his recent publication, Filling the Ranks: Manpower in the Canadian Expeditionary Force, 1914-1918. Richard is a three time graduate of the History program here at Western, and was recently featured in the news. Read the news article here: https://www.ourperth.ca/news-story/7191088-als-no-barrier-to-richard-holt-s-passion-for-military-history/.
---
Mar. 10, 2017
Michael E. DeBakey's 'Intentional Impact'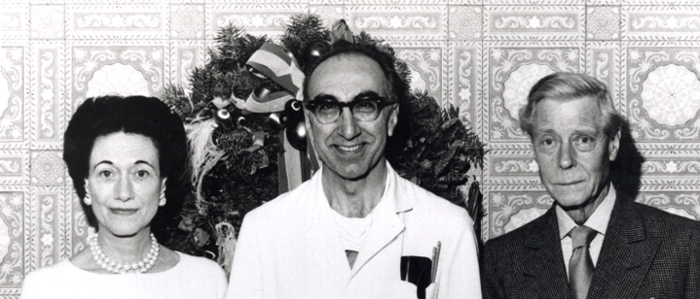 The inaugural Michael E. DeBakey Lecture will be given by Shelley McKellar, PhD and George P. Noon, PhD on March 21 at the National Library of Medicine.
In advance of this lecture, Shelley McKellar was interviewed by Circulating Now, and talks about how she became interested in the history of medicine and about Michael DeBakey's legacy.
Read the full interview here: https://circulatingnow.nlm.nih.gov/2017/03/09/intentional-impact-the-legacy-of-michael-e-debakey/.
---
Mar. 10, 2017
Dr. Oronhyatekha: The Londoner Article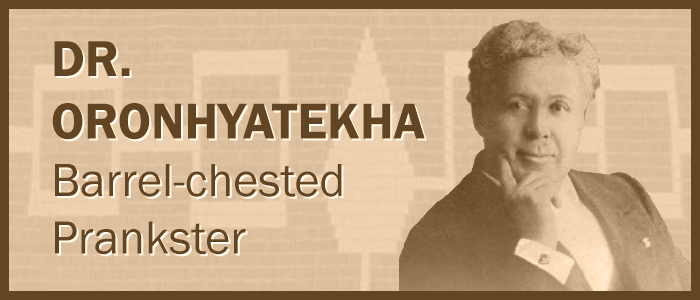 Michelle Hamilton talks about London's first indigenous physician in a The Londoner article you can read here.
---
Mar. 3, 2017
Dr. Oronhyatekha: His Life and Legacy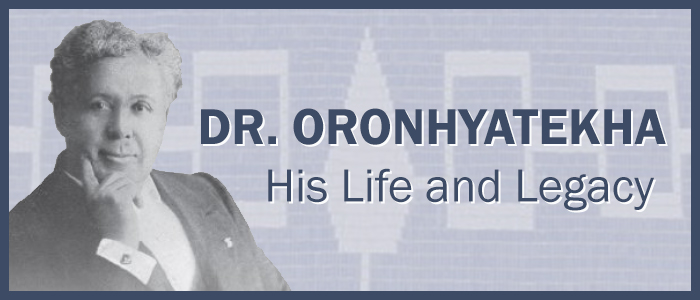 Dr. Oronhyatekha's London Legacy
Wednesday, March 15, 2017
7:00 p.m. - 8:30 p.m.
Stevenson Hunt Room, Central Branch, London Public Library
Dr. Oronhyatekha (1841-1907), born at the Six Nations of the Grand River, led an extraordinary life, rising to prominence in medicine, politics, and fraternalism. In London, he served as physician to several local reserves, established a downtown practice, became embroiled in the controversial search for Tecumseh's grave, lobbied for the vote for Native peoples, and lost a son in the 1881 Victoria Day disaster. Successfully challenging the racial criteria of London's Independent Order of Foresters, a fraternal life insurance company, he became its first non-white member and ultimately its Supreme Chief Ranger.
Michelle Hamilton will focus on Dr O's time in London, and be on hand to sell and sign books.
Sign up: http://www.westernconnect.ca/site/Calendar?view=Detail&id=133350
---
Feb. 22, 2017
History of Medicine Articles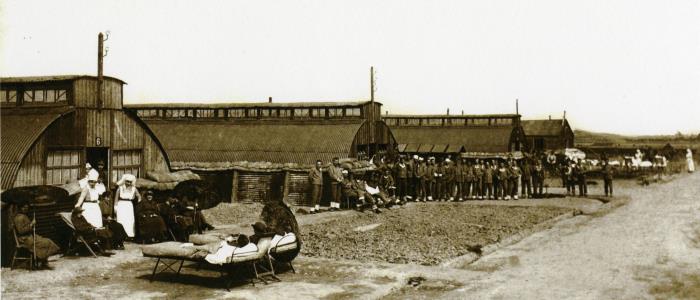 The open-access Canadian Journal of Surgery (CJS)is publishing a topic collection on the First World War, analyzing the contributions made by Canadian universities to the medical care of Canada's soldiers in the First World War. CJS intends to continue the Canadian Universities series until the centenary of the Armistice. For the topic collection, click here:
https://canjsurg.ca/first-world-war/
A number of Western University faculty have published articles in the Canadian Journal of Surgery (including our own Michelle Hamilton and Shelley McKellar):
https://www.schulich.uwo.ca/historymedicine/news/2017/
hom_publications_authored_by_and_about_western_medical_faculty.html
Western's History of Medicine website can be found here:
https://www.schulich.uwo.ca/historymedicine/index.html
---
Feb. 9, 2017
Public History Students Contribute to Unique Canada 150 Project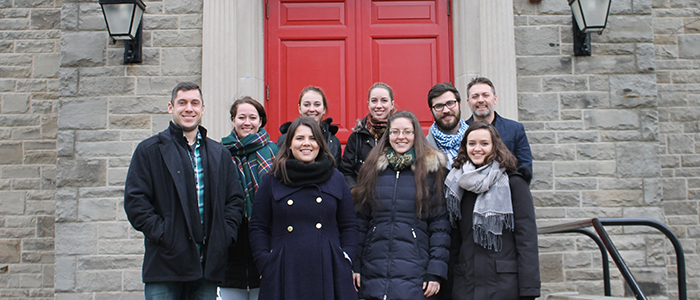 A wonderful article about Public History students in the Faculty of Social Science's News and Updates begins:
Students from Western's MA Public History Program have contributed to A Driving Force: Women of the London, Ontario, Visual Arts Community 1867-2017, a unique Canada 150 project, being developed as a multimedia website by McIntosh Gallery. The project explores the role of women in London and the south-western Ontario art community, but had a more concrete goal for the students in their introductory public history graduate course.
To read more, please click here.
---
Feb. 1, 2017
RCR Museum and Public History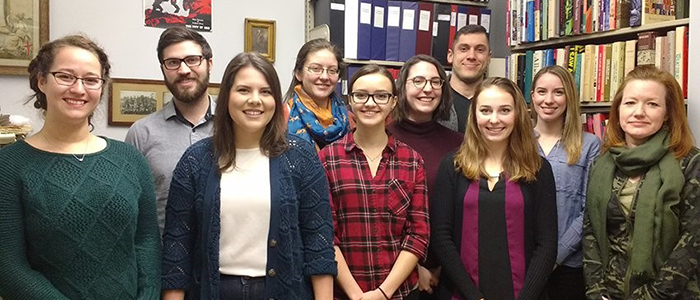 The year marks the sesquicentennial of the Confederation, but also the Centennial of the First World War battle at Vimy. The Royal Canadian Regiment Museum has partnered with the Public History program, for a virtual exhibition, hosted by Virtual Museum of Canada and financed through Community Stories program. Our project explores themes such as collective memory and grief in the aftermath of the First World War. The City of London, Ontario - Municipal Government, was no exception to the heavy tribute paid by Canadians at home for the war fought overseas.
Recent research revealed 91 addresses or as many houses in mourning between 1914 and 1921 because their loved ones sacrificed themselves at the front. Londoners will then be given an opportunity to find which house in their neighbourhood was in mourning one hundred years ago or even if they currently reside in one of these houses. They will also be invited to examine how their neighbourhoods became networks for support and collective commemoration. Traditionally the latter is associated with the rolls of honour, commemorative plaques, and cenotaphs that multiplied exponentially within the two decades following the First World War, however in our virtual exhibit we are trying to highlight the more personal experience of loss.
---
Jan. 23, 2017
What Can Ukraine Expect from Trump: Temporary Insanity or a Permanent Shift?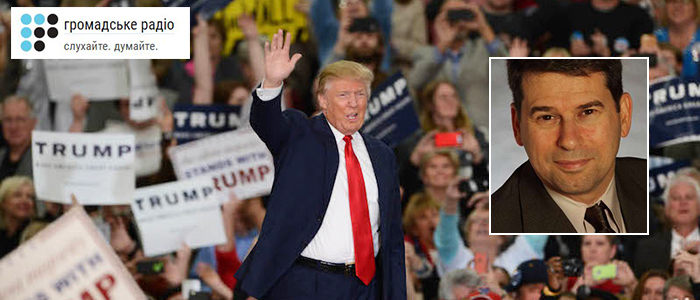 Professor Marta Dyczok interviews American IR Professor Daniel Drezner about Trump and what Ukraine can expect from him. Read or listen to the Ukraine Calling radio interview here.
---
Jan. 19, 2017
Seeing History Sideways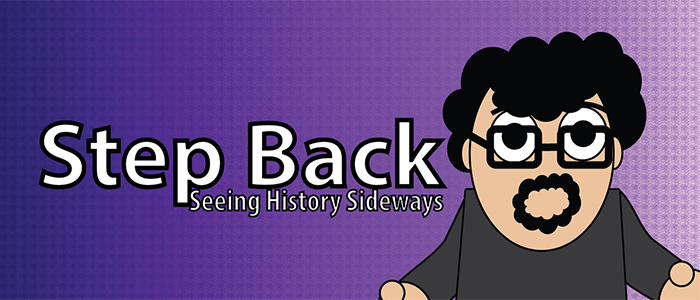 There is a wonderful Western News article "Grad student steps back from regular history" about PhD student Tristan Johnson. Read the article here and then pop on over to his YouTube channel "Step Back History" to watch some quirky takes on history.
---
Jan. 10, 2017
MA Public History Students Help Develop New Online Oral History Gallery for The Canadian Museum of Immigration at Pier 21!

Please check out the first stage of last year's MA public history oral history project with Pier 21. Led by graduate students in Mike Dove's 9800A-9801B class, this online gallery focuses on the stories of American immigrants to Canada during the Vietnam War-era: https://www.pier21.ca/research/oral-history/immigration-from-the-united-states-of-america-during-the-vietnam-war.
Wonderful work by Brett Bilyk, Heather Hepburn, Madison Marie Hamilton, Robert DeRose and Thomas Littlewood!
Pier 21 plans to post additional snippets of these interviews as well as segments of the other excellent interviews with American immigrants to Canada since the 1970s, carried out by Alex Weller, Alison Nagy, Kaiti Hannah, Montanna Mills, and Rebecca Smithers, over the coming year -- stay tuned!
---