Past Experiences
Below are the accounts of some of the past internship experiences of students in our program. If you would like to include your experience here, please contact Professor Michael Dove.
Past Internship Experiences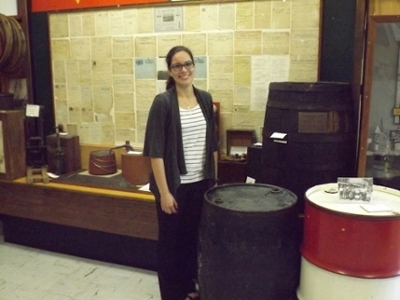 As this year's Robert Cochrane Lambton County Fellow, I had the opportunity to complete my internship at the Oil Museum of Canada in Oil Springs, Ontario.  Working in a small museum meant that I was involved with a number of different projects. These included preparing content for an upcoming online exhibit on International Drillers from the County of Lambton, developing a Facebook page for the museum to increase its online presence, and helping to reorganize one of the galleries.
My internship experience drew on the tools I had learned in classes throughout the year and allowed me to put those skills into practice. From coding to creating mounts for artifacts, I continued to learn about the tools of the museum trade. As the summer progressed, I also learned about how small museums operate as well as their organizational structures.
My time in Oil Springs helped to prepare me for a career in the Public History field and allowed me to work on tangible projects while working with a great team of people. It is also wonderful to know that the projects I helped with will contribute to the preservation and enhancement of the artifacts, culture, and history of oil production in the County of Lambton.
---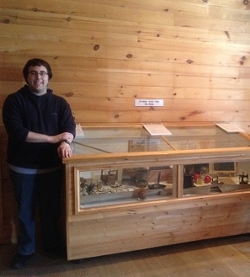 My summer was spent at Fanshawe Pioneer Village, an outdoor museum in London, Ontario dedicated to interpreting the history of London and the historic townships that make up Middlesex County. My main duty while at the village was organizing a great many mixed documents into several clear collections. I was also involved in a large collections relocation project and had a number of opportunities to interpret historic buildings on site.
This range of tasks allowed me to be involved in many aspects of museum operation, including artifact conservation, exhibit design, collections management and public outreach. This wide range of experiences reinforced what the Public History program had taught me and, in many ways, went well beyond it. It gave me a chance to assist in a large scale project, complete several individual projects for the museum and interact with the visiting public in a way that gave context to all the work I did behind the scenes.
This internship reaffirmed my interest in working in the Public History field, especially in collections and archives management. The sheer variety of things that I was able to do this summer makes me feel much more prepared for the future.
---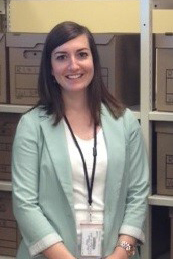 Overall I could not be happier with my summer internship at Library and Archives Canada.  The internship component is meant to expose students to practical knowledge and help with establishing workplace connections in order to find a job.  I felt this experience has accomplished all of those elements.  I have developed my practical knowledge of archives immensely, including arrangement, description, and disposition.  Throughout the summer I have had the opportunity to meet and network with many experts in the archival field.  My time spent at LAC has helped prepare for my future as a public historian whose main goal is to interpret history for the public.  Working as an archivist this summer at LAC I have been able to interpret records for the public and prepare them for future researchers.  This experience has cemented the knowledge I have learned in the program over the past year.
---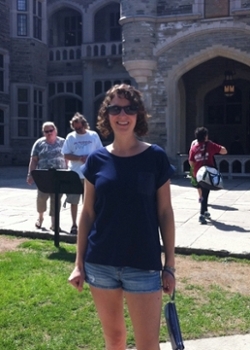 Between May and August 2014, I completed the internship component of the program at the large public history institution of the Ontario Heritage Trust. This invaluable opportunity has provided me with essential experience in developing my skills, under excellent leadership, in order to be successful in a future in public history. Working as the Heritage Assistant to the Researcher at the Trust, I was involved in the acquisition, monitoring and protection process of a governmental agency that preserves and safeguards Ontario's built and natural heritage. Being a part of these processes, writing reports and conducting research for the Trust, has given me a thorough understanding of how a large public history institution operates internally and externally. Therefore, by integrating graduate level theory and research with practical experience, I was able to gain highly marketable skills and experience that can be immensely utilized in going forth in a public history career.
---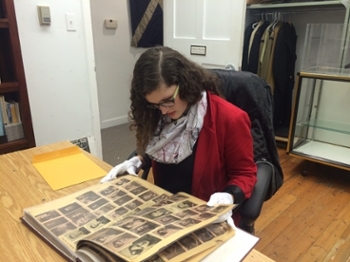 As a graduate student intern with The Rooms, which houses the provincial archives, museum, and art gallery, in St. John's, Newfoundland, I assisted with the research and design of a new exhibit on the First World War.  The Rooms was a fantastic location for an internship.  The staff was always willing to give new opportunities and attempted to present a broad spectrum of tasks and roles that one could take on in a museum setting.  I would recommend Western students consider The Rooms for their placement.
---
Adriana Ayers (Class of 2012)
- Collections Management Intern, The Museum of the Moving Image, New York City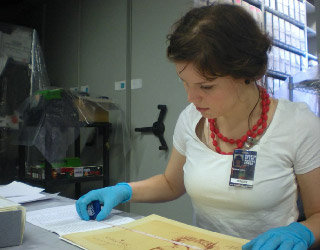 The Museum of the Moving Image (MoMI) is a unique institution dedicated to exploring art, history, and technology of the moving image. My internship allowed me to go behind the screen and experience the chronological pathway through the history of the moving image beginning with a Zoetrope and ending with Frogger.
The crux of my summer work consisted of a 6000 plus piece ephemera collection, consisting of mostly of film posters, as well as lobby cards, press books and film stills. The collection was donated to the Museum in 1986 and aside from a rough estimate of what the donation entailed; no one had looked at it since. Each piece of the collection had to be measured, photographed, documented and researched. In some instances translating was also necessary as many of the posters and press materials were for French releases.
The posters, which made up the majority of the collection, ranged in sizes from 246 inches by 108 inches (also known as a Billboard or 24-sheet) to 14 inches by 21 inches (Window Card). The space, not to mention the patience, required to unfold the 24-sheets was expansive to say the least, but the sight of these posters was ample payoff. Dating from 1940 to 1989, the vibrant colours remained remarkably intact for sitting unattended for 25 years.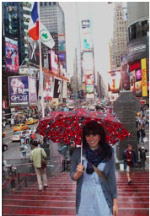 One of the perks of working for MoMI was my museum ID card. I was able to visit every museum and most movie theatres in New York City for free; needless to say I took advantage of this privilege. I visited at least one museum and one film a week, and when I was not roaming around the MET or eating popcorn at Film Forum, I filled any unscheduled hours with as many City events as I could. I took every opportunity to immerse myself in cultural activities and historical tours; there was never a shortage of extra-curricular activities. I also took advantage of the special screenings, events, and lectures at MoMI, having the opportunity to meet some of my favourite directors in person. Most notably I met Todd Haynes, Martin Scorsese, and David Cronenberg – truly a cinophile's dream.
---
Adrian Petry (Class of 2012)
- St. Catharines Museum and Welland Canals Centre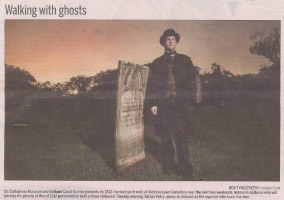 My summer was very busy and very exciting. I was handed the exciting task of creating cemetery tours for the Victoria Lawn Cemetery, one of Niagara's oldest and largest cemeteries, as a part of the Niagara Cultural Capital of Canada project 'A Walk Through History.' The task came with a fairly large budget (as museum programming goes) and a tight timeline. It of course had a War of 1812 theme (hello? We're in Niagara) and so the research began, first with finding a cast of characters who were veterans of the war and who were buried in the cemetery. Spirit walks are a really good way of interpreting first person histories, especially when there are a lot of primary resources to draw from. There are cautions one must undertake as a writer, director, stage manager of a project in which the story line interprets the personal histories of the city's most prominent citizens (if one is to keep one's job). Fortunately, I ended up with such a fantastic group of volunteers to work with that the entire process has been a blast! Busy, but fun, in the least! The project is just in its final stages now – performance!
Check out some reviews and photos of the cemetery tours here: http://www.embrace-niagara.com/2012/09/13/victoria-lawn-cemetery-war-of-1812-spirit-walk/
---
Pamela Pal (Class of 2011)
- Royal Ontario Museum, Toronto, Ontario
and The Markham Museum in Markham, Ontario
I spent my summer doing two six-week internships – one at the Royal Ontario Museum in Toronto, Ontario and the other at the Markham Museum in Markham, Ontario. I knew coming into the Public History program that I wanted to put my previous teacher education degree to good use, so I chose to head in the direction of Educational and Public Programming at both sites.
These locations proved to be fantastic internship opportunities for me and my career goals. They were unique experiences, but with some sense of overlap because both involved working with the public and children. My projects were quite different at each, which helped me to gain more experience than I feel I could have at just one internship site.
Both sites solidified my thoughts about where I want to go with my career path and that programming is right for me. If I were to offer one piece of advice to incoming Public History students – make the most out of your internship block. Choosing more than one site is helpful because it gives you a taste for what is out there if you're not sure where you want to head, or, in my case, confirms that the path you chose is indeed right for you. Though I could have easily had a fantastic time at just one location, by splitting the block it increases your networking abilities and expands your experiences in a way that you might not be able to at just one site. It's something that's definitely worth considering and that I, personally, felt was immensely useful!
---