Dr. Wes Kinghorn
- Postdoctoral Fellow (Hamilton), Department of History
- Co-Investigator, A Hidden History: Gentrification in Four London, Ontario Heritage Conservation Districts (HCDs)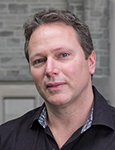 PhD, University of Western Ontario, 2018
Telephone: 519-661-2111 x 83645
Email: wkinghor@uwo.ca
Office: LWH 2239
Office Hours:  By appointment only
---
Research Interests
Dr. Kinghorn is an urban heritage consultant and urban cultural geographer whose research focuses on sense of place in heritage conservation districts, gentrification in relation to heritage designation, 3D digital imaging of urban places, and the intersections between public history and urban cultural geography.
---
Major Research Projects
Dr. Kinghorn is conducting mixed-methods research to consider the hidden histories of residents who relocated outside of the City's four earliest HCDs post designation, and the reasons for their movement from the HCDs. The analysis of this quantitative and qualitative data will inform policy recommendations that may suggest opportunities to mitigate any impacts on such residents in current and future HCDs in London, and throughout Ontario.
This project will create a historic record of an unexplored period in the history of the HCDs and preserve the stories of relocated residents that would otherwise be lost. An animated map will be created to display the patterns of any movement out of the HCDs, displaying the data in both space and time.
Related Talks
Feb 21, 2019 (7:30pm). Master of Ceremonies. London ACO/HLF: London Heritage Awards Gala. Delta Armouries Hotel, London, Ontario.
Mar 7, 2019 (7pm). Panelist. Stratford-Perth ACO: Heritage Conservation Districts - Streets, Trees and Infill. Stratford City Hall Auditorium, Stratford, Ontario.
April 6, 2019. Tango.to Guest Speaker. "Toronto Neighbourhood Summit: The Urban League of London." Toronto City Hall, Toronto, Ontario.
May 31, 2019 (10:45am). Ontario Heritage Conference Panelist. Session 1A Tourism: Heritage Districts, Robert Shipley and Panel. Knights of Columbus Hall, Goderich, Ontario.
Select Publications
Theses
(2018) PhD Thesis: The Creative Destruction of Place in an Ontario Heritage Conservation District (University of Western Ontario, London, Ontario, Canada)
(1996) Master of Arts Thesis: Visual Preference in Forest Edge Environments: An Application of Digital Imaging (University of Western Ontario, London, Ontario, Canada)
(1993) Bachelor of Arts Thesis: The Utility of Photo-Realistic Computer Imaging for Visual Landscape Assessment (University of Western Ontario, London, Ontario, Canada)
---
Awards and Distinctions
(2017)   Wall of Fame (School of Graduate and Postdoctoral Studies, Western University)
(2017)   USC Teaching Honour Roll – Award of Excellence (University Student Council, Western University)
(2015)   ACO-HLF Heritage Award (Architectural Conservancy of Ontario, London / Heritage London Foundation)
(2014)   Ontario Graduate Scholarship, Doctoral (Ontario Ministry of Training Colleges and Universities)
(2014)   Allen K. Philbrick Scholarship in Cultural Geography (Geography Department, Western University)
(2013)   Pass with Distinction, Ph.D. Comprehensive Examination (Geography Department, Western University)
(2013)   Queen Elizabeth II Diamond Jubilee Medal, awarded for a significant contribution to one's fellow countrymen, their community, or to Canada (Governor General of Canada)          
(1996)   Pan Hellenic Council Recognition: Teaching Assistant (Pan Hellenic Council, Western University)
(1993)   Canadian Association of Geographers Thesis Award (Canadian Association of Geographers)  
(1993)   Award of Merit for Academic Excellence (Western University)
---
Public History Experience
Dr. Kinghorn is the founder of an urban heritage research/digital imaging/project design communication company based in London, Ontario. For over 20 years Wes has worked with city planners, engineers, neighbourhoods and the development community on unique urban design projects across Canada and around the world. Wes has taught urban social geography at Western University as well as digital imaging for urban design at Fanshawe College.
Wes is the past President of the Urban League of London (a registered charity/umbrella organization that includes over 40 neighbourhood associations and community organizations) and he remains on the Board of Directors.  He is also the past Chair of the London Advisory Committee on Heritage, and past Chair of the Woodfield Community Association.  Wes has been the local organizer of Jane's Walks in London and has served on several other local boards and committees dealing with urban issues.  He has been directly involved in the creation of four of London's Heritage Conservation Districts.
Wes is a frequent speaker at civic gatherings.  Topics include heritage preservation, Heritage Conservation Districts, engaging urban environments, place making, and working to ensure that all voices are heard on matters of civic importance