Margaret R. Kellow
- Associate Professor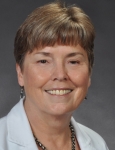 PhD, Yale University, 1993
Telephone: 519-661-2111 ext. 84908
Email: mmkellow@uwo.ca
Office: Lawson Hall 1207
Office Hours: Tuesdays 12:30pm-2:00pm or by appointment
---
Research Interests
Professor Kellow's special interest is in 19th Century American History, and in particular Slavery and Abolition in the Atlantic World and the History of Women. She also teaches Religion and American Culture. Her research centers on Slavery and Antislavery, Gender & Race in 19th Century America.
---
Select Publications
Book Chapters:
(2010) "The Greek Slave: Elision and Disjunction in American Antislavery Imagery" in Trans/Oceanic, Trans/American, Trans/lation: Issues in International American Studies João Ferriera Duarte, Marta Pacheco Pinto and Susana Araújo (eds.) Cambridge, UK: Cambridge Scholars Press.
(2009) "Hard Struggles of Doubt: Abolitionists and the Problem of Slave Redemption," in Humanitarianism and Suffering: The Mobilization of Empathy, Richard Wilson and Richard Brown, (eds.) New York, Cambridge University Press.
(2007) "'We Are No Less Friendly to Liberty Than They': British Antislavery Activists Respond to the Crisis in the American Colonies," in English Atlantics Revisited: Essays Honouring Professor Ian K. Steele, Nancy Rhoden, ed., (Montreal: McGill Queen's University Press.
(2007) "Conflicting Imperatives: Black and White American Abolitionists Debate the Question of Slave Redemption," in Buying Freedom: The Ethics and Economics of Slave Redemption, Anthony Appiah and Martin Bunzl, eds., Princeton, New Jersey: Princeton University Press.
(2007) "The Oriental Imaginary: Constructions of Female Bondage in Women's Antislavery Discourse." in The Problem of Evil: Slavery, Race, and the Ambiguities of American Reform, Steven Mintz and John Stauffer, eds., Amherst, Massachusetts: The University of Massachusetts Press.