Post Docs
Position: Post Doctoral Fellow
Email: wkinghor@uwo.ca
PhD, University of Western Ontario, 2018
Telephone:

519-661-2111 x84971


Office: 2239
Office Hours:  By appointment only

Research Interests

Dr. Kinghorn is an urban heritage consultant and urban cultural geographer whose research focuses on sense of place in heritage conservation districts, gentrification in relation to heritage designation, 3D digital imaging of urban places, and the intersections between public history and urban cultural geography.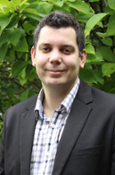 Position: AMS Post Doctoral Fellow
Email: mwisem2@uwo.ca
PhD, Wilfrid Laurier University, 2017
Telephone: 519-661-2111 x87561
Office: 2233

Research Interests

Dr. Wiseman is a Canadian historian whose research focuses on science, technology, and medicine in the Cold War. He is particularly interested in human experimentation and the influence of military sponsorship on scientific research in Canada between 1945 and 1975.