Development Series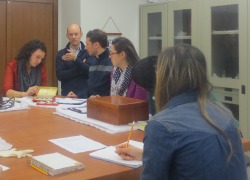 This series offers Public History students to chance to meet practicing public historians, listen to guest lectures, and participate in hands-on workshops. As part of History 9800/9081, this series is mandatory for Public History students and unless noted otherwise, usually occurs during class time.
Others are welcome to join us, by emailing mhamilt3@uwo.ca, or mdove2@uwo.ca.
This series is funded by the George Cedric Metcalf Charitable Foundation.
Dr. David Pantalony, Curator of Physical Sciences and Medicine, Canada Science and Technology Museum, leads a material culture workshop.
Click
here
for a list of past speakers