2015 News
Curatorship of athletic history enters new era
Nick Komarnitsky often wonders if the leather helmets worn by Western Mustang football players 'back in the day' really made a difference.
"Doesn't seem like a lot of protection offered here," he said, holding the hardened leather helmet up for closer inspection. "I think some of the old football equipment is some of my favourite stuff. I can't imagine football players today wearing stuff like this."
The helmet is just one of the thousands of artifacts, equipment and photos that make up the John P. Metras Sports Museum. And Komarnitsky, a recent graduate of the master's program in Public History, is now overseeing the entire lot as the museum's first paid curator.
The Metras Museum, as it's simply known, was founded in 1984 by the 'W' Club and situated at the front of Alumni Hall, where it still stands today. Created to make visible what had long been the pride and joy of students and staff at Western – the university's legacy of excellence in athletics – legendary Mustangs coach Dutch Decker was the inaugural curator.
Decker teamed up with long-time London Free Press sports writer Bob Gage to establish a collection of photographs, artifacts, newspaper clippings and other items, many of which were donated by staff and alumni, along with an array of financial contributions. Gage took over as curator in 1988, followed by well-known Western student-athlete Ted Hessel, who just recently retired after seven years at the helm of the museum.
---
Sharing Local History on the John Rowswell Hub Trail
By Stacey Devlin, ActiveHistory.ca, May 5, 2015
Situated at the meeting point of three Great Lakes on the traditional territories of Garden River and Batchewana First Nations, Sault Ste. Marie is one of Canada's oldest settlements. Its natural beauty, rich past, and diverse culture make it an exceptional place to live, work, and visit. Even so, it's not always easy to find or access information about the city's many cultural assets. How can we more actively engage with the heritage that surrounds "the Sault"?
Over the past year, I've had the opportunity to address this question through the Animating the John Rowswell Hub Trail Project. This project is led by the Sault-based Northern Ontario Research, Development, Ideas and Knowledge (NORDIK) Institute in collaboration with the City's Planning Department and in partnership with over 40 community organizations and individuals. Growing out of a belief that the Sault is ready for culture (including history, the arts, the built environment, and the natural environment) to be highlighted in the community on a large scale, its goal is to provide an information platform that respects and includes the diverse perspectives that make the Sault what it is today. To achieve this goal, the project makes innovative use of one crucial piece of City infrastructure: the John Rowswell Hub Trail.
The John Rowswell Hub Trail is a 22.5-kilometre non-motorized route that circles the Sault, taking users into some of the community's most historically, ecologically, and culturally significant areas. This includes the St. Marys River, a key gathering place for the region's Anishinaabe peoples; the Canal and Ermatinger-Clergue National Historic Sites; the site of the old French, Italian, and Finnish districts; and the popular Fort Creek Conservation Area. It's a perfect opportunity for people to enjoy walking or cycling every day. But it's also the perfect starting point to deliver information about the hidden treasures that make Sault Ste. Marie the unique place that it is today.
Animating the John Rowswell Hub Trail uses the Trail marker posts at every 500m as the basis for a Trail Guide, web portal, and audio tour. The interactive Trail Guide offers introductory-level information and activities at each location for children and their families. Written in English, French, and Anishinaabemowin, it uses these locations to highlight the converging cultures of the area. The web portal offers further information along with interactive maps, media, and links to partner organizations. Finally, the trilingual audio tour tells the story of the area from a diversity of perspectives as you travel along the St. Marys River shoreline. Additional links for educators offer suggestions for incorporating the Trail into the provincial curricula. Together, these resources create a rich experience for a wide variety of audiences, transforming the entire 22.5-kilometre route into a living exhibit.
Although there are many aspects of the Animating Project that I've found rewarding, I'm most excited about its community-led approach. This approach to exploring local history includes diverse voices and perspectives; honours community knowledge and expertise; and makes findings widely accessible so that our lesser-known assets are brought to light. Read more
---
Archives Resources Connect Students to the Past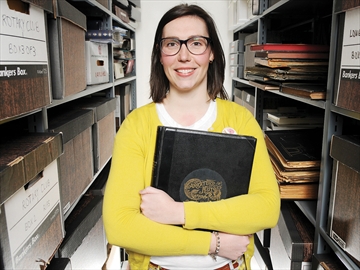 By Sarah Ferencz, Whitby This Week, April 23, 2015
Outreach is an important strategy for any organization but it's especially vital for local archives.
Working with the public is an opportunity to share our mandate, explain what we do, offer preservation advice, and encourage residents to consider creating a family legacy by donating personal material to the Whitby Archives.
My colleagues in Oshawa, Port Hope, and Bowmanville share this sentiment and offer robust programs for their communities and I've solicited advice from them in developing my own.
One area of outreach I've been working to improve since becoming archivist in 2013 is the role of the archives in local schools. The elementary school curriculum places a great deal of importance on learning with and using primary sources, including letters, diaries, newspapers, artwork, recordings, and photographs. What better place than an archives for students to acquire first-hand knowledge with these types of learning tools?
We developed a primary source analysis tool (based on a template provided to us by the Oshawa Community Museum and Archives) that asks the students to observe, inquire, and evaluate when presented with an archival item from our collection. Students have the opportunity to handle (while wearing gloves) items that are anywhere from 50 to 100 years old, including school records, postcards, photographs, and letters. They are encouraged to ask questions and present their conclusions to the rest of the class. Read more
---
Awesome London Winner Aims for World Record
By
Chris McInnes,
London Community News
, March 27, 2015
Ryan Hunt is used to creating excitement using even the smallest pieces of technology, but thanks to Awesome London, he and the DHMakerbus team are looking to make a worldwide impression.
Every month, Poacher's Arms Pub in downtown London hosts the finalists competing for a $1,000 grant from the Forest City's chapter of the Awesome Foundation.
Hunt helps run the DHMakerbus, a mobile technology classroom, or, as he described it, a "magic school bus for the 21st century." His plan was to gather thousands of London residents in one place to create the world's largest human circuit.
A school in Texas holds the current record of 1,113 people, but Hunt isn't afraid of the challenge. "They might do it big in Texas, but we do it Awesome in London."
Hunt's demonstration had eyes lighting up.
Instructing all the Awesome London trustees to join hands in a circle, he revealed a small device that lit up with flashing lights as the circuit was completed.
Designed by the Makerbus' technical expert James Graham, the device is completely safe and powerful enough to work with a "circuit" of up to 2,000 people holding hands. "We don't just want to edge out this record, we want to smash it."
This month's event was held on March 23 when Hunt won over the Awesome London trustees with a plan that was not just ambitious, but potentially world-record setting. Read more
---
Faces of Western: Jesika Arseneau
By Jennafer Freeman, The Gazette, March 26, 2015
A Western history alumna has helped to develop a software that allows for collaboration between governments, non-for-profit and for-profit businesses.
Jesika Arseneau recently began working as a publicist for the Royal Ontario Museum, where she is in charge of Friday Night Live, the Douglas Coupland and dinosaur exhibitions. In addition to her day job at the ROM, Arseneau works for Networks for Change, where she has played a large role in developing their new product, Keela.
Keela is an online software designed specifically for the social goods sector. According to Arseneau, the intent behind Keela is to connect not only non-profits, but also people who work in government and for-profit businesses, allowing them to collaborate in one space to work on projects together.
The product name was inspired by the word keela in Swahili, which means everything or everyone.
"What's really different about Keela is that more than one organization can work on a project at once," explains Arseneau. "So there actually is no existing project management tool that allows that to happen."
Arseneau works in an all-encompassing role, focusing on anything that involves some kind of communication. She explains that she works with the branding team to navigate what is the best kind of branding to use or how the company can best explain something to the public. They also work on developing all of the help tools, the logo and social channels.
Arseneau completed her undergraduate degree at Queen's University, studying history and English. From there, she went on to complete her Masters in public history at Western, graduating in 2013.
"It's a very, very cool program because it's kind of a professional take on the Masters," explains Arseneau.
According to Arseneau, the program gave her a lot of experience in learning to write for the public, as well as learning how to translate tough academic material into something the general public can understand.
"That's what transitioned me into publicity and branding and creating messages that the broad public can ingest," says Arseneau.
Western's Masters in public history also taught Arseneau about networking, which she explains is essential to finding a career.
"It really taught me the importance of breaking out of your shell and the networking opportunities that I was able to receive from Western were amazing," she says. "The program that I was in, public history, had a very strong focus on being able to represent yourself."
Arseneau explains that she gained the opportunity to work for Networks for Change through networking.
"I came in contact with the CEO as my boyfriend knew him at Osgoode Hall [Law School]," says Arseneau. "So it was just professional networking."
This networking strategy seems to be the most effective to Arseneau.
"I found through getting involved in this opportunity, it's really about paving your own way. Just blindly applying to jobs – that's not enough," she says. "Go to meet ups, go connect with professionals on LinkedIn who are doing what you want to do and get advice from them – that's really how I started to find my path and how I found myself here."
"As a history student I worked primarily with museums and art galleries and so many of those are non-profits that don't receive a lot of funding," Arseneau adds. "So I had a lot of experience with the struggles that non-profits have working with technology so I was immediately intrigued by what Keela could bring."
The company has already done a soft launch of the product and are targeting a larger public release next month.
"We just launched last month at the United Nations Youth Assembly," says Arseneau. "Since then we've been bringing some non-profit organizations on board and getting their feedback. Since we're in this data stage right now, we're able to get their feedback to the developers to put in place what they think works best."
Arseneau adds that Keela may also appeal to students. It features a task manager, a calendar and internal communications, which could be useful for student groups in terms of organization.
---
Windsor Profile: Terran Fader, the Black Museum's Consummate Curator
By Rebecca Canty, OurWindsor, February 6, 2015
Curator Terran Fader wants to share her knowledge of history with everyone. After roles at Fort Malden, Secrets of Radar Museum and Fanshawe Pioneer Village, she became the curator/administrator at the Black Museum (formerly the North American Historical Museum) a year and a half ago.She spoke with OurWindsor about her career and love of history, the museum's collection and some of her plans for the future. Read more
---