Current News
Program news, and articles written by and about students and alumni.
Alumna Interviews Film Director of My Life as a Courgette at the European Parliament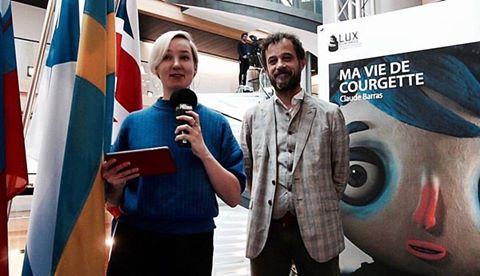 In Strasbourg, Tamar Cachet interviewed the Claude Barras, director My Life as a Courgette. The full interview will appear soon on the #28TimesCinema blog!
---
Off limits: the Grand Rapids Public Museum archives
eightWest Staff Published:
At any given time, visitors to the Grand Rapids Public Museum only see five percent of the museum's entire collection. The rest is stored in the archive, a massive storage area that has artifacts ranging from clothing to furniture and fossils to musical instruments.
See alumna Andrea Melvin give a tour of the storage area.
---
Western University graduate students collecting stories from Americans who came to Canada
By
Kate Dubinski
,
The London Free Press,
Thursday, February 4, 2016
When you think of the Canadian immigrant experience, stories of Americans likely aren't the first that come to mind.
But Americans have a long history of coming north, from the New England Planters of the 1760s and 1770s to the black migrants following the Underground Railroad between 1640 and 1860.
There are more recent examples of Vietnam War draft dodgers in the 1960s and 1970s and liberal Americans leaving since 2000 because of right-wing politics.
"One person said that growing up, they'd heard a lot about the American dream, and they get a laugh out of the fact that they had to come to Canada to pursue the American dream," said Mike Dove, the acting director of Western University's master of arts program in public history.
He and a group of 10 students are interviewing Americans who have emigrated to Canada, part of a partnership with the Canadian Museum of Immigration at Pier 21 in Halifax.
The students will conduct oral history interviews with Americans who have come to Canada since the 1960s. The focus is on draft dodgers and members of the American lesbian, gay, bisexual, transgender and queer (LGBTQ) community.
"The Museum of Immigration at Pier 21 is interested in filling in some of the voids, and American immigration to Canada is not one of those topics that has been pursued," Dove said. "Now is the time. We're well-positioned here, particularly because of the history here in Southwestern Ontario."
The interviews by the Western students will be compiled into a virtual gallery that will be displayed at the museum.
Draft dodgers, who would have come as young men in the late '60s and early '70s, are getting older, and it's important to interview them about their experiences before memories fade, Dove said.
"It began in 1965, the draft dodgers and deserters. Deserters haven't been pardoned, but draft dodgers were pardoned in 1977, and about half stayed in Canada. There are no official numbers but 40,000 is a conservative estimate," he said.
The draft dodgers mainly came to Ontario and British Columbia.
There also was a spike in immigration to Canada from the States when gay marriage was legalized here, Dove said.
"The members of the LGBTQ community, they self-identify, and they don't necessarily see themselves as refugees, and they might not have come here for exactly gay marriage, but it was one of the pluses, to live in a much more liberal society," Dove said.
"We want to know people's reasons for coming here, their reasons for leaving and their experiences when they first arrived. I would want to know whether they were being pushed as opposed to pulled." Read more
---
This Hour of Trial and Sorrow wins Lieutenant-Governor's Award
Our 2014-15 Public History graduates (Lauren Abrams, Tamar Cachet, Nick Clemens, Taryn Dewar, Scott Dickinson, Nick Kormarnitksy, Alex Meyers, Nikki Michienzi, Vasanthi Pendakur, Rachel Pennington, Frank J. Smith, Nicole St. Cyr, Dominik Svehla, and Emily Villars) have won the Lieutenant Governor's Ontario Heritage Award for Excellence in Conservation for their book, This Hour of Trial and Sorrow: The Great War Letters of the Leonard Family. This award recognizes exemplary contributions to heritage conservation.
Awards will be presented at the Legislative Building, Queen's Park, in Toronto on February 26th, 2016 at 6:00pm
---