Nancy Rhoden
- Associate Professor
- Undergraduate Chair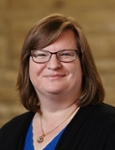 PhD, Princeton University, 1994
Telephone: 519-661-2111 ext. 84970
Email: nrhoden@uwo.ca
Office: Stevenson Hall 2122
Office Hours:  Mondays 11:30am-12:30pm and Thursdays 10:30-11:30am or by appointment.
---
Research Interests
Professor Rhoden is a specialist in early American history and colonial British history of the seventeenth and eighteenth centuries, with particular interests in: the history of the American Revolution; religious and social history; political change and identity during revolutionary era; history of the British Empire and Atlantic World.
---
Teaching Philiosophy
I became a historian because of my love of the subject matter and independent research. Consequently, my interactive teaching style aims both to communicate the subject, in diverse and rich terms, and to direct student learning, including research, so as to cultivate in students an understanding that history is a creative, exciting process of analysis and discovery. My goal is to introduce students to some of the best work on colonial British America and the early history of the United States. As a guide to their learning, I support undergraduate and graduate students as individuals engaged in their own efforts to formulate thoughtful research questions, select appropriate sources, interpret evidence, and present an effective argument in oral presentations and written essays. I encourage students to be perceptive thinkers and readers, clear and effective writers, and lifelong learners, and I find that students' questions inspire my own scholarly creativity.
Current Projects
My current work reflects my broad interests in colonial British America and the American Revolution. A long-term monograph project is a history of the Virginia elite during the American Revolution that examines their problems of identity during a democratic revolution. Political culture, religion, and identity are prevalent themes in several other projects as well.  I continue to write on the historiography of Atlantic integration and anglicization, and the history of the colonial Church of England. The range of religious liberty in early America and its limits, the persistence of religious intolerance, and how the dynamics of interdenominational relations shaped public opinion and religious policies about religious freedom are also areas of current exploration.
Selected Publications
Books
(Forthcoming)"Anglicanism, Dissent and Toleration in Eighteenth-Century British Colonies," in

Anglicizing Americans: Empire, Revolution, and Republic

, ed. Ignacio Gallup-Diaz, Andrew Shankman, and David J. Silverman. Philadelphia: University of Pennsylvania Press
(2007) English Atlantics Revisited: Essays Honouring Professor Ian K. Steele, Montreal: McGill-Queen's University Press. edited.
(2000) Human Tradition in the American Revolution (Scholarly Resources). co-edited.
(1999) Revolutionary Anglicanism: The Colonial Church of England Clergy During the American Revolution (Macmillan UK, 1999 and NYU press).
(1999)The Human Tradition in Colonial America (Scholarly Resources) co-edited.
Selected Refereed Articles and Book Chapters
(2013) "'The American Revolution: The Paradox of Atlantic Integration" in Oxford History of the British Empire, Vol VI Stephen Foster, ed. Oxford University Press.
(2013) "Agents of Loyalism and Revolutionary Order: The Church of England Clergy and Relations with German Lutherans in Pennsylvania, 1750-1783," in Pietists and Lutherans in the Prerevolutionary and Revolutionary Atlantic World. Series Title: Hallesche Forschungen. Halle, Germany: Franckesche Stiftungen.
(2007) "Patriarchal Authority in Revolutionary Virginia: Connecting Familial Relations and Revolutionary Crises," in English Atlantics Revisited, 410-449.
(2007) "Patriots, Villains and the Quest for Liberty: How American Film has Depicted the American Revolution," Canadian Review of American Studies 37 no. 2, 205-38.
(2000) "William Smith: Philadelphia Minister and MOderate," in The Human Tradition in the American Revolution, 61-80.
(1999) "George Whitefield: Transatlantic Revivalist," in The Human Tradition in Colonial America, 217-236.