Monda Halpern
- Associate Professor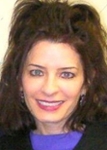 PhD, Queen's University, 1997
Telephone: 519-661-2111 ext. 84980
Email: halpern@uwo.ca
Office: Lawson Hall 2266
Office Hours: 1st Term: Mondays 10:00-11:30am or by appointment  2nd Term:  Tuesdays 10:00-11:30am or by appointment.
---
Special Appointments
Affiliated with

The Centre for American Studies
The Department of Women's Studies and Feminist Research
The Jewish Studies Program
The Collaborative Graduate Program in Migration and Ethnic Relations
---
Research Interests
Professor Halpern specializes in nineteenth and twentieth-century Canadian and American Women's History and Jewish History.
---
Teaching Philosophy
"At the start of every academic year, I make a bold promise to my undergraduate students - one which defines my teaching philosophy and goals. I inform them that my course will change their world view - that in eight months, they will see the world, and therefore themselves, in a new way. By the end of the year, they eagerly tell me of their personal evolution, and I respond that this is what learning should be - transformative."
Major Research Projects
Professor Halpern is currently examining the 1933 Riot at Christie Pits in which Jewish teenage boys battled an Anti-Semitic gang who unfurled a large swastika banner at a Toronto baseball game. The riot, which lasted about 6 hours, ultimately involved thousands of combatants wielding bats and lead pipe, and caused serious injuries. Although the riot proved a monumental event for the Toronto Jewish community, it has received little scholarly attention.
---
Selected Publications
Books:
Book Chapters:
| | |
| --- | --- |
| | (2011) "Foreword" (co-authored with Rev. Michael Bechard), pp. i-ii, and "Introduction" (co-authored with Sonia Halpern), pp. vii-x, in Esther Warmerdam as told to William Butt, Behind Our Doors (Holocaust memoir). London, Ontario: The Althouse Press (in cooperation with the Centre for Jewish-Catholic-Muslim Learning, King's University College |
| | (2010) "Baggage Claim." pp. 65-68. Living Legacies: A Collection of Writing by Contemporary Canadian Jewish Women, Volume II. Edited by Liz Pearl. Toronto: PK Press |
| | (2001) "'Such Outrageous Discrimination': Farm Women and Their Family Grievances in Early Twentieth-Century Ontario," pp.116-23. Framing Our Past: Canadian Women's History in the Twentieth Century. Edited by Sharon Anne Cook, et al. Montreal and Kingston: McGill-Queen's University Press |
Refereed Journal Publications:
(2015) "Are you people Jewish?": The Mistaken Identity of Mary Rosenblatt in the 1952 Harry Lee Murder Case." Canadian Jewish Studies, 23 (2015): 68-91.
(2011) "'Art Should Always Ennoble': Emma Griesbach and Art Appreciation in the Women's Page of The Farmers' Sun, 1917-1922" (co-authored with Sonia Halpern). Ontario History, CCII, 1 (Spring 2011): 42-59.
(2008) JAP – Jewish And Passed-over: The Invisibility of Single Jewish Women in Issues of Intermarriage and Conversion" (co-authored with Sonia Halpern). Women in Judaism: A Multidisciplinary Journal (Spring 2008) [online journal].
(2007) "'This Ambitious Polish Jew': Rethinking the Conversion and Career of Bishop Isaac Hellmuth." Ontario History (Autumn 2007): 221-46.
Recent Presentations
(2017) "'The Comfortable Concentration Camp': Female Domesticity and Nazi Analogy in Betty Friedan's The Feminine Mystique." Jewish Community Centre, London, Ontario, February 6, 2017
(2015) "'Are You People Jewish?' The Mistaken Identity of Mary Rosenblatt in the 1952 Harry Lee Murder Case." Jewish Research Group, Western University, November 18, 2015
(2015) "Alice in Shandehland." Archives Association of Ontario, Eastern Chapter, City of Ottawa Archives, September 17, 2015
---
Awards and Distinctions
2016 Dean's Award of Excellence (awarded to the top performers in a Department, 2012-2015)

2015-16 USC Teaching Honour Roll
for Teaching Excellence (sixth time receiving honour also received in 2010-11, 2008-09, 1997-2000)

2014 J.B. Smallman Publication Fund and the Faculty of Social Science, The University of Western Ontario, for Alice in Shandehland: Scandal and Scorn in the Edelson/Horwitz Murder Case ($5000)

2009-10 Nominated, Award of Excellence in Undergraduate Teaching
USC/Alumni Association/Bank of Nova Scotia (third nomination also in 2006-07, 2001-02).