NEWS

Pier 21 Partnership Puts Public History Program on the National Stage
Through the 2015-2016 academic year, students from the MA in Public History program worked with the Canadian Museum of Immigration at Pier 21 to tell stories of US immigration to Canada. Their work is now on display on the museum website and one of the students, Alexandra Weller, is completing an internship at the museum. For more information, click here.
---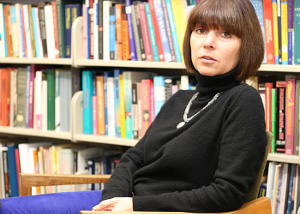 Prof. Marta Dyczok and Hromadske Radio launch 'Ukraine Calling' podcast
Thanks to the efforts of Prof. Dyczok, more news and views from Ukraine will reach the English-speaking world every week through a new podcast called Ukraine Calling. For more information, click here.
---
Prof. Robert MacDougall Wins International Award for Latest Book
Robert MacDougall, Associate Professor in the Department of History, received the 2016 Albert B. Corey Prize, awarded at the annual meeting of the Canadian Historical Association, for his latest book The People's Network: The Political Economy of the Telephone in the Gilded Age. Click here for more. 
---