Whose History Is It Anyway?
Inclusion, Exclusion, and 150 Years of Canadian History
We look forward to you joining us on December 7th.
As the formal RSVP process has closed, please contact history-inquiries@uwo.ca if you have any questions or if any special accommodations are required.
Canada's Sesquicentennial has been the occasion to celebrate Canada's history. This anniversary is also an ideal moment for critical reflection about the writing and teaching of Canada's history, and interrogating the assumptions, norms, and values that have shaped narratives presumed to be inclusive but which have privileged some groups while dispossessing and marginalizing others. Histories of gender, class, race, ethnicity, immigration, and First Nations highlight this exclusion while exploring questions of agency and representation. This day-long workshop includes the Talman lecture, panel presentations, and facilitated small group discussions, throughout which we will explore the theme of inclusion-exclusion in the teaching and writing of Canadian history.
December 7, 2017 - The Great Hall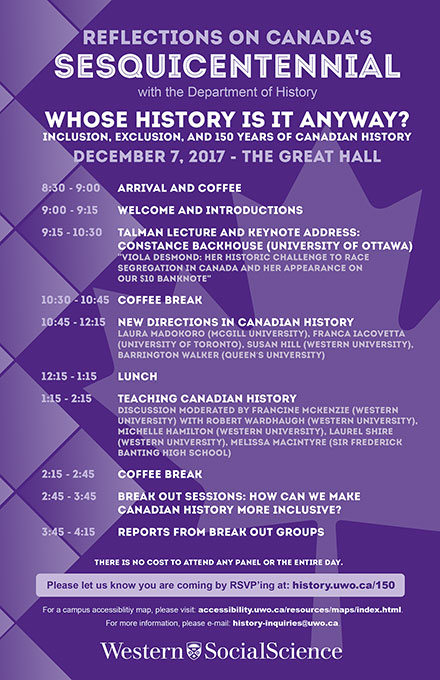 View/download poster
8:30 - 9:00
Arrival and Coffee
9:00 - 9:15
Welcome and Introductions
9:15 - 10:30
Talman Lecture and Keynote Address by Constance Backhouse (University of Ottawa)
"Viola Desmond: Her Historic Challenge to Race Segregation in Canada and Her Appearance on our $10 Banknote"
10:30 - 10:45
Coffee Break
10:45 - 12:15
New Directions in Canadian History
Laura Madokoro (McGill University), Franca Iacovetta (University of Toronto), Susan Hill (Western University), Barrington Walker (Queen's University)
12:15 - 1:15
Lunch
1:15 - 2:15
Teaching Canadian History
Discussion moderated by Francine McKenzie (Western University) with Robert Wardhaugh (Western University), Michelle Hamilton (Western University), Laurel Shire (Western University), Melissa Macintyre (Sir Frederick Banting High School)
2:15 - 2:45
Coffee Break
2:45 - 3:45
Break Out Sessions: How can we make Canadian history more inclusive?
3:45 - 4:15
Reports from Break Out Groups
---
There is no cost to attend any panel or the entire day.
For a campus accessibility map, please visit: accessibility.uwo.ca/resources/maps/index.html.
For more information, please e-mail: history-inquiries@uwo.ca.