2012 News Archives

LACH uses Student Research for Heritage Designations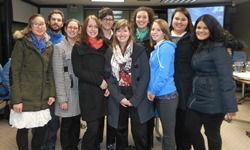 Public History students presented their research on the architectural heritage of the Old North London neighbourhood last night to members of the Stewardship Committee of the London Advisory Council on Heritage (LACH) and the Architectural Conservancy of Ontario (ACO). Their reports will be used by LACH for designation purposes and by the ACO in its annual heritage home walking tour next summer. This is the fourth year that the Public History program has partnered with LACH and the ACO. Previous areas of research have been the Ridout/Talbot street area, Old South London, and the SoHo district.
---
Newest Graduate Publication
PhD candidate, Magdalena Kubow recently published an article in the Center for White Rose Studies entitled "Caught in an Ancient Rite of Sex and War:The Sexual Abuse of Women during World War II. [Read Article]
---
Monitoring the Ukrainian Parliamentary Election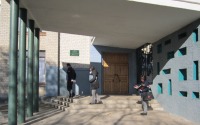 Prof Marta Dyczok was part of the official Canadian monitoring mission to the Ukrainian Parliamentary Election, held on 28 October 2012. CANADEM posted her as a Short Term Observer in the rural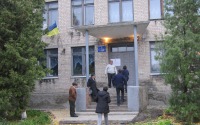 region of Balakliia, Kharkiv Oblast (province) in the eastern part of the country. For details about the Mission Canada Ukraine 2012 please see: http://www.canademmissions.ca/ukraine/.
---
Cameron Bryant named Alumni of the Month
The Department of History is proud to announce that Cameron Bryant (Class of 2010) was named the History Department's Alumn of the Month. For more information please see the offical November Alumni of the Month poster.
Congratulations Cameron!
---
Nominated for Book Awards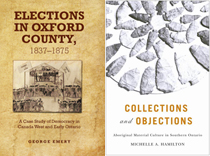 Books by faculty members George Emery and Michelle Hamilton have been shortlisted for the first annual Speaker's Book Award presented by the Legislative Assembly of Ontario. This new prize "recognizes works by Ontario authors reflecting the diverse culture and rich history of the province and of its residents." Five other books have been nominated. The winner will be announced at an awards ceremony to be held at the Ontario Legislature in early 2013.
---
Ignatieff Speaks at Western!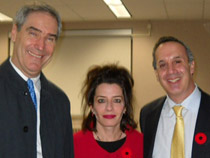 On November 8, 2012, The Centre for American Studies (CAS) in cooperation with The Canada-U.S. Institute (CUSI) hosted Michael Ignatieff, former Leader of the Liberal Party of Canada. His talk, "Us and Them: Opponents and Enemies in Politics," was attended by 250 people. Pictured is Dr. Michael Ignatieff; History professor Monda Halpern, CAS Speakers' Series Coordinator; and Political Science professor Don Abelson, Director of the CAS and CUSI. History doctoral candidate Anna Zuschlag (not pictured) served as Event Coordinator.
---
Maria Cortellucci named Alumna of the Month
The Department of History is proud to announce that Maria Cortellucci (Class of 2008) was named the History Department's Alumna of the Month. For more information please see the offical October Alumni of the Month poster.
Congratulations Maria!
---
Sendzikas Wins Award

The Department of History is proud to announce that Aldona Sendzikas won the City of Toronto Award of Merit for her book Stanley Barracks: Toronto's Military Legacy at the 38th annual Heritage Toronto Awards on Tuesday, October 9, 2012. The awards recognize and celebrate innovative work and programs that preserve and promote the city's heritage.
Congratulations Aldona!
---
Dimmel on Impact of War on Border Towns
The Saint Croix Courier newspaper of St. Stephen, New Brunswick, ran a story relating pieces from Western History's PhD Candidate, Brandon Dimmel's 2010 American Review of Canadian Studies article covering the area's Great War experiences on July 3rd, 2012. (Read the article)
---
Kubow Remembers Victims
Western History's PhD Candidate, Magdalena Kubow reminds us that Monday marks the 70th anniversary of the Day of Protest against the victimization of Polish women by the Nazis in an article in the London Free Press on July 30, 2012. This article will also be featured in the Ottawa Citizen (on Monday) the Canadian Jewish News (on Aug 2) as well the Polish American Journal's August issues, and the Center for White Rose Studies August newsletter.
Kubow tells us "the Day of Protest was initiated by the Polish Mid-Eastern Women's Auxiliary Corps in Jerusalem and marked the plight of women, both gentile and Jewish, with a moment of silence" and that "in 1942, a small group of brave women initiated a moment of silence in recognition of the plight of others. They acted, by the only means available to them, on behalf of those who were powerless." Kubow asks that we follow in their example and do the same.
---
Elliott's Lab makes news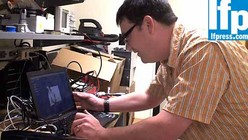 Western History's student, Devon Elliott recreates magic tricks from the 1900s and figures out their secrets, with a little computer help. Devon's "Geek Lab" was featured in an article by the London Free Press in their research section on July 24, 2012. (Read the article)
---
New Joint JD/MA Program
The History Department is proud to announce the combined JD/MA (History) program.  This program allows students to complete both the JD degree and the MA (History) degree in three academic years instead of the normal four years required if the JD and MA (History) degrees were taken separately. It is designed for students who envision a career in those areas where history and the law intersect.
The combined degree program is administered on behalf of the Faculty of Law and the School of Graduate and Postdoctoral Studies (SGPS) by the two Program Directors, one of whom is appointed by the Faculty of Law and the other by the Department of History.
For more information on this program, please see our Combined JD/MA Program page. If you are intersted, please contact our Graduate Assistant, Chris Speed.
---
Ruud - Latest Book Success

Congratulations to Professor Emeritus Charles A. Ruud for the publishing of his latest book "My Life for the Book: The Memoirs of a Russian Publisher, Ivan D. Sytin.
Professor Ruud along with former PhD Student Marina Soroka translated, edited and annotated the formerly unpublished memoirs of the most successful Russian pre-Revolutionary book publisher. "While the Revolution eventually deprived Sytin of all means to continuing publishing, his resilience and enterprise remain a lasting legacy. "
McGill Queen's University Press calls the book "a tale of Great Russian society voiced by a parvenu, depicts a pre-Revolutionary Russia of small shops, churches, convents, deep religious faith, and flawed rulers". If you would like to learn more about this publication, please see the publisher's website.
---
1812 App Available
Professor Dove and his MA public history students have developed a smart phone app for the War of 1812. "The app follows "Route 1812" and "The Tecumeseh Parkway," historic driving routes throughout southwest Ontario that show you the sites, stories and sounds of the War". The app is free and can be searched or downloaded from QR codes on interpretive signage along the route.
News of the app has received some media attention. Professor Dove was interviewed by the Windsor Star and Heather Rivet, student, spoke with the CBC. For more details, see the Windsor Star article published on June 8, 2012.
---
Professor Emery's Latest Book - An Important Contribution to Political History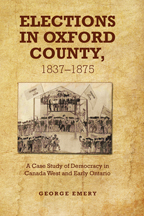 Congratulations to Professor Emeritus George Emery for the publishing of his latest book "Elections in Oxford County, 1837-1875: A Case Study of Democracy in Canada West and Early Ontario.
The book involves a study of thirty-eight elections in Oxford County — first as part of the United Province of Canada, then in early Ontario. Professor Emery "delves into the advances, setbacks, and flaws of a partially democratic system" and "demonstrates that while its forms and issues evolved, the net amount of democracy remained stable over time."
The publisher calls the book "a unique exploration of the forms, practices, and issues of democracy in a mid-nineteenth-century colonial setting." Professor David Mills, Department of History and Classics, University of Alberta raves that it "makes an important contribution not just ot the political history of Oxford County but to the larger political developments in Old Ontario during this period." Kenneth C. Dewar, Professor Emeritus, Department of History, Mount Saint Vincent University states "There are few people as knowledgeable about the practice of electoral politics in nineteenth-century Canada as George Emery, and his Elections in Oxford County, 1837–1875 succeeds admirably as a case study with wider significance."
If you are looking to learn more about electoral politics in early ontario, add this one to your summer reading list.
Again, congratulations, Dr. Emery.
---
2012 Centre for American Studies Fulbright Visiting Scholar Announced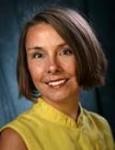 This year's Centre for American Studies Fulbright Visiting Scholar will be Dr. Colleen O'Brien. Dr. O'Brien is an Assistant Professor of Early American Literature at the University of South Carolina-Upstate. Her research interests include hemispheric American studies and the history, literature, and culture of the nineteenth century. She earned her Ph.D. in English and Women's Studies at the University of Michigan in Ann Arbor and has published various journal articles on transnational race relations, gender and sexuality. Her first book manuscript, Romance and Rebellion in the Nineteenth Century Americas, is in review at the University of Virginia Press. During her time at Western in 2012-13 she will be working on her second major project, Metaphors of Heart's Blood and Home: Black Revolutionaries and Agrarian Freedom in the Americas.
---
A New Virtual Exhibit
"MB: Living & Writing the Early Years of Parks Canada," a virtual exhibit dedicated to MB Williams, a woman who helped shape the Canadian national parks system in the early 20th century, has been launched by Associate Professor Alan MacEachern with the assistance of two UWO Public History graduates, Adam Crymble (now a PhD student, King's College London) and Luvneet Rana (now Digital Archivist, History of Medicine, University of Michigan). The site is anchored by a rich collection of primary sources: more than 30 personal letters, 9 published guidebooks, photographs, and an oral interview from 1969.
---
MacFadyen & MacEachern Launch Gallery Exhibit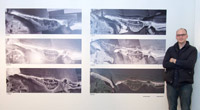 Josh MacFadyen, SSHRC Postdoctoral Fellow in our department, and Alan MacEachern, Associate Professor, have curated "Aerial Photography, Landscape Change, and PEI National Park," an exhibit running 21 April – 10 September at the Confederation Centre of the Arts in Charlottetown, PEI, in honour of the national park's 75th anniversary. The exhibit uses photomosaics of aerial photographs from 1935 to 2010 to tell a visual history of the park, revealing the speed and scale of both development and natural regeneration due to park activity.
---
Dyczok speaks on Ukraine's Ex-PM
On May 10, 2012, Professor Marta Dyczok explains why Yulia Tymoshenko is now allowed to leave prison and receive medical attention on CTV morning news. To see the clip, click here
---
Dyczok Speaks on Media & Memory
On April 19, 2012, Professor Marta Dyczok organized and spoke at a Mini-Symposium at the University of Toronto Munk School of Global Affairs on her research on Media and Memory. The symposium named "Collective Memory & Competing Media Representations: WWII and Displaced Ukrainians" was sponsored by The Petro Jacyk Program for the Study of Ukraine & The Centre for European, Russian, & Eurasian Studies.
The symposium presented new perspectives by bringing together an international, inter-disciplinary panel. The focus was on World War II and Ukraine. However, rather than trying to determine who were the 'heroes' and who were the 'villains,' the speakers explored the international context of the history and memory of millions of ordinary Ukrainians uprooted during the course of the war. They discussed how experiences were politicized during the Cold War, how debates are changing after the collapse of communism, and the importance of mass media in this process.  <<More>>
---
Western History Conference Keynote Speaker Announced
Our 2nd Annual History Conference - From Here to There: Change, Travel and Transformation will take place September 27 - 29th, 2012. We have secured Dr. Cecilia Morgan from the University of Toronto as this year's keynote speaker.
Western's Department of History is inviting graduate and Honours undergraduate students of all disciplines and concerned with all time periods to submit papers that speak to our conference title. For more information, please see the conference's brochure.
---
2012 Joanne Goodman Lecturer Announced

The Department of History is proud to announce this year's Goodman Lecturer-Professor Emeritus, Ian K. Steele, Western University. His Lecture entitled "'Setting all the Captives Free': Captivity, Adaptation and Remembrance in Mid-18th Century North America" will take place October 2, 3 and 4, 2012.
---
2012 Talman Lecture A Success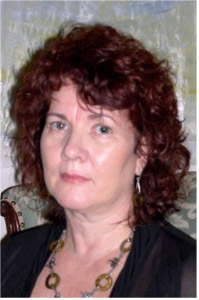 The 2012 Talman Lecture was presented on Thursday, March 29, 2012. Dr. Cecilia Morgan from the University of Toronto was this year's distinguished speaker. She presented "Among the Six Nations": Celia B File and the Politics of Writing Memory, HIstory and Home in Southern Ontario, 1920s-1960s. The talk was very informative and enjoyed by all.
The J.J. Talman Lecture Series focuses on Ontario history, Ontario regional collections and innovative uses thereof, or previously unstudied aspects of Canadian history. Reflecting the breadth of Dr. Talman's career at Western, as a respected historian and Chief Librarian, the lectures are organized annually by a joint committee comprised of representatives from the Department of History and Western Libraries.
The J.J. Talman Lecture Series was envisioned and is funded by Raj Jain, Librarian Emerita, and her brother, Dr. Sushil Jain, in gratitude for Dr. Talman's many personal kindnesses, and to recognize his substantial contribution to Western.
---
Brandeis University Professor part of American Studies Speaker Series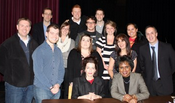 History professor Monda Halpern, Associate Director of the Centre for American Studies, organized a talk by Professor Anita Hill of Brandeis University as part of the Centre's Speakers' Series and the Canada-US. Institute's Visiting Fellows Program. Professor Hill rose to prominence in 1991 when she testified at the Clarence Thomas confirmation hearings after his nomination to the U.S. Supreme Court.
Pictured are CAS graduate students, staff, and faculty, including Professor Halpern with Anita Hill (seated); History doctoral candidate Anna Zuschlag (standing behind Monda) who served as the event coordinator; and History professor Robert MacDougall, Associate Director of the Centre (back left). The talk was sponsored by the CAS and the Canada-U.S. Institute, with a contribution from the Department of Women's Studies and Feminist Research.
---
History Students' win at Ball State Conference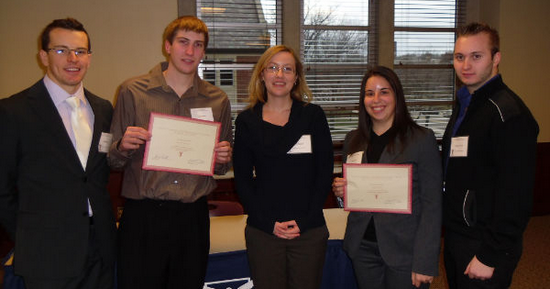 The students were all smiles having returned from the Ball State History Conference in Indiana. Our team (pictured above from left to right) included Jacob Damstra, Joseph Bodley, Shira Lurie and Michael Buttazzoni. Professor Karen Priestman (centre) accompanied the student delegation.
Joseph Bodley and Shira Lurie won the two undergraduate prizes at the conference for the papers entitled "The Noble Radical: Alexander Radishchev and the Culmination of Eighteenth Centure Enlightenment throught in Russia" (Bodley) and "Loading the Dice: Gambling and the Constraint of Chance in Colonial Virginia" (Lurie).
---
Macedonian Ambassador speaks at Western
The Departments of History and Political Science and the Undergraduate Program in International Relations co-hosted the a talk by Ljuben Tevdovski, Macedonian Ambassador to Canada on Wednesday, March 21, 2012. The talk entitled "The Dilemma of NATO Enlargement: What Can Canada Do To Strengthen NATO?" was well received by faculty and students.
---
Professor Vance Honoured
Congratulations to Professor Vance for earning Western' highest recognition for a faculty member "Distinguished University Professor". This award acknowledges sustained excellence in teaching, research and service accomplished during an outstanding scholarly career
---
March 6, 2012 - L. Elly Gotz Speaks
The Department of History, History Society and Jewish Studies Present L.Elly Gotz on Tuesday March 6, 2012. Mr. Gotz lecture entitled "Returning to Dachau after 65 Years" was well received by faculty and students as well as other members of the Western community.
---
Professor Marta Dyczok quoted in the Globe & Mail.
Professor Marta Dyczok quoted in the Globe & Mail in an article about the Canada-USSR Hockey Series in Moscow 40 years later. To read the full article click here.
---
3M National Teaching Fellow says thanks to his teacher - Craig Simpson
Last year's 3M National Teaching Fellows want to share their experiences as students and to thank the teachers who inspired them.  Prof. Arne Kislenko's acknowledgement of  Prof. Craig Simpson appeared in the February 15, 2012 edition of The Globe and Mail. To see the article, click here.
---
Wartime Canada, Website Launched
A new website created by Professors Jonathan Vance and Graham Broad preserves historical Canadian documents and makes them accessable to the public. The site
www.wartimecanada.ca
was up and running February 14, 2012. For more information, check out this article from the
London Free Press.
---
Attention 2012 History Graduates
History 2012 Graduates are invited to sign the Graduate History Board outside of Room 2201, Lawson Hall. Give us your thoughts on what History @ Western means to you before you move on to the next stage of your life.
---
In Memoriam - Professor Emeritus Frederick August Dreyer (1932-2012)

Professor Dreyer was born in Toronto 27 November 1932 and died in Kitchener at the Freeport Hospital on 20 January 2012. He attended Toronto schools and entered University College at the University of Toronto in 1950 as a scholarship student. He studied history, politics, some economics and languages and won the Canadian history prize in his graduating year. Fred become politically active in the CCF [now NDP], an enthusiasm that lasted throughout his undergraduate years. He remembered some of his instructors with admiration and fondness, including Donald Creighton. Others, such as C. B. Macpherson, he enjoyed less but said that Macpherson stimulated him to think. At Balliol College, Oxford, intending at first simply to do a second BA, he read history and took his degree in 1957. He then completed a Ph.D. under the supervision of Norman Gash at St Andrews in 1962. For two years he taught history at Aberdeen University, then returned to St Andrews before coming to Western in 1964. Fred taught modern British and European history for many years and towards the end of his career gave a course in the history of Christianity. He was the author of two articles in Canadian history, more dealing with British politics, and others on Edmund Burke and John Wesley on whom he also published books: Burke's Politics (1979) and The Genesis of Methodism (1999). A third volume on Ontario history, consisting of translated diaries of German Moravian missionaries amongst the Ojibwa in Southwestern Ontario, awaits publication. Fred was a man who liked arguments; every lecture contained at least one argument and ended with a clear conclusion. He was a fine teacher and colleague who served the Department as Graduate Chairman and sat in the University Senate. In his later years he was an active member of the Society for Academic Freedom and Scholarship. For more years Fred was active in the Conservative Party; as he aged he became more of a libertarian. His wife of many years, Elizabeth Joan Dreyer of New Liskeard, predeceased him in 2008. He is survived by the families of his daughter, Anne Dreyer of Horsham, England, and Edward Dreyer of Waterloo. Fred was always a polite and often a charming man full of clever, witty, perceptive and humorous perceptions. It was fun to be in his company. He was very special person and we shall all miss him a great deal.
---