Brandeis University Professor part of American Studies Speaker Series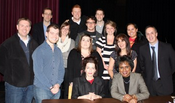 History professor Monda Halpern, Associate Director of the Centre for American Studies, organized a talk by Professor Anita Hill of Brandeis University as part of the Centre's Speakers' Series and the Canada-US. Institute's Visiting Fellows Program. Professor Hill rose to prominence in 1991 when she testified at the Clarence Thomas confirmation hearings after his nomination to the U.S. Supreme Court.
Pictured are CAS graduate students, staff, and faculty, including Professor Halpern with Anita Hill (seated); History doctoral candidate Anna Zuschlag (standing behind Monda) who served as the event coordinator; and History professor Robert MacDougall, Associate Director of the Centre (back left). The talk was sponsored by the CAS and the Canada-U.S. Institute, with a contribution from the Department of Women's Studies and Feminist Research.