Professor Emery's Latest Book - An Important Contribution to Political History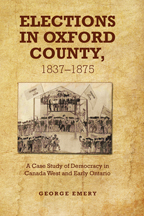 Congratulations to Professor Emeritus George Emery for the publishing of his latest book "Elections in Oxford County, 1837-1875: A Case Study of Democracy in Canada West and Early Ontario.
The book involves a study of thirty-eight elections in Oxford County — first as part of the United Province of Canada, then in early Ontario. Professor Emery "delves into the advances, setbacks, and flaws of a partially democratic system" and "demonstrates that while its forms and issues evolved, the net amount of democracy remained stable over time."
The publisher calls the book "a unique exploration of the forms, practices, and issues of democracy in a mid-nineteenth-century colonial setting." Professor David Mills, Department of History and Classics, University of Alberta raves that it "makes an important contribution not just ot the political history of Oxford County but to the larger political developments in Old Ontario during this period." Kenneth C. Dewar, Professor Emeritus, Department of History, Mount Saint Vincent University states "There are few people as knowledgeable about the practice of electoral politics in nineteenth-century Canada as George Emery, and his Elections in Oxford County, 1837–1875 succeeds admirably as a case study with wider significance."
If you are looking to learn more about electoral politics in early ontario, add this one to your summer reading list.
Again, congratulations, Dr. Emery.