2016 Department of History Holiday Fundraiser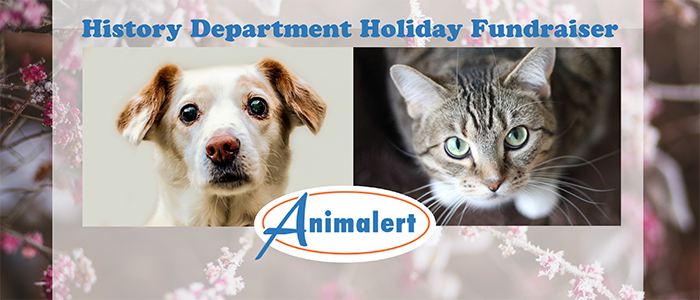 Our upcoming 5th annual holiday fundraiser for History will start November 14th!
Our tradition has been animals, so we have decided this year to support Animalert (www.animalert.ca) – a London, foster based rescue! 
We have reached out to the rescue and they're thrilled for the support.
The goal is to supply them with items on their wish list; plus money to help with their vet costs. Stay tuned for a bake sale at the end of November!
Wish List:
Kitty litter
Good quality cat/kitten food
Good quality dog food
bedding
Cat carriers

Dog crates
Dog beds
Cat/dog toys
treats

Collars
Leashes
Litter pans/scoops
Monetary donations towards vet bills
So mark your calendar and start bringing in donations on November 14th!
*Also, please send Kara Brown (kbrow@uwo.ca) a picture of your pet, along with its name*