Michael Dove
- Assistant Professor
- Internship Coordinator, M.A. Public History Program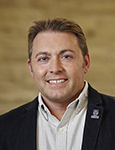 PhD, The University of Western Ontario, 2007
Telephone: 519-661-2111 ext. 84996
Email: mdove2@uwo.ca
Office: Lawson Hall 1207
Office Hours: Mondays 12:00-2:00pm
---
Research Interests
Professor Dove's research revolves around the social and economic history of the maritime world, with a special interest in the commercial trading companies that operated during the Early Modern Period (c. 1500-1800).
Teaching Experience
Professor Dove's teaching encompasses his interests in maritime history, public history and business. He has taught courses on "The Sea" and the "Maritime History of the North Atlantic in the Age of Sail" and is currently developing offerings that focus on the history of Canada's Atlantic region and the country's maritime past. In addition to his teaching of both undergraduate and graduate courses in Public History at Western, he offers workshops designed to introduce students to the study of material culture using objects from Western's Medical Artifact Collection. Professor Dove has also held teaching appointments with the University of Huron College and Western's DAN Management and Organizational Studies Program, where he has taught courses on "Globalization," "Organizational Behaviour," and "Human Resources Management."
---
Major Research Projects
Professor Dove is currently engaged with producing a full-length study of the shipping component of the Hudson's Bay Company between 1668 and 1870.
---
Media & Speaking Events
War of 1812 App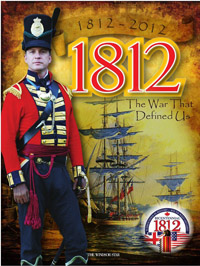 Professor Dove was interviewed by The Windsor Star about his and his MA Public History class's work in developing a smart phone app on the War of 1812 to mark the upcoming bicentennial. The app traces the story of the retreat of Major General Henry Procter and his First Nations allies led by Tecumseh in the late summer and autumn of 1813. The app follows "Route 1812" and "The Tecumseh Parkway" historic driving routes through southwest Ontario and will enable people to access the sites, stories and sounds of the War. The app is free and can be searched or downloaded using the QR code found here. His interview appeared in a special publication of the newspaper on the War of 1812 appearing in the June 6, 2012 edition. See: Windsor Star article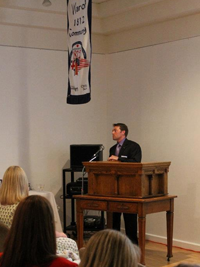 Professor Dove was an invited speaker at the official launch of the War of 1812 smart phone app for the South West Ontario War of 1812 Region, held at MacKenzie Hall in Windsor on June 23, 2012. Funded by a Community Learning Grant from the Student Success Centre at Western University, Professor Dove and his graduate public history students partnered with the 1812 Southwest Region of Ontario, the Tecumseh Parkway Committee, Fort Malden, the Chatham-Kent Museum, Fairfield Museum, and several other sites, archives and community groups to produce the content for this new interactive tool.