Message from the Undergraduate Chair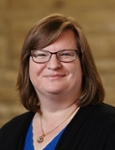 The History department welcomes your interest and wants to help you explore the past, whether you are already studying in one of the History Department's modules, or specializing in another field. Our courses span fifteen hundred years of human history and a very large part of the globe. We examine the history of political ideals and institutions, love and war, religion and capitalism, and imperialism and immigration—to mention only a few of the many themes we investigate. As the Undergraduate Chair, one of my roles is to help you find classes that will interest you. I invite you to explore our course offerings, and to contact me or the History Department's Undergraduate Advisor, Rebecca Dashford, with questions.
The study of the past offers the opportunity to move beyond the limits of our own time and place, to analyze and investigate societies often very different from our own. It lets us consider patterns larger than an individual life or a community. Students of history explore the ways in which contemporary societies are products of past experiences or choices, or how they have broken with historical patterns. Awareness of history is often essential to understanding current attitudes, values, policies, and practices. The study of history also offers the hope of learning from the mistakes, the successes, and the experiences of earlier generations.
The History Department believes that our classes help students to pursue their natural curiosity about their own and other societies, as well as promote the creation of an informed citizenry, one capable of understanding and analyzing critically contemporary issues. Studying history also helps to develop students' ability to express themselves clearly and precisely, in oral discussions and in writing. These are all valuable skills wherever your life and your career choices may take you.
Nancy Rhoden
Associate Professor and Undergraduate Chair