McCaffrey Seminar Series
The Bruce McCaffrey Memorial Graduate Seminar Series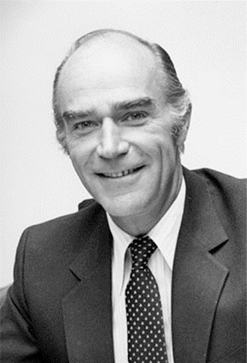 The History Department enjoys a vibrant graduate student culture, which has been energized by various students over the years. One important graduate activity is the graduate seminar series, which is organized by, and for, graduate students as a venue for their research and intellectual exchange. In 2002, the graduate students renamed their series in memory of M.A. student Bruce McCaffrey (1938-2002), whose love and enthusiasm for history reverberated throughout the department at Western.
Bruce McCaffrey left politics in 1987 and shortly thereafter relocated to London where he completed his honours upgrade and M.A. degree in History at Western. McCaffrey enjoyed studying the mid-19th century Canadian political era, with a special interest in Sir Francis Hincks (1807-1885). As a member of the history community, McCaffrey was friendly to all, with no pretensions and a great sense of humour. Fellow graduate students loved to hear his many (and sometimes bawdy) stories about the culture of politics.
Bruce McCaffrey died in August 2002 of lung cancer just days after completing his major M.A. research paper and graduated posthumously in October 2002. In memory of his spirit and enthusiasm for history, the seminar series continues to support historical research and graduate interchange.
---
2013-14 Presenters
October 3:
Erin Pocock 
- "Geographic Information Systems and the Mapping of Medieval Levantine Agriculture"
October 17:
Jamison Giangrande 
- "Men Looking at Women Looking at Men in Cars: [...] Why Men Believe Automobile Ownership Will Make Thyem More Attractive to the Opposite Sex"
November 7:
Jonathan Scotland
- "' Right up against it': Returned Men and the Ontario Canteen Fund, 1927-1939"
December 5:
Alex Souchen
- "Inconvenient Gifts of Useful Things: The Royal Canadian Army Medical Corps and the Disposal of Medical Supplies Overseas, 1944-1946"
January 9:
Chris Schultz
- " Reflections on the 40th Anniversary of John Keegan's The Face of Battle"
January 23:
Cayley Bower 
- TBA
February 13:
Steve Marti
- "Frenemy Aliens: The National and Imperial Considerations of Jugo-Slavian Contingents in Australia, Canada and New Zealand during the First World War"
March 20: 
Gregg French and Tyler Turek
- TBA                  " Otto Laahanen's Passport: Diplomacy, Nationality and Mobility in the British Commonwealth, 1920-c. 1940"
April 3:
Dave Blocker
-TBA