Talman Lectures
Viola Desmond: Her Historic Challenge to Race Segregation in Canada and Her Appearance on Our $10 Banknote
Thursday, December 7, 2017 - The Great Hall, 9:15-10:30 am
We look forward to you joining us on December 7th.
As the formal RSVP process has closed, please contact history-inquiries@uwo.ca if you have any questions or if any special accommodations are required.
About Our 2017 Speaker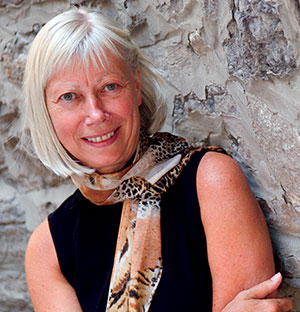 Professor Constance Backhouse
Distinguished University Professor and University Research Chair,
Faculty of Law, University of Ottawa.
Professor Backhouse is an internationally renowned scholar of  sex discrimination and the legal history of gender and race in Canada. She is a member of the Order of Canada, a Fellow of the Royal Society of Canada and a member of the Order of Ontario. Her many awards include the Killam Prize in Social Sciences, the Gold Medal from the Social Science and Humanities Research Council of Canada and the Governor General's Person's Medal. She has served for many years as a mediator and adjudicator of numerous human rights complaints,  among them the compensation claims arising from the physical, sexual and psychological abuse of both former inmates of the Grandview Training School for Girls and students at Indian residential schools across Canada.  In 2015 she was appointed as Chair of the Task Force on Misogyny, Sexism and Homophobia in Dalhousie University Faculty of Dentistry.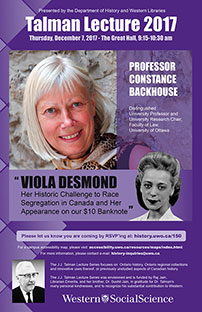 Professor Backhouse's numerous award-winning historical publications include:Carnal Crimes: Sexual Assault Law in Canada, 1900-1975  (Toronto: Irwin Law, 2008); with Hon. Justice Nancy L. Backhouse, The Heiress versus the Establishment: Mrs. Campbell's Campaign for Legal Justice (Vancouver: UBC Press, 2004);  Colour-Coded: A Legal History of Racism in Canada, 1900-1950 (Toronto: U of T Press, 1999) and Petticoats and Prejudice: Women and the Law in Nineteenth-Century Canada (Toronto: Women's Press, 1991). She is currently writing a biography of the Hon. Madam Justice Claire L'Heureux-Dubé, as well as a collective biography of one hundred Canadian late 20th Century feminist lawyers.
---
About the J.J. Talman Lecture Series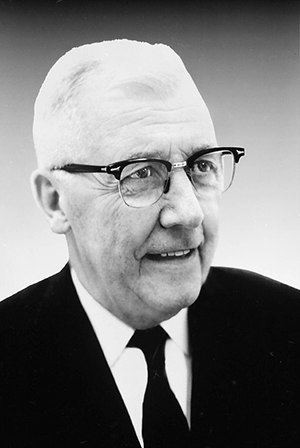 Presented by the Department of History and Western Libraries
The J.J. Talman Lecture Series focuses on Ontario history, Ontario regional collections and innovative uses thereof, or previously unstudied aspects of Canadian history.
Reflecting the breadth of Dr. Talman's career at Western, as a respected historian and Chief Librarian, the lectures are organized annually by a joint committee comprised of representatives from the Department of History and Western Libraries.
The J.J. Talman Lecture Series was envisioned and is funded by Raj Jain, Librarian Emerita, and her brother, Dr. Sushil Jain, in gratitude for Dr. Talman's many personal kindnesses, and to recognize his substantial contribution to Western.
---
Past Talman Lectures
| | | |
| --- | --- | --- |
| Year | Lecturer | Lecture Title |
| 2015 | Prof. Jane Errington | 'A burthen to the community'? J.B. Hawke and Managing Migration to Upper Canada |
| 2013 | Prof. Alan Taylor | Settling and Unsettling Borders: Continental Legacies of the War of 1812. |
| 2012 | Dr. Cecilia Morgan | "Among the Six Nations": Celia B File and the Politics of Writing Memory, History and Home in Southern Ontario, 1920s-1960s |
| 2011 | Dr. Tim Cook | Ghosts from the Trenches: Stories of the Supernatural and the Uncanny among Canada's Great War Trench Soldiers |
| 2009 | Dr. Carl Benn | Mohawks in the Sudan War, 1884-85 |
| 2008 | Dr. Peter Neary | From War to Peace: Canada in the 1940s |
---
Accessibility
Please contact us at history-inquiries@uwo.ca if you require information in an alternate format, or if any other arrangments can make this event accessible to you. For a campus accessibility map please visit:   http://www.accessibility.uwo.ca/resources/maps/index.html.