Professor Dyczok Visits Ukraine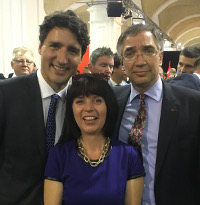 Prime Minister Justin Trudeau traveled to Ukraine for an official visit from July 10 to 12, 2016.
Professor Dyczok was invited to the Embassy Reception, where she met with the Prime Minister and Canada's Ambassador to Ukraine, the Honorable Roman Waschuk.
To learn more about the visit and the Canada-Ukraine Free Trade Agreement that was signed on July 11, please listen to Professor Dyczok's new show, Ukraine Calling, on Hromadske Radio (Public Radio Ukraine). It features an interview with International Trade Minister Chrystia Freeland who signed the agreement, the latest headlines from Ukraine, and music. Please visit the radio episode link here: http://hromadskeradio.org/en/programs/ukraine-calling/canada-and-ukraine-shared-values-and-real-economic-opportunities.
Hromadske Radio was featured in Prof. Dyczok's latest book, Broadcasting through Information Wars with Hromadske Radio. A free download of the book is available here: http://www.e-ir.info/2016/03/22/open-access-book-ukraines-euromaidan-broadcasting-through-information-wars-with-hromadske-radio/.