Mary Jane McCallum
- Visiting Professor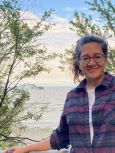 Position: Public History Visiting Professor 
Email:mmccal52@uwo.ca
Office: LWH 2239
---
Research Interests
I'm a Professor of History and a Canada Research Chair in Indigenous People, History, and Archives at the University of Winnipeg. I study and teach modern Indigenous history with a focus on federal Indian policy, racism, and modern First Nations health, education, labour and social history.  
My CRC is about promoting a central role for Indigenous people in the production, preservation and use of knowledge about history. I'm especially interested in supporting Indigenous scholars' and communities' efforts in researching and teaching knowledge about the past in ways that reaffirm relationships to land, environment and other people and support Indigenous self-determination. There are two key sites of my work: Winnipeg; and southern Ontario.  These two places, and the people and events that have shaped their modern histories are unique in many ways but each offers important and challenging insights for the research and writing of Canadian and Indigenous history.
At the Winnipeg site, I lead a CIHR-funded multi-year study of Indigenous Histories of Tuberculosis in Manitoba, especially focusing on the years 1930-1970.  In Ontario, I work with Munsee Delaware Nation band members to study and teach Munsee Delaware history, culture and language.
---
Objectives of Visit to Western
My term as Visiting Professor at Western runs between September 1 and December 15, 2022 and is funded by my Canada Research Chair (SSHRC) and the University of Winnipeg.  During this time, I have three main objectives. The first is to undertake research on a range of projects and to share my research especially on two book projects: Nii Ndahlohke: Boys and Girls Work at Mount Elgin Industrial School 1890-1915 (Friesen Press, 2022); and a new edition of Enos Montour's Brown Tom's School Days (1985), on contract with the University of Manitoba Press. 
My second objective is to build partnerships and new projects.  I'm working with Drs. Michelle Hamilton and Tom Peace on a few projects that critically link with the Munsee Delaware Nation Language and History group with research communities and resources at Western. These include a study of the St. Paul's (Anglican) cemetery and the Lower Munsee cemetery and partnership development for future collaborations in post-secondary history education and research. 
My third objective is professional development and networking with and among students and faculty and administration at Western University on the topic of Indigenization and post-secondary education (especially Indigenous history education).   
---
Recent Selected Works
Refereed Publications:
with Maureen Lux, "Medicare v Medicine Chest: Court Challenges and Treaty Rights to Healthcare," in Eds. Esyllt Jones, James Hanley and Delia Gavrus, Medicare's Histories: Origins, Omissions, and Opportunities in Canada.  Winnipeg: University of Manitoba Press, 2022.
with Jaime Cidro et al, "Everyday Stories on Extraordinary Times: History, Relationality and Indigenous Women's Experiences during the COVID-19 Pandemic," in Eds. Andrea O'Reilly and Fiona Joy Green, Mothers, Mothering, and COVID-19: Dispatches from the Pandemic. Toronto: Demeter Press, 2021.
with Adele Perry, Structures of Indifference: An Indigenous Life and Death in a Canadian City. Winnipeg: University of Manitoba Press, 2018. (Audio edition, Wesley French, 2021; French translation forthcoming, Laval UP 2022).
Foreword for Reissue of J.S. Milloy, A National Crime: The Canadian Government and the Residential School System 1879-1986. Winnipeg: University of Manitoba Press, 2017.
Websites:
Manitoba Indigenous Tuberculosis History Project: On this website you will find resources to learn about First Nations, Métis, and Inuit patients who were diagnosed with tuberculosis and treated in Manitoba hospitals. This includes the sanatorium context, the care they received, the government policies that shaped that care, and how experiences of tuberculosis treatment in mid-twentieth century Manitoba have impacted Indigenous patients, families, and communities in Manitoba, Saskatchewan, Ontario, Nunavut, and the Northwest Territories. The website includes a significant database of historical photographs, digital copies of key Manitoba tuberculosis management publications, a guide developed to assist families and communities searching for loves ones who were sent to Indian hospitals and sanatoriums in Manitoba and never returned home again.  https://indigenoustbhistory.ca
Shekon Neechie: This is a venue for Indigenous historians to gather as an e-community and share their ideas or works in progress.  "Historian" in this case is broadly defined as a person who researches and presents Indigenous histories in essays, stories, photographs, videos, podcasts, or through other means and whose work is based in oral history and traditions, archival research, archaeology, and material interpretation. Shekon Neechie is entirely Indigenous conceived, created, and controlled. It is important for Indigenous historians to find our way into spaces dominated by non-Indigenous scholars. However, it is equally important for us to carve out spaces where our work is centered and in conversation with other Indigenous historians. Shekon Neechie is one such space. https://shekonneechie.ca
Knowledge Translation:
With Roland Bohr, Jason Yaremko, Karen Froman and Ben Nobbs-Thiessen, "Like Paddling Upstream: Indigenous History and Curriculum Structures in Canadian University History Departments," Canadian Histroical Association Indigenous History Group Brown Bag Series, 19 January, 2022. https://www.youtube.com/watch?v=VUFHqHaa4qc
With Josee Lavoie, Christa Big Canoe and Annette Brown, "Brian Sinclair, Joyce Echaquan died years apart in hospitals.  Only one of their inquests points to change," Opinion, 12 October, 2021 CBC, https://www.cbc.ca/news/opinion/opinion-sinclair-echaquan-inquest-contrast-1.6204930
University of Winnipeg Research Question Podcast, Episode 3: "How does history teach us about structural racism? Research Office and Oral History Centre, December 2020. https://news.uwinnipeg.ca/podcast-examines-structural-racism-through-historical-lens/
With Rob Innes, Retelling the history of Indigenous Course Requirements: Indigenous Student and Faculty perspectives, Shekon Neechie Podcast, https://shekonneechie.ca/podcasts/
With Brenda MacDougall, Rob Innes, Kim Anderson, Winona Wheeler, Alan Corbiere, and Susan M. Hill, "Open Letter to the Council of the Canadian Historical Association and the Canadian Public [On the use of the term 'Genocide' in Canadian history]" August 13, 2021: https://shekonneechie.ca/2021/08/13/open-letter-to-the-council-of-the-canadian-historical-association-and-the-canadian-public/
"Indigenous Histories of Tuberculosis in Manitoba 1930-1970," Kishaadigeh Research Centre (University of Winnipeg) interview, August 2020.  https://www.facebook.com/Kishaadigeh/videos/336840484334203
"An Indigenous Historian's Take on COVID-19," Episode 202 of MEDIAIndigena: Weekly Indigenous Current Affairs Program 28 March, 2020.
https://mediaindigena.libsyn.com/an-indigenous-historians-take-on-covid-19-ep-202
"Structures of Indifference," 2020 Canada's History Forum Program Witness To History: Living Through Exceptional Times, November 16, 2020. https://www.canadashistory.ca/explore/canada-s-history-forum/2020-canada-s-history-forum-program-day-one
"Starvation, Experimentation, Segregation and Trauma," Ep. 74, MEDIAIndigena: Weekly Indigenous Current Affairs Program August 6, 2017, http://mediaindigena.libsyn.com/ep-74-starvation-experimentation-segregation-trauma-Indigenous-health-history?tdest_id=414638