Margaret McGlynn
- Professor
- Associate Dean, Faculty and Operations, Faculty of Social Science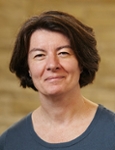 PhD, University of Toronto, 1998
Telephone: 519-661-2111 ext. 84981/88099
Email: mmcglyn@uwo.ca
Office: Lawson Hall 1206/ Social Science Centre 9438
Office Hours: By appointment.
---
Research Interests
Professor McGlynn's current research interests all deal with the relationship between the Church and the law in late medieval and early Tudor England.
---
Teaching Philosophy
The greatest value in history as a discipline is that it requires us to analyze our source materials rigorously, while engaging empathetically with our subjects, and communicating our arguments with clarity and, hopefully, grace. We certainly don't have to agree with the viewpoints or actions of our subjects, but we do have to understand them, in their terms as well as ours, and we have to be able to explain them to others. To be able to fulfil those objectives is no mean feat, and provides a tremendous training for many academic and non-academic fields, as well as a good basis for a broad engagement with the increasingly small world in which we live.
---
Major Research Projects
I am engaged in two substantial but related research projects, both supported by SSHRCC research grants.
The first project, now nearing completion, is a study of the ways in which the harshness of the criminal justice system in England was mitigated through the use of benefit of clergy and sanctuary in the reigns of Henry VII and Henry VIII. Tentatively titled "In Favour of Life: Church, State and Criminal Confinement in Early Tudor England", it argues that though benefit of clergy and sanctuary originated with the church, and were represented and perceived as privileges of the Church, by the late fifteenth century English common lawyers had absorbed them into the secular legal system and could manipulate them in quite complex ways in order to evade the simple dichotomy of guilty/not guilty and the black and white outcomes of freedom or execution. Both individually and in combination, benefit of clergy and sanctuary allowed both accused felons and legal professionals many more options in the navigation of the legal system, and both sides could use them to achieve their ends, such as avoiding the death penalty in favour of a suitable period of imprisonment or delaying punishment for long enough to escape or be pardoned. The changes of the Reformation parliament, often seen as innovations in the history of criminal law, largely reflected practice over the previous four decades. Though the dismantling of the monasteries and changing ideas about the priesthood meant that some changes were both necessary and practical, the Reformation did not precipitate change, it largely confirmed and codified changes that were already underway.
The second project, to which I hope to return soon, is a study of the fates of the ex-religious after the dissolution of the monasteries. [more here]
---
Select Publications
Books
Chapters in Books
"Idiosyncratic Books and Common Learning: Readings on Statutes at the Inns of Court." The Oxford Handbook to English Law and Literature, 1500–1625. Oxford: Oxford University Press, 2017. At press.
"From Charter to Common Law: The Rights and Liberties of the pre-Reformation Church." Religion, Magna Carta and the Rule of Law ed. Robin Griffith-Jones and Mark Hill QC, 53-69. Cambridge: Cambridge University Press, 2015.
Refereed Journal Publications
(2009) Memory, Orality and Life Records: Proofs of Age in Tudor England." In Sixteenth Century Journal 40: 679-97.
(2009) "Of good name and fame in the countrey': Standards of conduct for Henry VII's financial officials." In Historical Research 82: 547-59.
(2007) "The Payment of Pensions to the ex-Religious of Tudor Bedfordshire." In Midland History 41-67.
(2005) "Idiots, Lunatics and the Royal Prerogative in Early Tudor England." In Journal of Legal History 26 (2005): 1-20
---
Professional Service
Selden Society
I am the Canadian Secretary for the Selden Society, the only learned society and publisher devoted entirely to English legal history. To learn more about the Society, please visit http://www.selden-society.qmw.ac.uk/. I am happy to answer questions and enquiries from current and potential Canadian members.
Conferences Organized
"Law and Governance in pre-Modern Britain." UWO, October 23-24 2015.
"Law and Governance in pre-Modern Britain." UWO, October 14-15 2011.
This conference is held at Western every second year, with an alternating focus on the medieval/early modern period and on the 18th-20th centuries. For more information on past conferences see http://history.uwo.ca/Conferences/law-and-governance/past-events.html