Dr. Matthew Wiseman
- AMS Postdoctoral Fellow (McKellar), Department of History
- 
Principal Investigator: "Cold Soldiers: Medical Scientist Alan C. Burton and Military Experimentation in Cold War Canada"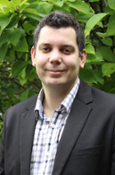 PhD, Wilfrid Laurier University, 2017
Telephone: 519-661-2111 x87561
Email: mwisem2@uwo.ca
Office: LWH 2264
Office Hours:  By appointment only
---
Research Interests
Dr. Wiseman is a Canadian historian whose research focuses on science, technology, and medicine in the Cold War. He is particularly interested in human experimentation and the influence of military sponsorship on scientific research in Canada between 1945 and 1975.
---
Major Research Projects
Dr. Wiseman is conducting a historical research project on the military-sponsored research activities of medical scientist Dr. Alan C. Burton, who founded the Department of Biophysics at the University of Western Ontario in 1947. During a long and distinguished academic career, Burton worked on contract for the Defence Research Board, a branch of Canada's Department of National Defence that provided scientific and technical assistance to the Canadian armed services. He devised a special laboratory at Western and conducted a series of experiments to understand heat loss in the human body. The Canadian military was active in northern Canada during the 1950s and 1960s, and Burton's research in environmental physiology was designed to provide knowledge useful for training soldiers to withstand the cold and harsh climatic conditions of sub-Arctic and Arctic Canada during this significant period in world affairs.
 Burton's work for the Defence Research Board is important because it demonstrates the entangled histories of military funding and medical science in Cold War Canada. His experimental work conformed to a military agenda that was unrelated to the civilian applications of his research, but the decision to conduct research for the Canadian armed services was his alone. He accepted military research funding to pursue his scientific curiosities and further his professional career. Did Cold War security anxieties place pressure on Burton, or was research funding the deciding factor? Why did he contribute to the Defence Research Board for eighteen years, and how did his experimental work affect the research subjects involved in his cold-room studies? Access to recently declassified archival materials will provide answers to these complex and important historical questions.
---
Select Publications
2019    The Selected Works of George R. Lindsey: Operational Research, Strategic Studies, and Canadian Defence in the Cold War. Edited. Toronto: University of Toronto Press, 2019. 328 pp.
2019    "Frontier Footage: Science and Colonial Attitudes on Film in Northern Canada, 1948–1954." In Cold Science: Environmental Knowledge in the North American Arctic during the Cold War, edited by Stephen Bocking and Daniel Heidt, 61–74. New York: Routledge, 2019.
2016    "Unlocking the 'Eskimo Secret': Defence Science in the Cold War Canadian Arctic, 1947–1954." Journal of the Canadian Historical Association 26, no. 1 (2015): 191–233. Backdated and published July 2016.
2015    "The Development of Cold War Soldiery: Acclimatisation Research and Military Indoctrination in the Canadian Arctic, 1947–1953." Canadian Military History 24, no. 2 (Summer/Autumn 2015): 127–55.
---
Awards and Distinctions
2019–20     AMS Postdoctoral Fellowship, Western University
2018     Vera Roberts' Research Award, Canadian Association for the History of Nursing
2018     St. Jerome's University Faculty Research Grant, co-PI with Dr. Jane Nicholas
2017–19     SSHRC Postdoctoral Fellowship, University of Toronto
2017     Tri-University Graduate Program in History Doctoral Essay Prize, "Unlocking the 'Eskimo Secret': Defence Science in the Cold War Canadian Arctic, 1947–1954"
2016     Northern Research Fund, Churchill Northern Studies Centre
2015–16     Dean's Scholarship, Wilfrid Laurier University
2015     World Scholar Travel Fund, World History Association 
2015     Participants' Choice Award, Wilfrid Laurier University Third Annual Three-Minute Thesis (3MT) Competition
2014–17     SSHRC Doctoral Fellowship, Wilfrid Laurier University
---
Public History Experience
Dr. Wiseman is a Project Manager for Canada Declassified, an open-access repository of government records declassified under the Canadian Access to Information Act. Canada Declassified maintains a growing collection of records, historical research exhibits, and other materials useful for students and scholars around the world.
He also administers the official website of the Canadian International History Committee, a scholarly discussion network for the history of Canadian foreign relations. The network is an affiliate of the Canadian Historical Association, with membership open to scholars, policymakers, authors, historians, and others interested in Canada's international history, both governmental and non-governmental.