Previous Students
2017-18 Students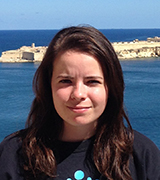 MacKenzie Brash graduated from Western University (2017) with an Honours Specialization in History, where her research interests mainly focused on twentieth-century Canadian and American History. It was during her year abroad in Malta that social history and memory began to interest her. Her main interest is in how communities commemorate events and immerse them into their national identities. For the past five years, she has been involved with the Friends of Keewatin, a not-for-profit group dedicated to preserving the historical steamship the S.S. Keewatin. This past summer, MacKenzie worked with Woodland Cemetery as a monument conservator, where she developed a Canada150 walking tour and gained valued experience working with the media. She looks forward to returning to Western in the fall and expanding her education in public and digital history.
Haley Caldwell graduated from the University of Winnipeg in 2014 with a Bachelor's of Arts (Hons) in History, where her research interests were primarily 19th and 20th century Canada. Hayley has a passion for oral history and through working on several oral history projects throughout her undergraduate degree, she became interested in the field of public history.  Her professional experience as a public historian began in 2012, when she spent two summers working as an interpreter with Parks Canada at Lower Fort Garry National Historic Site. She has since completed an internship with Canada's History Magazine and worked as a tour guide in Winnipeg's historic Exchange District, where she delivered architectural, thematic, and culinary tours of the neighbourhood. Hayley was part of the Canadian Museum for Human Right's inaugural team of interpreters in 2014 and has worked at Canada's newest national museum over the past three years.  In her role at the CMHR, she delivered tours and school programs to a wide range of audiences, facilitated dialogue sessions, delivered in gallery programming, delivered public talks and performances, and assisted with special events. She is looking forward to dedicating a year to her studies, and is eager to see how she can apply this new knowledge and skills to her career.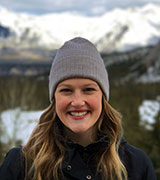 Brooke Campbell graduated from Dalhousie University (2016) with an Honours B.A. in History and a minor in Political Science, where her research interests were primarily 19th and 20th century American history. For the past two summers, she has worked as an interpretive guide at the Whyte Museum of the Canadian Rockies in Banff, Alberta. While there, she researched, wrote, and delivered tours, gave presentations, and assisted with special events. During her undergraduate degree, many of Brooke's classes emphasized the ways that historical interpretation has changed over the years. This piqued her interest in how the public understands the past. In particular, Brooke is interested in moving the discussion beyond the official narrative that is often taught at museums and historical sites. She looks forward to gaining new perspectives through this program and exploring how to best engage the public in the historical dialogue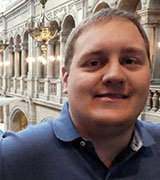 Alex Fitzgerald-Black graduated with distinction from Wilfrid Laurier University (2012) with an Honours BA in History and Political Science. He then completed a Master of Arts in Military History at the University of New Brunswick (2014). He has spent parts of the last three years turning his thesis into a manuscript due to be published in June 2018 by Helion & Company. Eagles over Husky, Alex's first book, is an account of the Allied air forces' crucial role the Battle of Sicily, an important step to victory in the Second World War. His previous work experience includes a summer at the Billy Bishop Home and Museum in Owen Sound, Ontario and project work at the Laurier Centre for Military Strategic and Disarmament Studies and the Gregg Centre for the Study of War and Society. Alex is excited to learn and apply new methods and techniques for 'putting history to work in the world' this year!
Thora Gustafsson graduated from Huron at Western University (2016) with an Honours Specialization in History and a Minor in Art History with distinction where her research was primarily focused on nineteenth and twentieth century European History and Indigenous history from the seventeenth to the nineteenth centuries. She has spent the last eight years volunteering and working at the Royal Ontario Museum in both March Break and Summer Holiday Camps as well as in Winter Break and Weekend Gallery educational events for children of all ages. Over the past year, she has been volunteering in various archives around Toronto including The Presbyterian Church in Canada Archives, where she worked as a genealogist; St. James Cathedral Archives, where she did research for and helped with the design of a temporary exhibit; the Canadian National Ballet Archives, where she re-organized the Marketing Department Fonds; and the Center for Mental Health and Addiction archives, where she completed the organization of and finding aid for the Toronto Psychiatric Hospital/Clarke Institute of Psychiatry Fonds. In her third and fourth years of her undergraduate study, she also volunteered at the Anglican Huron Diocese Archives. Her experiences in undergraduate courses, museums and archives have fueled her interest in historical interpretation and making history more exciting, relatable and engaging for the public. She is particularly excited about digital history and how to engage the public further in historical discourse.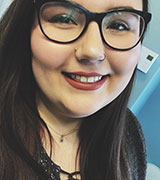 From Newfoundland and Labrador, Lauren Lambe is a recent graduate of Memorial University where she completed an Honours BA in History with a minor in French. In the last year of her studies, Lauren was the president of Memorial's History Society and throughout her undergraduate degree, she worked in Memorial's Maritime History Archive where she digitized crew records for an online database. She also worked as a student editor with the Newfoundland and Labrador Heritage website, and learning about the process of making the province's history accessible to the public is where her interest in Public History began. Lauren's interests centre around public memory and the First World War. Her Honours dissertation, written under the supervision of Dr. Justin Fantauzzo, discussed aspects of performative masculinity and how they influences the sexual lives of British soldiers outside the Western Front during the First World War, and the oral testimonies they gave to interviewers at the Imperial War Museum decades later. Lauren is interested in all aspects of the First World War, especially the evolution of public memory, and she hopes to continue this study in her time at Western.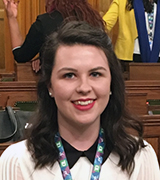 Originally from the rural community of Wallacetown, Ontario, Delany Leitch recently graduated with distinction from the University of Ottawa with an Honours B.A. with Specialization in History. During her studies, she pursued her passion for the study of the Second World War and the Holocaust, learned German, and was a member of the Bytown Museum's Youth Council. Professionally, she has has worked as a summer archivist assistant at Elgin County Archives, developed a digital cataloging system and managed records for two cemetery boards in West Elgin, Ontario. She has been involved both as a volunteer and employee at Backus-Page House Museum in Tyrconnell, Ontario, for over five years, where she has cultivated a broad range of experience, and has maintained a weekly historical blog through the Tyrconnell Heritage Society's platform for three years. Delany is looking forward to an exciting year ahead at Western and hopes to gain new practical knowledge while using her skills to benefit the community.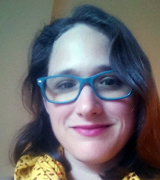 Martha Sellens has a Bachelor of Arts with Honours in Classics from the University of King's College (2009), and a Masters of Arts in Classical Archaeology from the University of British Columbia (2012). Her research interests include Roman Provincial Archaeology, culture contact in the material record, and Maritime History from ancient times through the modern era. She is an alumna of the Brigantine St. Lawrence II sail training program, and has also voyaged on the Schooner Appledore V and the HMS Bounty. She worked with the San Felice Archaeological Field School in Southern Italy, excavating a Roman Imperial Villa for four dig seasons and was a supervisor in both 2010 and 2011. Her duties included teaching archaeological methods, cataloguing finds, and creating and archiving site records. She has also volunteered with the Kaukana Project excavating a late Roman/early Byzantine house in Sicily. Martha is looking forward to exploring new opportunities to share the material record and living history projects with the public.

Madisen Sollars graduated from the University of Regina with a B.A. in History and German. Her particular areas of interest were twentieth century European and Canadian history. To supplement her German education, Madisen studied in Germany for two consecutive summers. After completing her undergraduate degree, Madisen worked at a military auction house as part of a research team creating a unique database of military orders, decorations, and uniforms. In addition to her work on the database, she translated and transcribed German documents and award certificates. While working at the auction house, she volunteered at the Dundas Museum and Archives and the Oakville Museum. Madisen is interested in public memory and creating historical discourse which extends beyond traditional narratives.