McCaffrey Seminar Series
The Bruce McCaffrey Memorial Graduate Seminar Series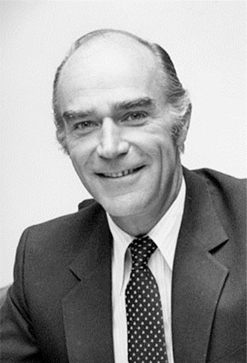 The History Department enjoys a vibrant graduate student culture, which has been energized by various students over the years. One important graduate activity is the graduate seminar series, which is organized by, and for, graduate students as a venue for their research and intellectual exchange. In 2002, the graduate students renamed their series in memory of M.A. student Bruce McCaffrey (1938-2002), whose love and enthusiasm for history reverberated throughout the department at Western.
Bruce McCaffrey left politics in 1987 and shortly thereafter relocated to London where he completed his honours upgrade and M.A. degree in History at Western. McCaffrey enjoyed studying the mid-19th century Canadian political era, with a special interest in Sir Francis Hincks (1807-1885). As a member of the history community, McCaffrey was friendly to all, with no pretensions and a great sense of humour. Fellow graduate students loved to hear his many (and sometimes bawdy) stories about the culture of politics.
Bruce McCaffrey died in August 2002 of lung cancer just days after completing his major M.A. research paper and graduated posthumously in October 2002. In memory of his spirit and enthusiasm for history, the seminar series continues to support historical research and graduate interchange.
---
2018-2019 Presenters
October 18:
Christopher White (PhD Candidate, Western)
"America's Influence on Japan's Territorial Disputes, 1945- 1970"
November 8:
TBA
November 22:
Lauren Luchenski (MA Public History Candidate, Western)
"'A Woman's Place is in the Jail': An Oral History Project with the Women of Kingston Penitentiary."
January 31:
Jordyn Bailey (MA Candidate, Western)
"Canadians and the Big Blond Nazi Boys"
February 28:
Vesna Curlic (MA Candidate, Western)
"Domesticity in English and Scottish Lunatic Asylums, 1880-1914"
March 14:
Maksym Sviezhentsev (PhD Candidate, Western)
"Who is Crimean? Conflict of Sovereignties in the Post-Soviet Crimean Peninsula"

March 21:
Maggie Ross (MA Candidate, Western)
"The History of Prostitution in London, Ontario, 1920-1940"
April 11:
Daniel Manulak (PhD Candidate, Western)
"Commonwealth Man": Lester B. Pearson, the Afro-Asian 'bloc,' and Rhodesia's Unilateral Declaration of Independence, 1963-1968