Michael O'Hagan
---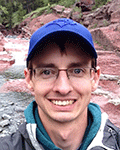 Thesis Title
"In the Midst of the Canadian Bush": Prisoner of War Labour Projects in Canada during the Second World War
Supervisor
Second Reader
Main Research Interests
My primary interest is the internment of prisoners of war in Canada. My thesis explores German prisoner of war labour projects in Canada during the Second World War and the interactions of these POWs with Canadians and the natural environment. I am also interested in digital history and incorporate some digital elements into my research, including GIS and 3D modelling.
Publications 
'"Freedom in the Midst of Nature": German Prisoners of War in Riding Mountain National Park'. Forest History Today 23, no. 2 (Fall 2017): 56–62.


The View from Behind the Wire: Prisoner of War Art in Canada during the Second World War'. In Behind the Lines: Canada's Home Front During the First and Second World Wars, 235–49. London, ON: McIntosh Gallery, 2017.


"Following in their Footsteps." Canada's History, Community Features. September 18, 2014.


"Exploiting Old World Forests with New World Forestry," The Otter, January 26, 2014. http://niche-canada.org/2014/01/26/exploiting-old-world-forests-with-new-world-forestry-the-canadian-forestry-corps-in-the-first-world-war. 


"Prisoners in the Park: German PoWs in Riding Mountain National Park," The Otter, June 21, 2013, http://niche-canada.org/2013/06/21/prisoners-in-the-park-german-pows-in-riding-mountain-national-park.
Conferences
American Society for Environmental History 2013 (Toronto), 2015 (Washington, DC), 2016 (Seattle), 2017 (Chicago)

The Great War's Shadow: New Perspectives on the First World War, Lake Louise, Alberta, 2014
Archival Travel
Library and Archives Canada, Directorate of History and Heritage Archives, Canadian War Museum, Ontario Archives, Manitoba Archives, Provincial Archives of Alberta, Royal Alberta Museum, Galt Museum, Esplanade Archives, and the Glenbow Museum.
Personal Website
---