Western's Minor Program in Public History Welcomes its First Graduate!
Western's Minor Program in Public History Welcomes its First Graduate!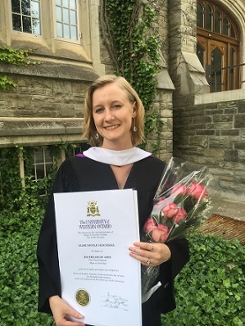 Congratulations go out to Elise Geschiere, the first student to graduate from Western with a Minor in Public History!    
A University of King's College student, Elise was among the first to enrol in the minor program when it was launched in the fall of 2017: "I had been struggling to determine the right major/minor or double major combination in the opening months of my third year when I discovered the public history minor. It appeared to be the ideal fit. I had worked two summer terms as a heritage planning student with my local municipality and I quickly realized that the topics of study in the public history minor closely mirrored what I was already doing in the workplace."
Elise credits the minor program for allowing her to capitalize on the practical experience she had been gaining and in providing her with the necessary theoretical and methodological foundations to further her career. "It is very unusual to see theory and practice merging in the classroom and that is precisely what this minor does."
"What I cherished most about being in the program was community immersion, through field trips and projects. In almost all of my public history courses, namely Historians, Communities and the Past, Public History, and Historian's Craft, there was a significant community engagement component. Whether it be participating in a downtown walking tour, visiting a local museum or archive, or even conducting research at the map and data lounge or the ARCC in Weldon, you became more connected, aware, and appreciative of the people and places that exist around you. This is perhaps what I feel is the most significant element of the minor program - how it encourages you to recognize and engage diverse community actors and institutions; an orientation and skill that is critical in many professions."
Tim Compeau, Professor of History at The University of Huron College, was thrilled to have Elise as a member of his course HIS2811F/G: Historians, Communities and the Past: "Elise is a fantastic student who immediately impressed me with her intelligence, work ethic, and infectious interest in public history. She has a real vision of how she can contribute to rural development and heritage. I have no doubt that Elise will continue to produce fantastic work as a result of this experience."
Professor Mike Dove, who helps oversee the program and teaches one of its core courses on main campus, also had the pleasure of watching Elise cultivate her public history skills. "In 3813E: Public History," says Dove, "Elise worked with a group of fellow students to produce several deliverables for Western Libraries including a script for an historical re-enactment planned for the 100th anniversary of the library's founding through a massive donation by railroad engineer J.D Barnett in 1918. Her group poured over the library's collection of material on Barnett, including his personal papers, to write the script and design physical and virtual exhibit proposals. As group leader, Elise worked closely with the folks at Western Archives and Western Libraries. Public History is very much about collaboration and producing projects that will be of use and relevance to a wider audience, something Elise was very keen on and comfortable with performing." 
This month Elise will begin a two-year Master of Planning and Development Program at The University of Guelph where she plans to focus on cultural heritage and preservation issues. She believes that "planning is all about guiding community growth through land use. Any property in question, whether it be a commercial property, industrial site, or old farm – when we are trying to determine its future, looking to its past provides the road map. History is integral to community development, to building and rebuilding, and to growth. It is very much part of creating a vibrant community life."
Western's Minor Program in Public History: The first of its kind in Canada, the Public History Minor was launched in 2017 as an interdisciplinary joint program between the history departments of Western University, The University of Huron College, and The University of King's College. It enables students to gain both academic training and practical experience through bringing the past to life for the wider world. It offers flexibility and convenience to help students build a more comprehensive well-rounded degree and prepare them for graduate study and a wide variety of related career fields. In their courses, students develop marketable skills and gain valuable experience and contacts through group-work, presentations, networking, and collaboration with community partners through projects, workshops, guest speakers, site visits, and experiential learning opportunities.