REMEMBRANCE DAY: The Boer War – a divisive war, a unifying memorial
The London Free Press, by Randy Richmond, November 8, 2022
Consider it Canada's version of the Vietnam War.
In Remembrance Day ceremonies across the country, those who fought in several wars and peacekeeping missions will be honoured.
Those from one war — the Boer War — may not get much attention.
The war "is a bit of an embarrassment maybe," says Western University military historian and author Jonathan Vance.
"The idea that we would go rushing off to a place where we have no obvious interests to defend the (British) Empire seemed bit odd for Canadian nationalists. But for Canadian imperialists, it seemed like the natural thing to do."
The Boer War, also known as the South African War, lasted from 1899 to 1902 and pitted the Empire against the two Boer republics.
"The war was a very complicated affair. It had all sorts of different motives, some of them relatively noble, some of them quite venal," Vance says.
The noble motives of the British included defending the electoral rights of British subjects in the South African republics, Vance says.
"Their democratic standing was under attack. But it was also fought to gain access to the gold and diamond mines of the republics. So it was a fight for very selfish commercial motives, and some very nasty things happened."
It was the first war that saw Canada send troops overseas, and in Victoria Park in London stands a monument that lists the names of six young London men — the first from the city to die in overseas action.
The war was so controversial in Canada at the time then prime minister Sir Wilfrid Laurier tried to dodge some criticism by making the British government pay for the Canadian contingents, Vance notes.
The ever-optimistic Brits said the war wouldn't last long, so Canadian soldiers signed up for six-month stints.
Of course, once they were overseas, they were asked to re-enlist as the Boers dug in, Vance says.
At least one contingent refused.
"My sense is that their thirst for an imperial adventure was quenched fairly easily," Vance says.
Military and political leaders took a lesson from the Boer War, and made soldiers in the First World War sign up for the duration of the war and six months of occupation, he says.
It was easy to forget the Boer War in the pride that followed the First World War, Vance says.
"It was overtaken by the First World War as a kind of event of national historic importance. Over the years, no one bothered to try to remember (the Boer War) very much," he says.
Should the Boer War be remembered and honoured?
That's a tough question that leads to other tough questions, Vance says.
"Can you commemorate the warrior without approving of the war? Can you say that these were decent young Canadian boys who who went overseas to defend what they thought was right? Can we remember them if we think the war they died in was unjust? It's the same question that the Americans asked about Vietnam."
Despite the deep divide that the Vietnam War caused in the United States, a national monument to the war — the Vietnam Veterans Memorial — was completed in 1982 in Washington, D.C.
On stone at least, those who died in the Boer War were eventually welcomed at the National War Memorial in Ottawa, which was rededicated in 2014 to include those who died in that war.
Whatever the feelings about the Boer War, the young men whose names are on the Victoria Park memorial should be remembered, Vance says.
"At the very least, we have to remember these lives were cut short in circumstances that were not of their choosing, and were not of their making. And maybe that's what matters." Vance says.
THE SIX SOLDIERS
Pte. Douglas Leeds Moore, 22, Royal Canadian Regiment,
 died Feb. 14, 1900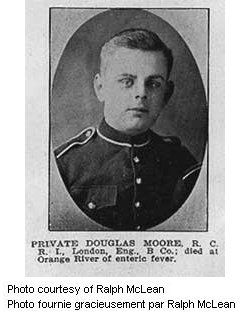 Moore was one of the first men to sign up from London, according to a newspaper article of the day.
He was born near the small port town of Wisbech in Cambridgeshire on the east coast of England, the youngest of four sons.
He came to Canada in 1898 with two of his brothers, and lived near Glencoe before moving to London and joining the 1st Battalion, Royal Canadian Regiment.
He died of typhoid and was survived by his two brothers, a sister and mother.
"Private Moore was one of the most popular men at the barracks," the newspaper reported.
Pte. John Andrew Donegan, 21, 26th Middlesex Light Infantry,
 died Feb. 18, 1900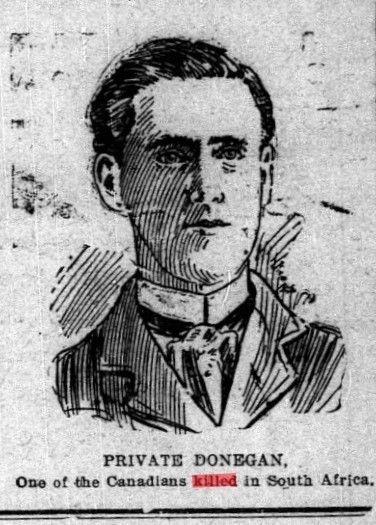 The letter Donegan sent to his brother from the Boer War contained chipper greetings and uncensored look at a recent battle.
"The Boers lost about 1,000 men in yesterday's battle. Their dead and wounded are piled seven feet high in the trenches," he wrote.
His own side fared no better, with the British losing 1,000 at the same place and the Scottish Brigade "cut to pieces," he said.
Camped 27 kilometres from a battle, he could hear the cannons all day and see trains full of wounded coming back from the front.
Meanwhile, he was getting "as fat as a hog" and asked about mutual friends before signing off with a Merry Christmas and Happy New Year.
The first Londoner to die in an overseas battle during a war, Donegan was born and raised in the Perth and Smith Falls area.
His family moved to 559 Colborne St. in  London when his father Patrick was promoted to a locomotive inspector for the Canadian Pacific Railway roundhouse in the city.
Donegan completed his education in London and worked at a boot and shoe store before joining the CPR freight office in Chatham. He was a member of the 26th Middlesex Light Infantry militia when he volunteered to fight in the war.
"He was popular wherever known, and was esteemed by his employers, as well for his courteous manner as for his business ability," one newspaper account of his death said.
His parents received weekly mail from their son and the most recent before his death revealed Donegan was sick in the hospital with tonsillitis, the paper reported.
But he and 19 other men were killed in a battle only four days after the death of fellow Londoner Moore.
"Private Donegan's parents had received no news from the front and were completely overcome when informed of their son's death," the newspaper account said.
Three weeks after Donegan's death, his father died.
"He was in poor health for over a year and the death of our son took him off very quickly," John Donegan's mother wrote in 1901, apparently to a person organizing the memorial monument in Victoria Park.
"No one will ever know what I have suffered but myself over his death," his mother also wrote. "This war has ruined many the happy home."
Pte. Robert Smith, age unknown, 26th Middlesex Light Infantry,
 died Feb. 18, 1900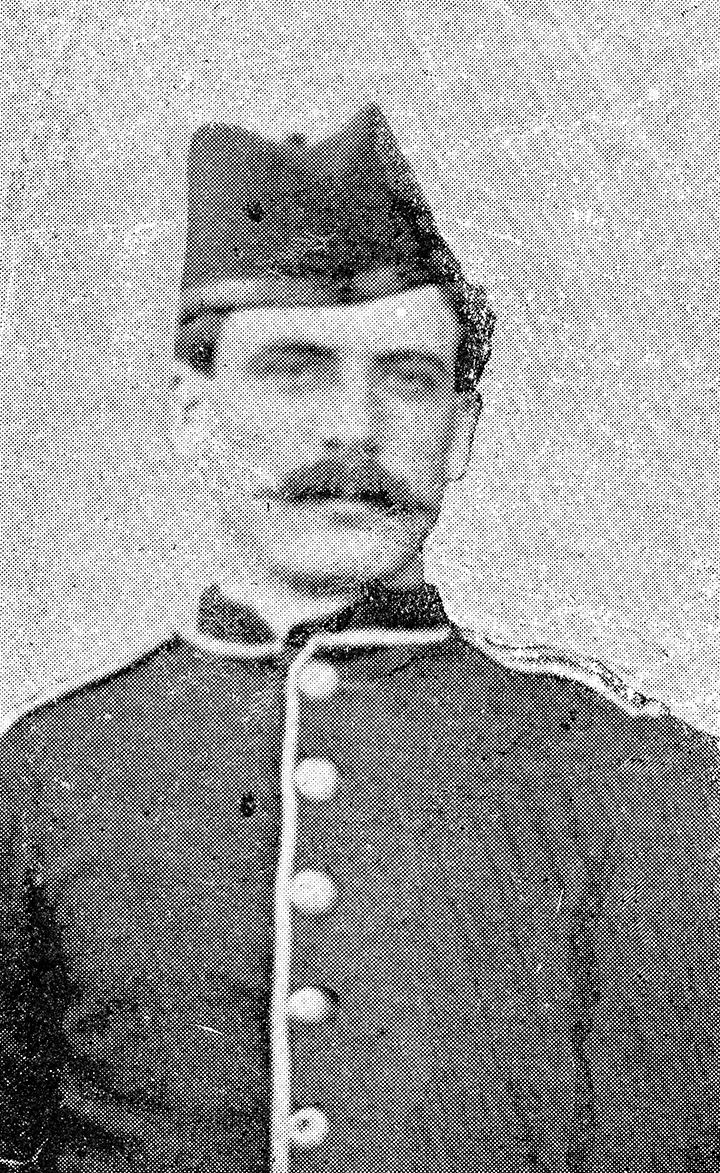 Much more is known about Smith's death than life.
The three months before he was killed, Smith and his fellow soldiers, including fellow Londoner John Donegan, spent three months sleeping outside and getting drenched by heavy rains.
They'd already been in three fights before the one that killed them, a report based on an account from a fellow soldier said.
The Boers were using explosive bullets and one took off Smith's head, while another shot Donegan through the heart, the report said.
"So terrible was the fire that it seemed as though the heavens had opened," the account says.
The Roman Catholic chaplain with the contingent, Rev. O'Leary, also provided an account of the battle.
"That wild, mad charge against an invisible enemy. Hell let loose would give but a faint idea of it. On we rush through a hail of bullets . . . madly wildly tearing through brambles, stumbling over colleagues."
And after the battle, "we groped over the ground, everywhere our hands steeped in blood, blood, blood," O'Leary wrote.
Pte. William George Adams, 20, 7th Fusiliers,
 died April 16, 1900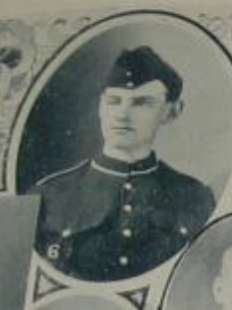 Adams was beginning his adult life with a good job, home, friends and church life.
Then he signed up for the first contingent to South Africa — one of the first to do so — and died on the battlefield of Paardeberg, 13,000 kilometres away from everything he loved.
Nothing could keep him from that battlefield. He injured his leg on the voyage to South Africa and had to stay behind in Cape Town, a newspaper report about his death said.
"As soon as his leg was well he hurried to the front," the story said.
Adams was "about 21 years of age, a well-built soldierly looking fellow, standing nearly six feet high," the story said.
He lived with his parents at 50 Regina St., his father Sgt. Major Adams of the London police force.
William Adams worked as an electrician at Hunt Bros., was a member of the Colborne Street Methodist Church, and "was very popular with a large circle of acquaintances."
Pte. Francis George William Floyd, 22, 7th Fusiliers,
 died May 10, 1900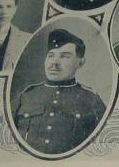 Floyd signed up as soon as the call went out for volunteers.
He was working at M. Masuret and Co. wholesale grocers, and was the son of William Floyd of North Richmond Street.
A brief letter shows the family's depth of grief, and perhaps some bitterness, over his death in a war so far away and with a slim connection to Canada.
When organizers were preparing plans for the Boer War memorial in South Africa, they contacted the parents of the six men who had died.
In a letter back to organizers dates April 9, 1902, a friend representing Floyd's parents wrote back in support of the memorial for Canadians who had given their lives in service to the Empire.
Their deaths were enough sacrifice, the letter writer emphasized, adding, "It is presumed that the circular letter — also enclosed — appealing for donation was not sent to them" for donations.
"They have given enough — their son!"  the letter ends.
Pte. Ernest Mullins, 26, 1 Battalion, Royal Canadian Regiment,
died June 11, 1900
Nothing besides Mullins' name, age and military standing is held in the Canadian Virtual War Memorial.
The cause of his death has a grim parallel to today, and is a reminder of the greatest enemy of British soldiers in the Boer War — typhoid.
"Disease killed far more than battle in South Africa, mostly because of the incompetence of medical authorities and unsanitary conditions," historian Jonathan Vance says.
Armies and and their human and animal sewage descended on the untouched South African veldt and disease ripped through camps, he says.
A vaccine for typhoid was available, but wary British authorities made taking it optional.
The German army had made vaccines mandatory since the 1870s, starting with smallpox, and lost far fewer men from diseases in the Franco-Prussian and Boer wars, Vance says.