Alan MacEachern elected as a Fellow of the Royal Society of Canada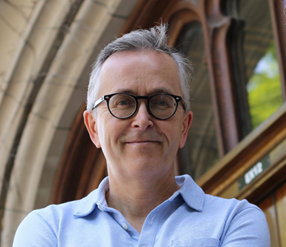 By RSC-SRC , Press Release, September 05, 2023
Alan MacEachern has been elected as a Fellow of Royal Society of Canada. Being recognized by the Royal Society of Canada (RSC), for career achievement is the highest honour an individual can achieve in the Arts, Social Sciences and Sciences. Alan MacEachern is one of the one hundred and one new Fellows elected by their peers for their outstanding scholarly, scientific and artistic achievement. 
Alan MacEachern has been a leader in the field of environmental history nationally and internationally for the past quarter century. He was the founding director of NiCHE, a highly successful Canadian network for humanities and social science scholars working at the intersection of nature and history. Alan is a public-facing scholar, who has written broadly for the popular press, he is also renowned for his scholarly writing on the history of Atlantic Canada and of national parks.

The RSC is also welcoming 58 new Members of the RSC College. The College consists of mid-career leaders who provide the RSC with a multigenerational capacity to help Canada and the world address major challenges and seize new opportunities including those identified in emerging fields.

"The Royal Society of Canada is very proud to welcome today an imposing group of inspiring scholars, artists and creators whose peers have recognized their exceptional contributions to the world of science and culture and to the well-being of our society. The impact of their work will continue to be felt in the development of public policies for years to come, while adding greatly to the enrichment of public life," said Alain-G. Gagnon, president of the RSC.

On Thursday, November 16, 2023, the RSC will welcome the 2023 new Members of the RSC College and on Friday, November 17, the Class of 2023 new RSC Fellows will be inducted for outstanding research and scholarly achievement. The ceremonies will be held in person in Waterloo, Ontario. We hope you will join us in celebrating this stunning landscape of talent, imagination, discipline, and discovery.