Ariel Beaujot
- Visiting Associate Professor

PhD, The University of Toronto, 2008
Email: abeaujot@uwo.ca
Research Interests:
Professor Ariel Beaujot is a public historian who focuses on the stories of everyday life.  She is currently writing a book, Comfortable Lies, Uncomfortable Truths: Public History, Private Memory and Race in 21st Century North America.  The overall purpose of the work is to reveal the unspoken and underlying issues in our culture and to use history as a way of challenging the exclusive narratives of the past.
---
Teaching Experience:
In 2018-19 Beaujot is a Visiting Scholar at Western University on sabbatical from her position at the University of Wisconsin La Crosse.  She has no teaching this year.  Her teaching areas include: Public History, Material Culture, World History, European History, British History, and Empire/Colonialism.  
Major Research Projects:
During this sabbatical year Beaujot is writing a book: Comfortable Lies, Uncomfortable Truths: Public History, Private Memory and Race in 21st Century North America.  The monograph is a study of a public history project that I developed in La Crosse Wisconsin and am developing in London Ontario with Michelle Hamilton and the MA students from the Public History program.  The public history project, Hear, Here, is a place-based oral history project that aims to bring forward marginalized voices and disrupt narratives of settler colonialism, prosperity, and whiteness.  The book is a transnational study of two predominantly white cities, the ripples created by stories from historically underrepresented people, and the resulting policy shifts.
Select Publications:
Book: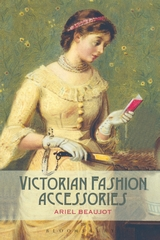 Victorian Fashion Accessories (London: Berg Press, 2013)
Articles and Chapters:
"Sun up in a Sundown Town: Public History Private Memory and Racism in a Small City," The Public Historian, 40.2 (2018): 43-68.
"Gender and Sexuality and its Relations to Fashion and Dress." In Age of Empire, 1800-1920, edited by Denise Baxter. London: Bloomsbury Academic, 2016.

•"Balade Blanche: Putting New Museum Theory into Practice." Curator: The Museum Journal, 58.1 (2015): 17-26.

•"If you want to get ahead, get a Hat: Manliness, Power, and Politics as seen through the Top Hat." Journal of the Canadian Historical Association, 25.2 (2014): 57-88.

• "'The Beauty of Her Hands': The Glove and the Making of the Middle-Class Body." In Material Women: Consuming Desires and Consuming Objects, 1750-1950, edited by Maureen Daly Giggin and Beth Fowkes Tobin, 167-184. Aldershot: Ashgate Publishing Company, 2009.

• "Coiffing Vanity: A Study of the Manufacture, Design, and Meaning of the Celluloid Hairbrush in America, 1900-1930." In Producing Fashion: Commerce, Culture, and Consumers, edited by Reggie Balszczyk, 229-254. Philadelphia: University of Pennsylvania Press, 2007.

• "The First Decade of the John Gordon Home: Learning How to House HIV and AIDS." Oral History Forum, 21-22 (2001-2002): 75-86.
Awards and Distinctions
College of Liberal Studies Recognition of Excellence Award for Research /Scholarship/Creative Endeavours, 2018
National Endowment for the Humanities Summer Institute, 2017
Award of Merit for Hear, Here Voices of Downtown La Crosse, American Association for State and Local History, 2016
Provost Teaching Excellence Award, University of Wisconsin La Crosse, 2015
Public History Experience
•Hear, Here La Crosse
, an oral history project of historic downtown La Crosse, Wisconsin, where residents tell short stories and share memories about the spaces they walk through every day. The stories are accessed through cell phones.
•
[art]ifact
, a project that combines local history artifacts from the La Crosse County Historical Society and asks local artists to respond to them in an exhibit that was displayed at the Pump House Regional Arts Center in Spring 2016.
• "
If you Can't Stand the Heat: The history of the kitchen
," an exhibit at the Laurentian University Archives in Ontario.

• "
Music to our Ears: The history of sound and instruments in Simcoe County
," an exhibit at Simcoe County Museum in Ontario.
•
Balade Blanche
, a historical ghost tour prepared by study abroad students and a local artist in Pontlevoy, France.