Tom Cull
- Assistant Professor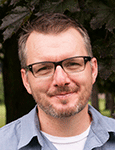 Telephone: 519-661-2111 ext. x84986
Email: tcull3@uwo.ca
Office: Lawson Hall 3270
Office Hours: By appointment
---
Research Interests
Professor Cull is interested in the history of popular culture in the United States and focuses specifically on P.T. Barnum, carnival culture, and the 19th Century freak show. He is a professor in the American Studies Program in the History Department.
---
Publications
Book Chapters
"Freaking History: The Image of the Wild Man in Blood Meridian". Determinism and Fatalism in the Works of Cormac McCarthy. U of Tennessee Press. Forthcoming 2017.
"Introduction". Freaks: Photographs from the Enrico Praloran Collection. Ed Sam Stourdzé and Anne Lacoste. Lausanne: Idpure editions, Musée de l'Eysée, 2012.