Charles A. Ruud
- Professor Emeritus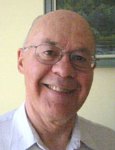 PhD, University of California, Berkeley, 1965
Telephone: 519-661-2111 ext. 81552
Email: ruud@uwo.ca
Office: Lawson Hall 1201
Office Hours: Wednesdays 3:00-5:00pm
---
Research Interests
Professor Ruud's research is focused on Russian History with a special interest in censorship in the Russian press.
---
Select Publications
Books:
(2012) My Life for the Book: The Memoirs of a Russian Publisher, Ivan D. Sytin McGill Queen's University Press
(2009) Fighting Words: Imperial Censorship and the Russian Press, 1804-1906 University of Toronto Press
(2009) The Constant Diplomat: Robert Ford in Moscow Montreal:McGill Press
(2005) Fontanka 16: Tsaaride Salapolitsei, co-authored with S.A. Stepanov, Tanapaev Press, Tallinn, (an Estonian translation).
(2002) Fontanka 16: The Tsar's Political Police, co-authored with S.A. Stepanov, McGill-Queen's University Press, (paperback edition).
Book Chapters
(2003) "Crosscurrents of French, Austrian, and Russian Security Policing, 1750-1900," in The Cultural Gradient: The Transmission of Ideas in Europe, 1789-1991, eds. Catherine Evtuhov and Stepehn Kotkin, Rowman & Littlefield Publishers, Inc., 2003, pp.131-44.
(2000) "Russia," in The War for the Public Mind: Political Censorship in Nineteenth Century Europe, ed. Robert Justin Goldstein, Westport, Conn., 2000, pp. 239-272.
(1995) "The reports of Robert A.D. Ford, Canadian Ambassador to the Soviet Union, 1964-1980," Diplomatic Documents and Their Users, eds. John Hilliker and Mary Halloran, Ottawa, 1995.
Refereed Journal Publications:
(2006) "Censorship of the Press - Russia," Nineteenth-Century Literature Criticism, 156, 2006, 54-63.