Laurel Shire
- Associate Professor
- Graduate Chair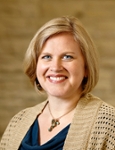 Telephone: 519-661-2111 ext. 84991
Email: lshire@uwo.ca
Office: Lawson Hall 2226
Office Hours: TBD
---
Research Interests
Professor Shire is a social and cultural historian whose research focuses on the United States in the nineteenth century, especially the relationship between race, gender, and U.S. expansion. Her research connects scholarship on North American borderlands, Western and Southern U.S. history, the Atlantic world, Native and African American studies, and women's history.
---
Teaching Philosophy
I have a long-standing love of social and cultural history, and enjoy teaching all aspects of the American past that touch on the ways that people, especially women, shaped it. I want students to engage with historical content as well as criticism, and to immerse themselves occasionally in the culture of the past. I strive to be an accessible and compassionate teacher while also maintaining high expectations. I believe that passionate and imaginative teaching encourages students not only to engage with history but also to develop stronger research and writing skills. All of my undergraduate courses address historiography and teach students how to locate and analyze primary sources. I also support student development as solid writers and make myself available to discuss strategies for improvement.
I welcome inquiries from prospective graduate students. I am happy to supervise MA and PhD students interested in US social and cultural history in the 19th and 20th centuries, particularly those interested in race, gender, or settler colonialism. I am currently supervising PhD students Carla Joubert and Erin Brown. In the past, I've supervised History and American Studies MA students on a wide variety of US topics. I have also directed doctoral comprehensive exams in U.S. history. Please note that I am on sabbatical in 2019-2020 returning July 2020.
---
Major Research Projects
Dr. Shire's first book was published in 2016.The Threshold of Manifest Destiny: Gender and National Expansion in Florida argues that American political leaders leveraged gender norms – not only masculinity but also femininity – in order to Americanize Florida, setting a precedent for U.S. policy in many subsequent frontier zones further West. They used white women's presence in Florida to justify violence against Seminole peoples and to rationalize generous social policies for white settler families, many of them slaveholders. At the same time, they relied on white women's material, domestic and reproductive labor to create homes and families there; the building blocks of permanent colonial settlement. In short, white women were indispensable to the process of settling Florida for the U.S., a process that displaced both Indigenous people and enslaved people of African descent.
Prof. Shire's next monograph will be titled The Women at 44 Queen Street: Gender and Labor in Early Baltimore.
This book will use the women who lived in the household of Mary Young Pickersgill (at 44 Queen Street in Baltimore, Maryland, from 1806-1857) as the subjects of a microhistory on women, race, class, and labour in the early 19thcentury American city. The women who lived in this household were responsible for one of the most famous pieces of material culture in U.S. history: the Star-Spangled Banner. Although the flag hangs in the Smithsonian National Museum of American History, very little is known about the women and girls who created it.
Pickersgill, a widow, supported herself, her mother, and her daughter by making flags, ship's colours, and other ensigns in her home near the Port of Baltimore. They had assistance from at least two female apprentices (Grace Wisher, who was African American, and Mary Ann Martin, who was white), several enslaved women and their children, and two of Mary's neices. In the summer of 1813, the commander at Fort McHenry commissioned two very large American flags from her shop. Mary, her two nieces, and the servants worked many hours over the next six weeks to complete the flags. By the time the British bombarded their city in September 1814, the flags were in use at the Fort. Large as it was, Francis Scott Key could see the storm flag from a ship in the Chesapeake Bay, from which he observed the Battle of Baltimore. He penned a poem, "Defence of Fort McHenry," which was published on 21 September in the American and Commercial DailyAdvertiser. Subsequently, Key took the poem to a music publisher, who set it to a well-known tune and published it as "The Star-Spangled Banner." It quickly became the de factonational anthem and was officially declared as such in the early twentieth century. 
After her daughter married, Mary Pickersgill closed her shop, and spent her time working for the Impartial Female Humane Society of Baltimore, an organization that aided other widows by finding them work and advocating for higher wages for women in the needle trades. She served as its President for two decades. It was "impartial" because unlike many other charities at the time, it helped women in need, regardless of their religious affiliation. In 1850 it opened a Home for Aged Widows, to house and care for widows who could no longer work. Her daughter, Caroline Pickersgill Purdy, later lived in the Society's Home, and died there in 1884.
This book will reveal the myriad ways in which women's work – even in the age of "True Womanhood" – supported early U.S. capitalization and urbanization. It builds on my knowledge of gender and nationalist projects in the early 19thcentury United States, and on my longstanding love for Baltimore. 
Selected Publications
Books:
The Threshold of Manifest Destiny: Gender and National Expansion in Florida, Early American Studies series, University of Pennsylvania Press, 2016. Please read interview here.
This book won the 2017 Mary Kelley Prize from the Society for Historians of the Early American Republic, honoring the best book published on the history of women, gender, or sexuality in the Early American Republic. It also received the 2018 Rembert Patrick Award for the best scholarly book on a Florida history topic from the Florida Historical Society.
Book Chapters:
"Armed Occupiers and Slaveholding Pioneers: Mapping White Settler Colonialism in Florida in Jimmy L. Bryan, Ed., Inventing Destiny: Cultural Explorations of U.S. Expansion(University Press of Kansas, forthcoming in fall 2019). 
Refereed Journal Articles:
"Sympathetic Paternalism and Sentimental Racism: Feeling Like a Jacksonian," Journal of the Early Republic symposium on the "Age of Jackson," Volume 39 (Spring 2019).
 with Joe Knetsch. "Ambivalence in the Settler Colonial Present: The Legacies of Jacksonian Expansion," invited for Special Issue, "Andrew Jackson at 250" of the Tennessee Historical Quarterly, Vol. LXXVI, No. 3., Fall 2017, 258-275.
"Turning Sufferers into Settlers: Gender, Welfare, and National Expansion in Frontier Florida," Journal of the Early Republic, Volume 33, No. 3, Fall 2013. 
Clark, Laurel A. "The Rights of a Florida Wife: Slavery, U.S. Expansion and Married Women's Property Law," The Journal of Women's History, Volume 22, No. 4, Winter 2010, pp. 39-63. 
Clark, Laurel A. "Beyond the Gay/Straight Split: The Socialist Feminist Community of Baltimore," National Women's Studies Association Journal, Volume 19, Number 2, Summer 2007, pp. 1-31 (based on undergraduate thesis).
Book Reviews:
"Book Review, Mark Rifkin, When Did Indians Become Straight? Kinship, the History of Sexuality, and Native Sovereignty," for the American Historical Association's CLGBTH Newsletter, forthcoming, Fall 2013. 
Clark, Laurel A. "Book Review: Lisa Duggan, 'Sapphic Slashers: Sex, Violence, and American Modernity'" in American Studies International, June 2002, Vol. XL, No. 2: 98-99.