Our Students
For previous students in our program, click here.
2023-24 Students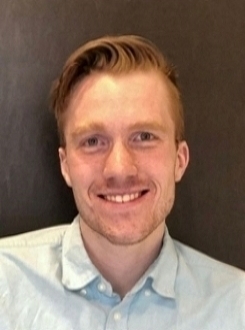 Kevin den Dunnen has an Honours B.A. in History and a Minor in Public History from Huron University College. He became interested in public history as a summer student at Huron County Museum & Historic Gaol in Goderich following his second year of a college business diploma. His love for public history stems from a passion for understanding the histories of the spaces around him. Whether it be a wampum belt shown by a local Indigenous community for a temporary exhibit, a wedding dress donated by a descendant, or a personal diary, he believes that every object has a story to tell. It is in finding, interpreting, and presenting these stories that the value of a public historian comes forth.
Kevin has worked and volunteered at five different public history institutions since 2019. At Huron County Museum, he focused on exhibits and curation, artifact and archival research, and transcribing historic documents. At Elgin County Railway Museum in St. Thomas, he was involved with curation, educational programming, and accessioning. Kevin worked in collections at Lambton Heritage Museum in Grand Bend, specifically in inventory and preparing objects for long term storage. At Huron University College, he received funding to research and write a public blog about the historic missionary museum once located on the school's former campus. Since 2021, Kevin has served as a Volunteer Board Member at Museum London. He hopes that the MA in Public History Field at Western will further his journey along the path to a happy and fulfilling career.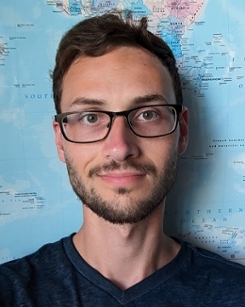 Nicholas Hamilton has a B.A. Honours in English Literature and Classics as well as an M.A. in English from Memorial University of Newfoundland (MUN). His studies centred on the ways that personal and national identities can be constructed from narratives of real or imagined pasts, with a focus on early modern England's relationship to classical antiquity.

Nicholas began working in museums in his hometown of Carbonear, Newfoundland in 2014 and went on to work with several Newfoundland museums including Admiralty House Communications Museum in Mount Pearl as an Assistant Curator and The Rooms Museum Division in St. John's as a Collections Assistant. His work as a historical site interpreter and creator of research reports for exhibit development fueled his desire to make public history projects accessible and engaging to a diverse audience. His background in literature and experience as a part-time professor of English at MUN led him to approach historical sources critically and encourage a more thoughtful engagement with the stories told by public history institutions. During his time at Western, Nicholas aims to expand his knowledge and experience of public history to develop new ways for people to learn about and share their histories.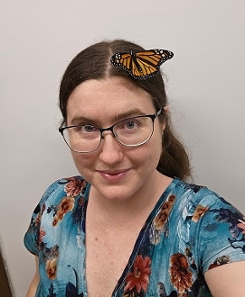 Tara Jacklin has a B.A. Honours with Distinction in Greek and Roman Studies from the University of Victoria and an M.A. in Classics from Western University. Their research focuses on gender and sexuality in the Ancient World, with an emphasis on Roman women's veiling practices. They have been awarded a SSHRC at the MA level and two OGS scholarships, and recently published "The Earth as a Source of Women's Power" in Ceres.
Tara is passionate about hands-on active learning and giving helpful constructive feedback. Throughout their academic career, Tara was involved in public history through internships at local heritage organizations. Their first curating project was at Point Ellice House, with the 2018 summer exhibit. Since then, Tara has continued to expand their exhibit experience and complemented it with work in programming at Brantford Museum and Archives and London's Museum of Ontario Archaeology. Tara is passionate about making interactive, engaging, and accessible exhibits. To this end, Tara is excited to expand their portfolio with Western's Public History Field.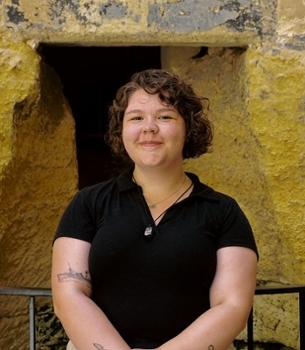 Kealey Kennedy has an Honours B.A. in Music and a Minor in Medieval & Early Modern Studies from Carleton University. Her research focuses mostly on cemeteries, commemoration of death, plague history, medieval music, representations of Saint Rocco, and maritime history. She also enjoys genealogical research, walking through cemeteries, and embroidery.
Her love for history and these various subjects brought her to Malta in the summer of 2023, where she worked research positions for the Msida Bastion Cemetery and the Inquisitor's Palace (Heritage Malta). These opportunities allowed her to gain more practical experience in archival research, cemetery preservation, Latin transcription, and exhibition development. Whilst learning about the changes in Maltese burial practices before and after the impact of British colonialism, her research focus broadened to include the ways in which colonialism changes a people's relationship with death and burial. At Western, Kealey is eager to gain more experience and develop her expertise within public history, particularly looking more into cemeteries and commemoration and their relationship with public perceptions of death.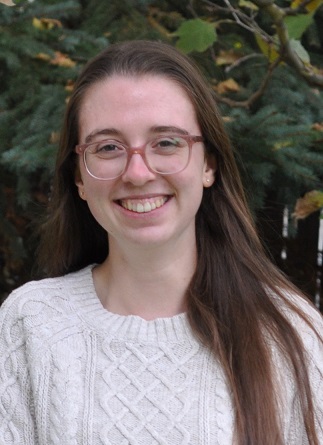 Kirsten Koop has a B.A. Honours in History and a Minor in French Studies from Brock University. She first became interested in public aspects of history during her undergraduate years, initially working on a museum exhibit with the Niagara-on the-Lake Historical Society and Museum that explored the history of local tennis. She later created a display on the historical impact of watersports on the Niagara Region for the Niagara 2022 Canada Summer Games, particularly focusing on women's history and rowing. Kirsten also wrote and produced a narrated walking tour of historic Niagara Falls tourism. She contributed to Brock University's undergraduate history journal, The General, first as an author and peer reviewer in 2022, and then as co-editor in 2023.
Kirsten is especially interested in local Niagara history and social history. During her time at Brock University, she was an archival volunteer in Special Collections and had the opportunity to work for the Sport Oral History Archive, contributing to digitization projects and online exhibits for the Canada Games and Garden City Arena collections. She is looking forward to continuing to expand her public history experience at Western University.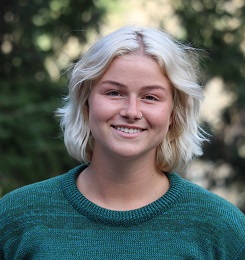 Lauren Millett has an Honours B.A. in History from Acadia University. With primary interests in archival preservation and digitizing collections, she attributes her early passion for the fields to her mother who is a dedicated genealogist, frequenting cemeteries and museums as a child. By connecting her family history to major historical events, the fascination was born and continues to guide Lauren's studies.
Lauren has worked as an audio editor for "Peopling the Past," an open-source educational podcast, focused on real people in the ancient world. She has also served as a student archivist at the West Hants Historical Society where she led the digitizing and processing of Hants County school record collection. During her time at Acadia, Lauren worked with unprocessed Acadia Home Economics Club documents and completed a thesis which critically addressed the traditional narrative that jobs and skills taught in Home Economics were not valuable. Her innovative work in women's labour history earned several accolades from Acadia including the University Medal in History and the Dr. A. H. MacLean Thesis Prize.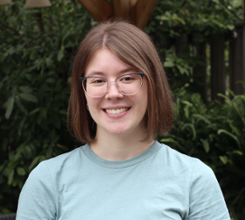 Paige Milner has an Honours B.A. in History and a Minor in Medieval Studies from Western University. Throughout her undergraduate degree, Paige focused on social and women's history within Canada during the nineteenth century, which culminated in a thesis exploring the lived experience of asylum inmates. She also curated an exhibit titled "The No. 10: Western University's First World War Hospital," at the J.A. Schweitzer Gallery at Western, presented this research at the Ontario Women's History Network Conference, and wrote an article on it for The London Middlesex Branch of the Ontario Genealogical Society.
Paige began her career in public history eleven years ago when she became a costumed historical interpreter at Westfield Heritage Village. In the summer of 2022, Paige worked for the Heritage London Foundation (HLF) as a historic site interpreter and researcher. There she carried out archival research and conducted nine oral interviews to curate a virtual exhibit highlighting the experience of female hosiery workers during the second half of the twentieth century. She also developed HLF's first oral history practical and ethical toolkit and was interviewed by CBC radio London for her research. Paige returned to HLF for the summer of 2023 and curated a physical exhibit on the built heritage of the London Asylum for the Insane while also uncovering the experience of female patients within that institution. Paige volunteers on the Education Sub-Committee and Stewardship Sub-Committee of the London Community Advisory Committees and is also a volunteer Historical Home Sign Researcher for the Architectural Conservancy Ontario London Branch.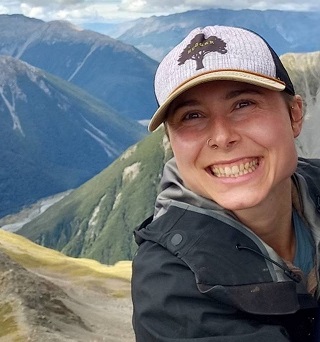 Shannon Putnam has spent the past three years as an energetic high school English and social studies teacher in British Columbia. She has a unique approach to teaching, often incorporating her love of theatre into lessons to make learning more enjoyable. She is passionate about storytelling, leading her students to engage with primary sources and dissect historical narratives critically and creatively. Shannon aims to challenge students to generate inquisitive questions to explore history further. She provides avenues for students to grapple with where they find themselves within the narratives examined and how they can create social change.
Before obtaining her teaching degree from Simon Fraser University, Shannon completed her B.A. Honours in History with a Minor in American Sign Language at Carleton University. Shannon's passion for history grew at Carleton as she completed a collaborative practicum creating educational resources focused on residential schools in Canada, reconciliation, Indigenous resistance and resilience. Shannon's historical interests include social movements, immigration, gentrification, body politics and educational policy. When Shannon is not teaching, she is supporting theatre projects or mountain biking and hiking outdoors.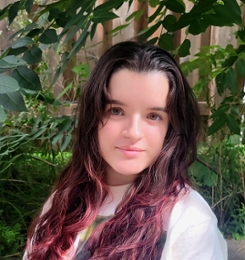 Danielle Walls graduated with distinction from Huron University College with an Honours B.A. in History and a Minor in English and Cultural Studies. Throughout her undergraduate degree, Danielle's research focused on how cultural and social histories interact with one another and how they shape the way history is interpreted and remembered. She has taken a particular interest in how folklore contributed to ethnic nationalism within Eastern Europe.
Her first interaction with public history occurred in 2020 when she interviewed the curators of the Amherstburg Freedom Museum about Henry Bibb and their plans to promote the museum to the public. Her interest in cultural history also motivated her research for a year-long class project that collaborated with the Chatham-Kent Black Historical Society. She researched the origins and broader historical significance of a quilt that was displayed at the museum and presented her findings in a blog post. She recently published a paper for Liberated Arts entitled "Bones Wanted" which discusses the use of propaganda used in Britain during the First World War to promote civilian engagement through the Salvage Campaign. As she continues her public history education at Western, Danielle hopes to assist in bridging the gap between academic history and the public through digital and community-based initiatives.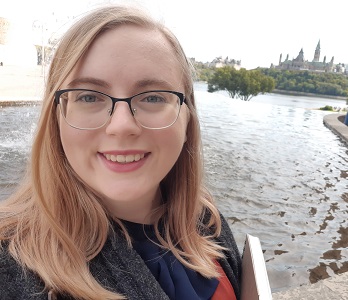 Madison A. Williams graduated from Wilfrid Laurier University with a B.A. Honours in History with a Public History specialization and an Indigenous Studies Minor. She also has a Film and Television Production Advanced Diploma from Humber College. Madison has created commercials, documentaries, and short films in various crew roles in both Toronto and Hamilton.
Much of Madison's undergraduate research has revolved around the Indigenous Peoples of Turtle Island, East Asian history, 2SLGBTQA+, Art History, Pop-Culture, and Public History. She was Vice President of the History Students Association for the Wilfrid Laurier Brantford Campus. Madison also volunteered as the creative director for the 'Laundries Chopsticks and Medicine Exhibit' displayed at the Brant Archives and Museum and contributed to ongoing research at the Canadian Industrial Heritage Centre. Madison hopes to encourage the continual growth of history and cultural preservation and public interaction at Western University with her fellow public history students.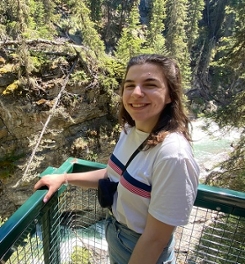 Lily Zitko graduated with Great Distinction from the University of Windsor with a B.A. Honours in History and is a two-time recipient of the Board of Governors Medal in History. During her undergraduate degree, Lily focused on Canadian history through the lens of immigrant stories and experiences. Her notable research includes the post-WWII diaspora of Yugoslavian people throughout Europe and into Canada, as well as the beginnings of transnational and transracial adoption via post-war Korean orphans. The latter work is set to be published in the Great Lakes Journal of Undergraduate History.
Lily has an extensive background in historical research, having been a research assistant on a variety of projects through the University of Windsor's Outstanding Scholar program. Her senior project involved the mapping of Chinese-owned businesses in early twentieth century Windsor, Ontario. Outside of the classroom, Lily has had the opportunity to explore her interests in Public History through the Young Canada Works program. She has worked as an archival assistant at the City of Windsor's Archives, and as a museum researcher and guide at Museum Windsor. Lily has a passion for history with the goal of making history fun and accessible to everyone.
Public History MA Cognates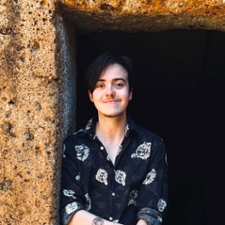 Niġel Klemenčič-Puglisevich graduated from Carleton University in 2022 with a combined B.A. (Hons.) in History and Greek & Roman Studies with minors in Archaeology and Medieval & Early Modern Studies. His research interests primarily surround his family's home country of Malta, its archaeology, its museums, and the repercussions of centuries of colonization on the archipelago. Moreover, he is interested in public archaeology and how community interaction with archaeological heritage can influence identity. In the summer of 2022, he pursued a research project in Malta funded by Carleton University entitled "(De)Colonizing Heritage: Colonial and Imperial Roots Shaping Cultural Heritage in Malta."

Niġel has worked in museums since 2015 and his passion for the field has only grown over the years. His career first started in his hometown at Clarington Museums & Archives, and he has since gone on to work at several other public history institutions in different capacities, mostly in collections, exhibitions, and digitization. Throughout his undergraduate degree, he worked as the Collections Manager at the Museum of Classical Antiquities (University of Ottawa), where he helped lead many new projects in digitization, exhibitions, and accessibility. Throughout his professional career, he focused much of his effort into developing skills that can help museums become more accessible, welcoming, digital, and community centric. His passion for archaeology has also led him to work with the Gabii Project (located just outside of Rome, Italy) for two summers, where he had the opportunity to work with peers to analyze, date, draw, and document the site's Roman and pre-Roman finds.

Niġel is excited to expand his experience with public history at Western and to learn so much more about the potential the field has to offer.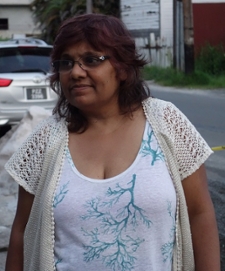 Zahra McDoom graduated from Wilfrid Laurier University (2003) with a Masters of Social Work, from the University of Western Ontario (2000) with an MA from The Centre for the Study of Theory and Criticism, and from the University of Toronto (1997) with a B.A. (Honors) specialist in the Study of Religion and major in Humanities and Psychoanalytic Thought.

Zahra worked in the field of social work engaging with primarily marginalized peoples through community organizations and most recently with the Thames Valley District School Board (London) supporting students through advocacy, counselling, and education. She has always maintained an interest in memory, absence, loss and relics produced by colonialism and its diaspora, looks for traces and connections to cultures of the Caribbean in everyday Canadian landscapes, and enjoys growing her knowledge of gender and queer theory.