2012 News
LACH uses Student Research for Heritage Designations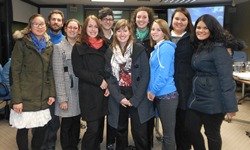 Public History students presented their research on the architectural heritage of the Old North London neighbourhood last night to members of the Stewardship Committee of the London Advisory Council on Heritage (LACH) and the Architectural Conservancy of Ontario (ACO). Their reports will be used by LACH for designation purposes and by the ACO in its annual heritage home walking tour next summer. This is the fourth year that the Public History program has partnered with LACH and the ACO. Previous areas of research have been the Ridout/Talbot street area, Old South London, and the SoHo district.
---
Shaping a Community:  Black Refugees in Nova Scotia
by Lindsay Van Dyk
Nova Scotia has been home to people of African descent for over 300 years. Some individuals came as slaves in the service of white masters, but many others arrived as free migrants seeking a new homeland. During and following the War of 1812, approximately 2,000 escaped slaves arrived in Nova Scotia, having attained freedom in the course of the conflict. This group collectively became known as the Black Refugees. Read more about Lindsay Van Dyk's (2011-12) internship research at the Canadian Museum of Immigration at Pier 21.
---

The area of study for this project is a district of the city of London, Ontario, now know as Old East Village (OEV.)  OEV has a vibrant history spanning over 130 years. Originally, incorporated in 1874 as London East, the area was an industrial community that had its origins in a foundry established in 1856 by Murray Anderson, London's first mayor. Imperial Oil was founded here in 1880 which ignited the development of the early refinery industry, the establishment of the railways and subsequent related industries. London East became an economic engine for the city of London.  It was amalgamated into the city of London in 1885, but OEV still retains an independent nature and a strong sense of community as a neighbourhood.  As such OEV has received much planning attention and study from groups such at the Old East Village Community Association, Old East Village Business Improvement Area, City of London, Planners Action Team, Ontaio Professional Planners Institute, Nexus Architects, and individuals such as Michael Evens and Virginia Sauvé. The research and studies resulted in the Old East Heritage Conservation District Conservation and Design Guidelines.
This project, researched and created by Heather Rivet and Doug McGlynn (2011-12), examines the nature of change that took place along Dundas Street East from Adelaide Street to Rectory Street architectually, socially, and economically.  By studying the city directories, photographs, and previously published research on Dundas Street East, this projectl combines the many individual sources and present them in a way that is accessible to the general public through the internet. 
---
National Ballet of Canada Exhibits Open
Over the past year, Caitlin Dyer (2010-11) has been working with the National Ballet of Canada Archives, helping to produce two exhibits. The Tutu Project celebrates 60 years of partnership by engaging its friends, audience members and professional designers from across the country in creating a collection of 60 original tutus. 60 Years of Designing the Ballet traces the institution's history of design. Both are on display at the Design Exchange in Toronto.
---
1812 Smart Phone Launch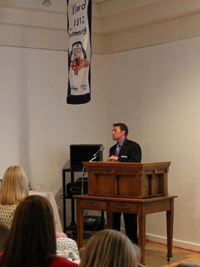 Our commemorative smart phone app that traces the story of the retreat of Major General Henry Procter and his First Nations allies led by Tecumseh launched June 23 in Windsor and in Hamilton on the 24th. Funded by a Community Learning Grant from the Student Success Centre, the public history students partnered with the 1812 Southwest Region of Ontario, the Tecumseh Parkway Committee, Fort Malden, the Chatham-Kent Museum, Fairfield Museum, and many other sites and community groups. Already, our app has garnered media attention from the Windsor Star, on canada.com, and from CBC Radio. You can start the app by scanning the QR code found here.
---
Internships Have Begun!
The Public History students are all now out in the field, at institutions ranging from the Museum of the Moving Image in New York City to the Ontario Heritage Trust in Toronto to the Canadian Immigration Museum at Pier 21 in Halifax. One student, Dave Sikkema, is staying close to the university, working with the JP Metras Sports Museum, run by the W Club at Western. Sikkema, who has won an Accelerate Ontario matching grant for his internship, will be setting up an oral history project and conducting interviews of significant Western athletes for the museum. Read more about his work in his article "Preserving the Voices of Our Sporting Past," in the Western News (page 5). Heather Rivet, the Robert Cochrane Lambton County Fellow, has also won an Accelerate Ontario grant to work at the Oil Museum of Canada. Many of our students are blogging about their internship experiences throughout the summer. Check them out here.
---
Conference Season

Spring is conference season, and the Public History students have been sharing their work across North America. Dave Sikkema presented at the Texas Oral History Association conference in April. You can read about this work on his blog Backwards with Time.
Adriana Ayers, Heather Rivet and Laura Piticco participated in a poster session at the 2012 Annual Meeting of the National Council on Public History in Milwaukee, which discussed the Public History students' commemorative 1812 smartphone app.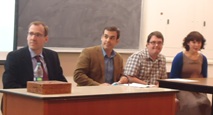 Ayers also shared the experiences of the Public History students as they beta-tested an alternative reality game called "Tecumseh Lies Here" at the Canadian Historical Association annual meeting. The game was created under the direction of Prof. Rob MacDougall, and former Public History alumni Tim Compeau and Devon Elliott, now PhD students at Western. You can read about the students' experiences here. 
---
Public History Alumni Featured on WorkStory.net
WorkStory.net is a website producing and collecting oral interviews about a variety of job experiences. Two of our graduates, Meaghan Nelligan-Rivard who works as a cultural heritage specialist for Golder Associates, and Dana Johnson-Thorne, the Historian for the Lambton County Room, are included. WorkStudy.net is also looking for contributions. Check out their stories here!
---
New Publications and Exhibits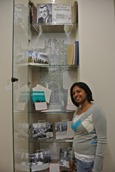 Check out the latest publications and exhibits produced by our Public History students:
"Wilberforce:  A Local Symbol of Freedom," an article on the black history of Lucan, Ontario, by Lindsay Van Dyk, published in the Exeter Times-Advocate.
"The Popularity of Remembrance," a blog post on ActiveHistory.ca by Laura Piticco on the commemoration of the sinking of the Titanic.
"Tecumseh Lies Here," a blog post on ActiveHistory.ca by Adriana Ayers, discussing the experiences of the Public History students as they beta-testing this alternative reality game. This post is one of a series leading up to the mini-conference on the War of 1812, featured as part of the Canadian Historical Association Annual Meeting in late May. 
"Where's the History? The Absence of History on History Television," by Alison Deplonty, the third feature blog on ActiveHistory.ca by our students.
"The Canal's Impact on Merritton," Merritton Matters (page 8), by Adrian Petry, who researches the history of canals.
"J.J. Talman," an exhibit by Sushima Naraine on the life and contributions to historian J.J. Talman to Western University and Ontario history.
---
"Redefining Archaeological Research," by Paul Mayne, Western News
Gently cradling a 5,000-year-old cuneiform clay tablet from Ur (modern day Iraq), Andrew Nelson wishes he could peel back the layers to find out what makes up this first-generation iPad. And thanks to a new microCT scanner at Western's sustainable Archaeology Repository (SAR), the Anthropology professor has done just that.
With the touch of a button, the object was scanned, reconstructed and fully rendered using more than 3,000 individual images, allowing for high-quality visualization and inspection.
"Imaging is a signature strength at Western, and that ranges from clinical imaging to the microCT imaging facilities down at Robarts (Research Institute). Western has established this as a No. 1 place for CT imaging," said Nelson, adding he knows of only one similar microCT unit, located at National Research Council in Montreal. Western's scanner is the only one dedicated strictly to archaeological research.
"What this instrument does is it extends the range of what we have available. The ability for object size, its power and speed is what really makes this a unique machine. It's the rotating target head also allows us to do very high-detailed CT scans in a short period of time."
This latest addition to the SAR, a collaborative venture between Western and McMaster University, and funded through the Canadian Foundation for Innovation and the Ontario Research Fund, will allow for a range of archaeological research on an unprecedented scale.
Located at the Western-based Museum of Ontario Archaeology, and open since last fall, the facility is closer to being fully operational, said principal investigator Neal Ferris.
"I'm so tired of talking about what we will be doing, so the chance to actually talk about what we are doing is very exciting," said Ferris, adding the facility will be consolidating archaeological collections from across the province into a single digital database and remotely accessible research centre.
With an 18,000-square-foot storage capacity between Western and McMaster – enough for 90,000 boxes of archaeological findings – the SAR works with commercial archaeologists who have meticulously documented the millions of artifacts and organic remains recovered through housing and highway developments.
"The scale of research you can do from a click of a mouse is something that is impossible now because all those collections that will fill these shelves are right now sitting in people's basements or their lock-ups," Ferris said. "No one knows about them and no one can find them."
That's where the SAR comes in.
"The collections here are designed for access for research primarily," said Rhonda Bathurst, SAR operations manager. "But by digitizing it, we are making it accessible to everyone. That's the beauty of having a digitized collection is that anyone at home can access the cultural history of Ontario, be it a first-grader doing a project on archaeological heritage or be it someone in First Nations who wants to access it to learn a bit more about their cultural heritage.
"It's access to anyone in the world."
An archaeologist by training, Bathurst admits this facility will change everything.
"I had to search down these collections in Toronto, Hamilton, London," Bathurst said of her time as a student. "It took about half a year to a year to get all the information together I needed. And now, it's here. What took me close to a year, I could sit down at a database and it's right there in front on me on the screen, or right here within the building, and away I go.
"It truly liberates cultural heritage in a way we haven't had here in Ontario before; that's pretty exciting."
While the SAR's Object Conversion Lab uses digital X-Rays – and a bank of five laser scanners expected to arrive this summer for building 3D models – the microCT scanner will allow Nelson and other researchers a non-destructive way to look inside objects.
"With the scans, we'll be able to cut sections of the object to see how they were constructed, to see the materials used to make it," he said. "Anything that is ceramic, like the clay tablet or a ceramic vessel, you can now tell how it was made by the image. The tablet looked like there were circular motions to it. It gives us clues into the actual actions of the person and the decision-making process the person is going through. It adds really unique personal dimensions to this object.
"It is no longer a static object, it's the end product of a series of decisions that this individual has made."
Ferris added the microCT scanner opens a whole new raft of material studies research simply not accessible elsewhere in North America in archaeology.
"You're scanning, for example, a thousand-year-old earthen vessel a woman made in a village during a completely different way of life. You'll get to reveal the entire craft in making the pot," he said. "We're going to be constantly scanning this sort of stuff, so imagine what happens when we have 2,000 of these pots scanned. We'll likely be able to track the history of a particular artisan."
Nelson said other applications for the microCT scanner are possible. For instance, he has a graduate student interested in primate evolution and primate facial morphology; the Earth and Planetary Science team is interested in scans of their meteorite collections; and a luthier from Sudbury is interested in scanning violins to look at what makes a Stradivarius different from a garden-variety violin.
"This is unbelievable," Nelson said. "To have access to a unit like this, that we can really push to the limits of imaging in the archaeological context, is extremely exciting and will really this facility on the map. There are lots of other applications that we are only really beginning to start exploring."
While the facility is in its infancy, the future holds nothing but excitement.
"With these tools we're going to be completely redefining what research in Ontario archaeology is and telling stories people don't even know archaeology can tell right now," Ferris said.
See how the scanner works on YouTube.
---
MB: Living and Writing the Early Years of Parks Canada Website
Check out this new online exhibit. A NiCHE project led by Prof. Alan MacEachern, it also includes work by Public History alums Adam Crymble, Lois Fenton, and Luvneet Rana.
MB: Living and Writing the Early Years of Parks Canada is an archive and exhibit that tells the story of an extraordinary, ordinary Canadian. In doing so, it deepens our understanding of a defining era in Canada's environmental history - offering insights, for example, about the development of the national park system and about the life of Grey Owl. What anchors the site is an unusually rich and varied collection of sources from MB's life: more than 30 personal letters, recently archived and as yet little used by historians; 9 published guidebooks, long out-of-print; and an oral interview from 1969, never before heard.
---
"New Website Window into Two World Wars," by Greg Colgan, London Free Press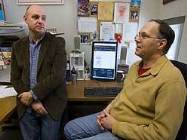 Anyone curious about what it was like to live in Canada during the First and Second World War will soon have thousands of documents at their fingertips.
Wartime Canada (www.wartimecanada.ca) is an online database that preserves historical Canadian documents from those wars and makes them accessible to the public. The website launched Tuesday.
"Jonathan Vance and Graham Broad are two history professors who have created a First World War and Second World War website that features a historical documents database. There are currently 400 documents online and more to be uploaded in the coming months.
[Read Full London Press Article]
---
New Website on Tecumseh
Public History alumnus Adair Harper has launched a new website, Tecumseh's Material Legacy, which gathers together the artifats associated with the War of 1812 Shawnee leader Tecumseh held in museums scattered across North America. As Canada and the United States commemorate the War for the next four years, this website will be of use to all those interested in how the legend of Tecumseh continues today. The website can be accessed here.
---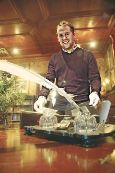 "Victorian Tweets @ Eldon House,"
The Londoner,
By Shobhita Sharma 
UWO grad student Adrian Petry shows some of documents that will be used to produce "tweets" Dec. 15, 2011 in London at Eldon House. The tweets will be displayed at the upcoming Victorian Tweets exhibit starting Jan.7, 2012 at Eldon House. [Read Full Press Article Here]