Joel Sherlock, MLIS, MA (Class of 2014)
Joel Sherlock, MLIS, MA (Class of 2014)
Manager, Genealogical and Archival Research
Crown-Indigenous Relations and Northern Affairs Canada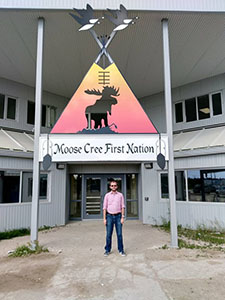 I was surprised at how many similarities there were between the Public History MA and the workplace. I cannot count how many presentations I have done, how much peer review I have conducted, and how many people have peer-reviewed my work. Group projects are a fact of my work life and I rarely achieve anything alone. There is usually a team supporting me, or I am supporting someone else in every accomplishment of which I have been part.
The MA in Public History made the transition into the workplace easy. I loved that most of our assignments were going to be used in the real world. The Western Public History MA Program has done an excellent job of building community partnerships and creating projects to aid those community heritage organizations. Among the things we did was curating a museum exhibit for Fanshawe Pioneer Village, researching heritage homes for the Architectural Conservancy of Ontario and the London Advisory Committee on Heritage, and completing a research assistantship at a community museum. Knowing that there were real-world consequences for our assignments stretched me and propelled me to do my best work.
What I loved about London was the numerous community heritage organizations there. The individuals within these organizations loved history and heritage as much as the Western Public History Faculty did. The partnerships between Western and these organizations fostered an infectious enthusiasm that motivated students to work hard, dream big and love our assignments.    
In terms of the program preparing me for my current job, I use my historical research and writing skills everyday to help people with life problems that have real consequences on an individual level. Below is a snapshot of some of the services my team renders:
Creating letters of ancestry to support Canadian First Nation individuals in asserting their rights under the 1794 Jay Treaty so that they can live and work in the United States and obtain permanent residency there without charge


Writing family history letters to aid the children of registered First Nation individuals to support their eligibility to apply for Indigenous scholarships for their post-secondary studies


Writing proof of age letters for First Nations who never had their births registered with their province so that they can then obtain a birth certificate and access Old Age Security benefits


Assisting Entitlement Officers with complex genealogical research so that they can more quickly process applications for Registration under the Indian Act


In July 2017, I also had the privilege of travelling to the western shore of James Bay to assist with treaty pay events in Kashechewan, Attawapiskat, and Moose Factory, Ontario. Participating in these events and interacting with the First Nation residents there taught me the importance of Truth and Reconciliation and that this is not just a problem to be resolved between the Federal Government and First Nations, but every person, organization, and government that calls Canada home. We are all treaty people. The photos included here are from that transformative trip.
My advice to current and prospective students would be to become greater engaged as activists no matter their career occupation. History graduates have a unique ability to recognize troubling patterns in today's world based on their study of the past, and thus can be a force in preventing bigotry, injustice, prejudice, and racism. The great thing about today is that through the internet and social media, the grassroots movement has a much more far-reaching and powerful platform than it ever had before. Through these various platforms, we can spread a mature, nuanced, and balanced message against the aforementioned negativity.