Peer Mentor Network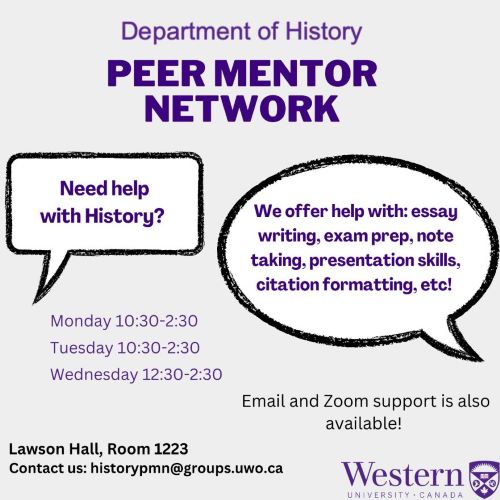 We are happy to announce that the History Department Peer Mentor Network is open for the Winter 2023 semester!

The Peer Mentor Network is a new support for any and all students taking a history course with the History Department. The network provides help with essay writing, exam preparation, note taking, presentation skills, citation formatting, and anything else you might need!
Please contact the network at historypmn@groups.uwo.ca or visit them for in-person support in Lawson Hall, room 1223.

The Network hours are:
• Monday 10:30am-2:30pm
• Tuesday 10:30am-2:30pm
• Wednesday 12:30pm-2:30pm
The Network will be closed during the Winter Reading Week (Monday February 20 - Friday February 24).
The Network's hours may change during the April exam period, however this will be communicated ahead of April.

The Network will also be providing email and Zoom support.  The Mentors will be responding to emails Monday through Friday (excluding weekends and Reading Week).

The Network will be offering Zoom meetings during our in-person hours. If you would like to arrange a virtual meeting with one of our mentors, please email historypmn@groups.uwo.ca and a meeting will be arranged!