McCaffrey Seminar Series
The Bruce McCaffrey Memorial Graduate Seminar Series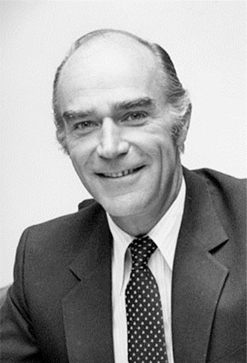 The History Department enjoys a vibrant graduate student culture, which has been energized by various students over the years. One important graduate activity is the graduate seminar series, which is organized by, and for, graduate students as a venue for their research and intellectual exchange. In 2002, the graduate students renamed their series in memory of M.A. student Bruce McCaffrey (1938-2002), whose love and enthusiasm for history reverberated throughout the department at Western.
Bruce McCaffrey left politics in 1987 and shortly thereafter relocated to London where he completed his honours upgrade and M.A. degree in History at Western. McCaffrey enjoyed studying the mid-19th century Canadian political era, with a special interest in Sir Francis Hincks (1807-1885). As a member of the history community, McCaffrey was friendly to all, with no pretensions and a great sense of humour. Fellow graduate students loved to hear his many (and sometimes bawdy) stories about the culture of politics.
Bruce McCaffrey died in August 2002 of lung cancer just days after completing his major M.A. research paper and graduated posthumously in October 2002. In memory of his spirit and enthusiasm for history, the seminar series continues to support historical research and graduate interchange.
---
Please see below the details for the 2022-2023 schedule 
All workshops will be held on Thursdays at 12:30pm in LWH2270C or via zoom.
Contact historyrsvp@uwo.ca for more information.
Please note that all attendees will be required to adhere to Western University's mask policies that are in effect on the day of the event. For current policies please click here.
September 29th, 2022 
By Reason of Cruelty: The Right to Divorce in Early Modern England
Jennifer Baker (PhD)
October 27, 2022 
Strange Rumblings: The Mystery of the Moodus Noises, 1880-1980
Kenny Reilly (PhD)
November 24, 2022
Rivalries and Expectations: How mining for aggregates in Lake Erie's western basin fuelled border tensions during the early 1900s
Mary Baxter (MA)
January 12, 2023
Colonialism at the Museum: British colonialism and the Development of Museums in Malta
Niġel Klemenčič-Puglisevich (Public History MA)
February 2, 2023
STOP: A Morse Code Mystery
Michael Feagan (PhD)
March 2, 2023
Cultivating Colonial Visions in Shelburne's Kitchen Gardens
Erin Isaac (PhD)
March 23, 2023
Noi nu suntem vinovati (We are not to blame): Remembrance and public (non)acknowledgement of the genocide of the Roma in Romania
Cristina Stoica (PhD)