Alumni
Peter Kikkert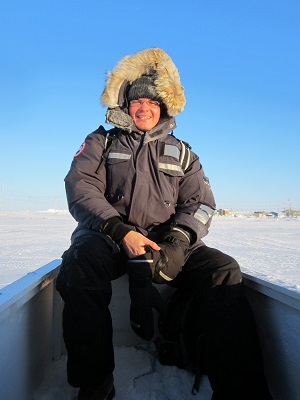 Ph.D. in History, 2016 - Irving Shipbuilding Chair in Arctic Policy and Assistant Professor in Public Policy and Governance Program at the Brian Mulroney Institute of Government at St. Francis Xavier University.
Pete Kikkert loves History because of its potential for improving our lives: "I believe that historical literacy has the power to create empathy, to inspire people to learn from the past and understand what we need to do to be better citizens and better human beings. A healthy and functional community – whether at the national or local level – is a historically literate community. As such, historical education has never been more important. Also, history is just fun! As an historian, I get to be a detective every day. I get to dig into the archives, investigate past events, and try to piece them together. It's thrilling."
Pete Kikkert completed his Ph.D. in History at Western in 2016, after several years of teaching and doing public history in Northern Canada while completing his doctoral work. He is currently the Irving Shipbuilding Chair in Arctic Policy and an Assistant Professor in the Public Policy and Governance Program at the Brian Mulroney Institute of Government at St. Francis Xavier University. He teaches in the History Department as well.
Kikkert loves this work: "I truly enjoy every aspect of my job. I love the opportunity I have – sometimes the challenge – to create in my students a real enthusiasm for past events, to inspire them to ask hard, critical questions and to provide them with the necessary skills to answer their inquiries. It is incredibly satisfying to see a student's curiosity deepen in the course of a term as we explore ideas together."
His research interests are driven by his affection for Northern Canada and its people: "I do a lot of work on northern policy issues, and I love the opportunity I have to get into Northern communities to listen to and learn from Northerners. Through my research and teaching, I have also had the privilege to live and teach in the North, sail the Northwest Passage, observe Operation Nanook, participate in training patrols with the Canadian Rangers, and travel on the land, ice, and waters of Nunavut and the Northwest Territories with community-members and Elders."
Kikkert credits Western History's interdisciplinary program and faculty for preparing him to excel at this work. He notes, "All of my work is defined by an interdisciplinary approach that puts contemporary issues in historical context. At Western, I learned this approach from courses in international history, international law and international relations, and especially through the guidance of my supervisor, Dr. Francine McKenzie. In addition, I had the chance to learn Public History techniques from Dr. Michelle Hamilton and other faculty members, which inspired me to engage in public history projects during my graduate studies." Prior to his current post at St. Francis Xavier University, Dr. Kikkert worked at Sheridan College as a Professor of Public History for two years. He believes that the public history projects he completed as a graduate student provided the experience he needed to attain the job at Sheridan College, which he truly enjoyed. "I continue to use these skills at StFX," he says, where he teaches an undergraduate course in public history.
Known for its commitment to excellent teaching, Kikkert reports that he learned to teach well, and to love teaching, in Western's History department. "Undergraduate teaching remains my greatest passion. Coming into Western I had never taught before. For three years I worked as a Teaching Assistant for the team-taught survey in American History. This experience was absolutely essential for my development as an effective teacher. I had the chance to learn from Professors Nancy Rhoden, Craig Simpson, Aldona Sendzikas, and Frank Schumacher, and their different styles and approaches really left a deep imprint. In addition, as the course coordinator Professor Rhoden provided feedback on my grading and tutorial instruction that allowed me to improve. I still use the pedagogical lessons I learned at Western whenever I step in front of a class."
What were the best things about Western? Kikkert says mentoring was among them: "When you select a graduate school, especially for your doctorate, you often base your decision on the supervisor you will work with. The interactions I had with my supervisor, Dr. Francine McKenzie, were definitely among the most important ones that I had at Western. From my comprehensive field exams and through the long process of researching and writing the dissertation, her guidance and support were absolutely key. Dr. McKenzie also encouraged me to push the boundaries of my graduate experience – to publish, to network, to experience as much as possible. When I finished the third year of the degree, I applied for and accepted a position as an instructor at Aurora College in the Northwest Territories, where I taught for two years. Rather than caution me about the potential delays this might cause to my progress, Dr. McKenzie encouraged me to take the position – to live and work in the region about which I was writing. In short, the guidance of my supervisor stands out as the best experience I had as a graduate student. My second reader, Dr. Alan MacEachern, also went above and beyond the call of duty to help me produce the best work I could. So, again, it was the willingness of faculty at Western to really care about the work you are producing that stands out to me. Given the quality of faculty at Western, I'm sure many other graduates feel the same way."
About London and the Southwestern Ontario region, Kikkert notes: "Perhaps because of the relatively small size of London, I found that the graduate students were often on campus, hanging out together. I learned a ton from the conversations we'd have together. Western has beautiful recreation facilities, and London is close to beautiful provincial parks and Lake Huron – if you like outdoor activities, there is a ton to do in the immediate vicinity."
______________________________________________________________________________________________________________________________
Joel Sherlock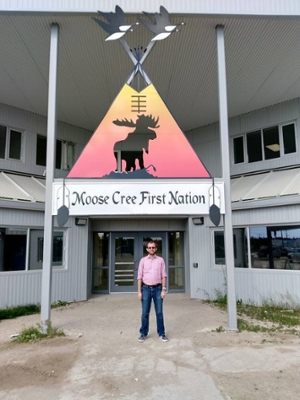 Public History, 2014. Manager, Genealogical and Archival Research for Crown-Indigenous Relations and Northern Affairs Canada
Joel completed an MA in Public History at Western 2014. He now serves in government, in a role that he finds extremely rewarding: "I like being in a position to use my historical research and writing skills to help people overcome all kinds of real-world challenges."
For example, his team creates letters of ancestry to support Canadian-born First Nation individuals in asserting their rights under the 1794 Jay Treaty so that they can live and work in the United States without paying expensive application fees. They also write family history letters to aid First Nation students applying for scholarships for post-secondary education, and they write proof of age letters for First Nation people who never had their births registered so that they can access the same Old Age Security benefits that other Canadians receive.
Joel says, "I also love going to work every morning and not knowing exactly what I'll be doing. Sometimes a phone call or email will force me to dramatically change my plans for a day - that keeps it interesting!"
Joel notes that working in a group during his graduate studies in Public History really prepared him well for the workplace. In addition, he adds, "I can't count how many presentations I have done, how much peer review I have conducted, and how many people have peer-reviewed my work. Group projects are a fact of my work life and I rarely achieve anything alone. The MA in Public History made the transition into the workplace easy."
In part, this is because most of the assignments that Public History MA students complete are created for use in the real world. According to Sherlock, "The Western Public History MA Program does an excellent job of building community partnerships and creating projects to aid community heritage organizations. In my year, we curated a museum exhibit for Fanshawe Pioneer Village, researched heritage homes for the Architectural Conservancy of Ontario and the London Heritage Council, and conducted oral history interviews for the J.P. Metras Museum on campus, and more. I also did a research assistantship at the Museum of Ontario Archaeology. Knowing that there were real-world consequences for our assignments stretched me and propelled me to do my best work." All this work with community heritage organizations was by far his favourite aspect of living in London and studying at Western.
His advice for prospective graduate students?
Treat graduate school like a full-time job. Plan to be on campus every day for seven or eight hours even if you don't have class. Developing that daily routine will help you dedicate the time and effort your assignments require.
Be aggressive in your job search and cast a wider net than just jobs in the heritage and history fields. I have found that there is no such thing as a bad work experience, and that all of my post-graduation jobs—heritage-related or not—have helped me be more effective in my current position. You might also find you'll fall in love with a job you never knew existed before!
This photo of Joel was taken in July 2017, when he assisted with treaty pay events in Kashechewan, Attawapiskat, and Moose Factory, Ontario. "Participating in these events and interacting with the First Nation residents there taught me the importance of Truth and Reconciliation and that this is not just a problem to be resolved between the Federal Government and First Nations, but every person, organization, and government that calls Canada home. We are all treaty people."
______________________________________________________________________________________________________________________________
Marise Bachand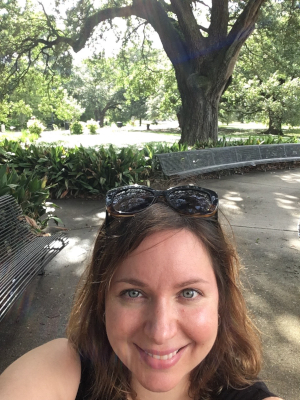 Ph.D. 2011 Associate Professor, American History, Université du Québec à Trois-Rivières
Marise Bachand completed her Ph.D. in American History at Western in 2011. She is an Associate Professor of American History at the Université du Québec in Trois-Rivières, a research university of about 15,000 students. There, she loves teaching American and women's history to undergraduate and graduate students. Most summers finds Prof. Bachand traveling throughout the United States to archives, where she continues her research on Southern white women in the nineteenth century.
Bachand notes that she chose Western "for the strength of the faculty in American Studies, which was incomparable in Canada." She also wanted to improve her communication skills in English (French is her primary language). She is grateful that both professors and students at Western were very patient with her. "It took some time and a lot of work to master a second language, but I felt truly supported. Today, I teach and live in French, yet I do most of my daily work in English, reading and writing about the American South."
She also valued the professional development programming that the graduate committee provided while she was completing her doctoral work: "They taught us how to give good conference papers. Or they organized seminars on writing good cover letters and CVs. Information was widely shared, examples provided. It gave me a lot of confidence to present papers in major conferences in Canada and the United States and, eventually, to apply for academic jobs."
Bachand also appreciated support for work-life balance in the department. She shared: "Right at the end of my first year as a Ph.D. candidate, I gave birth to a little girl who is now fifteen years old. I must say that I was very well supported as a studying mother at Western in every imaginable way, from the clinic on campus to flexible research contracts. Raising a daughter changed and deepened my understanding of the women that I study."
What did she love most about Western? "The people! Everybody was so welcoming: the faculty, the staff, the students. There was a lot of room for dialogue and exchange across a variety of fields in history. Many of the graduate students I met at Western — who came from all over Canada and abroad— are among my most precious friends today. The campus is beautiful, Weldon library is a treasure trove, and London is a very good place to socialize on a student budget. I had so much fun."
Her advice for student entering the Ph.D. program? "Doing a Ph.D. in History is a tough ride, both intellectually and personally. You have to give it all you have in terms of time, energy, and material resources. It's like climbing the Himalayas or running a series of ultramarathons. Most of us are exhausted at the end. But it is a wonderful and meaningful ride if you are well supported and surrounded by good colleagues and mentors. My years at Western were among the happiest in my life."
______________________________________________________________________________________________________________________________
Michelle Hutchinson Grondin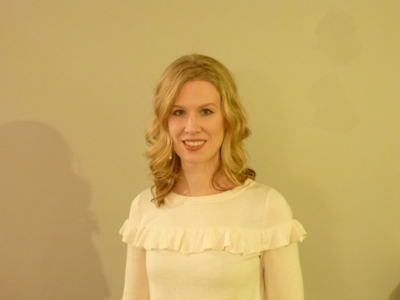 Senior Gender-based Analysis Plus (GBA+) Advisor, Government of Alberta
Michelle Hutchinson Grondin completed her Ph.D. in women's and gender history at Western in 2016. Since 2017, she has served as a Senior Gender-based Analysis Plus (GBA+) Advisor for the Status of Women with the Government of Alberta. In her role, Michelle analyzes policies and public facing documents to assess how diverse groups will be affected differently based on their income, culture, gender identity, location, income, education, and abilities. She also facilitates GBA+ training for government staff and trains others to deliver the training for their ministries. She is also responsible for implementing gender mainstreaming and gender budgeting in the Government of Alberta. "My current position provides a lot of challenges as well as opportunities for supporting many initiatives across government."
How did her graduate program prepare her for this role? "The writing and communication skills that I gained during my graduate program led to my first full-time, permanent position as a Writer/Editor for the Ministry of Advanced Education in Alberta, where I edited briefing notes and letters. In my current position, I use my research skills to support policy development, and my writing and communication skills to draft reports and build relationships with stakeholders. My experiences as a Teaching Assistant helped prepare me to facilitate GBA+ trainings and give presentations across government. Also, having a History degree helps me explore and explain the root causes and historical context of policies and initiatives."
Hutchinson Grondin notes that "a History degree provided me with marketable skills, and it was also an opportunity to explore subjects and issues that I was passionate about. Often, I encounter the perception that History graduates can only become professors. In my experience, a History Ph.D. prepares people for a plethora of roles and career opportunities that are challenging and rewarding. When researching careers, focus on the skills that you learned and can bring to a position such as writing, researching, networking, stakeholder engagement, facilitating, and project management. After graduating, it was these skills that led to my first job (which I liked), and my knowledge of women and gender history, and my research skills that led to my second position (which I love)."
What were her favourite things about Western and London? "I grew up at Western -- I was a Western summer camp kid, attended classes as an undergrad, completed a Ph.D., worked multiple jobs on campus, and met my husband there. Western for me was a place where I grew, learned, worked, and found my life partner. While I enjoy living in Alberta, there are many things I miss about London and Western, such as walking and biking around campus, being close to the Great Lakes, and the incredible professors and colleagues that I was fortunate to work with."
What advice would she give prospective History students?
1. Find an advisor who is efficient and collaborative, will help you network, will support you no matter the obstacle, and finds you opportunities for research and funding.
2. Choose a thesis topic that you are excited and passionate about, because you will be dedicating 4-7 years to this subject. Really enjoying what you are doing will make those challenging days easier.
3. A school's library is your best asset. Western Libraries is one of the largest in the country, which makes finding or requesting resources easy. Also the staff work very hard to get the materials you need to be successful.