Professional Development Series
Professional Development Series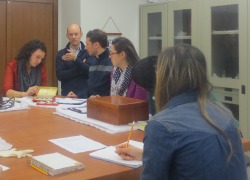 This series offers Public History students to chance to meet and network with practicing public historians, listen to guest lectures, and participate in hands-on workshops. As part of History 9800/9801, this series is mandatory for Public History students and usually occurs during class time, in the third hour.
Other students and alumni are welcome to join us, by emailing Prof. Michelle Hamilton at mhamilt3@uwo.ca, or Prof. Mike Dove at mdove2@uwo.ca.
This series is funded by the George Cedric Metcalf Charitable Foundation.
 
Dr. David Pantalony, Curator of Physical Sciences and Medicine, Canada Science and Technology Museum, leads a material culture workshop.
Public History Professional Development Series 2021-2022
September 28, 2021
Heritage Conservation in London with Kyle Gonyou (Heritage Planner, City of London, London, ON)
October 12, 2021
Oral History with Robin Marshall & Patrick Kinghan (Western MA Public History Alumni, London, ON)
October 26, 2021
Internships & Careers in Public History with Dr. Mike Dove (Director & Internship Coordinator, Public History MA & Minor Programs, Western, London, ON), Meaghan Rivard (Cultural Heritage Specialist, Stantec Ltd., London, ON), Dr. Andrew Ross (Library & Archives Canada, Gatineau, QC), and Chuck Arning (Ranger & AV Specialist, U.S. National Park Service, Blackstone River Valley National Historical Park, Pawtucket, RI, USA) 
November 16, 2021
Diversity & Inclusivity with members from Parks Canada (Ottawa, ON/ Gatineau, QC)
November 23, 2021
Designation & Preservation with Dr. Wes Kinghorn (Post Doctoral Fellow, Department of History, Western, London, ON)
November 30, 2021
Preparing for NCPH with Jessica Knapp (Public History Consultant, Toronto, ON)
December 7, 2021
Success in Social Media with members of The Digital Dust Podcast (London, ON)
January 25, 2022
Public History & the Media with Dr. Jonathan Vance (Department of History, Western, London, ON) 
February 14, 2022
Historical Research Consulting with Sean Stoyles (Senior Research Consultant, CDCI, Ottawa, ON)
March 30, 2022
Government, Policy & Litigation with Jean-Pierre Morin (Historian, Crown-Indigenous Relations and Northern Affairs Canada, Gatineau, QC)
---
Click here for a list of past speakers